The New Retirees: They're Happy and Lucky
They're chipper partly because they have something future retirees won't
Retirement crisis? What retirement crisis?
 
That seems to be the view of the 1,000 Americans age 60 to 73 who retired in the last five years and were just surveyed by the financial services firm, Ameriprise Financial. I'll share some of the key findings in the Retirement Triggers Research Report below.
 
The vast majority of these recent retirees (75 percent) told Ameriprise that they are "very satisfied" with their lifestyle in retirement and are doing what they'd planned. What's more, 94 percent said they were satisfied with their financial situation in retirement. (Bear in mind, however, that the respondents had at least $100,000 in investable assets.)
 
"We found that although the retirees said there was some stress around making the decision to retire and pulling the trigger, their stress level dropped once they were in retirement. That's good news for people contemplating retirement," says Marcy Keckler, vice president of financial advice strategy at Ameriprise.
(MORE: Secrets of Successful Retirees)
 
The Gift Today's Retirees Have
Now the big asterisk: This euphoria isn't likely to be repeated by most retirees in the future.
 
The reason? A full 70 percent of the retirees surveyed are receiving traditional pensions with guaranteed monthly income (known as "defined benefit plans") from their former employers. With each passing year, however, fewer retirees will be lucky enough to be in that position.
 
"Having a pension is a contributing factor to feeling financially confident and secure," says Keckler. "I don't think it will be the case for as many subsequent retirees."
 
That'll come as a disappointment to them. In another study that came out today, from TIAA-CREF, 84 percent of adults surveyed said receiving a monthly paycheck during retirement is important to them.
 
(MORE: 10 Things Retirees Won't Tell You)
But private pensions are going the way of the desktop computer. A recent survey by the Towers Watson benefits consulting firm said only 118 Fortune 500 companies (24 percent) offered defined-benefit pensions to new hires at the end of 2013, down from 299 (60 percent) in 1998.
 
Overall, in 2011, only 10 percent of firms provided defined benefit plans; 78 percent of state and local government workers had pension coverage. But public pensions are looking dicey; 85 percent will run out of money within 30 years, according to a recent Bridgewater Associates report.
 
Findings From the Amerprise Survey
Now, back to the Ameriprise report. Here are some other findings that caught my eye:
 
Most recent retirees (72 percent) were eager to retire. When asked about their mindset one year before retiring, 47 percent said they were ready and 25 percent "couldn't wait."
 
About a third (35 percent) were retiring to something rather than retiring from something. They said they decided it was time to enjoy life and do things they really love.
 
Another 16 percent retired when they did because they no longer wanted to work and 12 percent said they'd reached their retirement savings goals and decided it was time.
(MORE: 4 Ways to Avoid Pinching Pennies in Retirement)
 
The vast majority made the decision voluntarily; they weren't forced to retire due to a job loss or because of their health. "I had expected there would be higher percentages retiring due to health or a job loss," said Keckler.
 
But many seem to accept the prospect that, in retirement, they might not live the way they had hoped. In the survey, only 46 percent said that as they approached retirement they felt confident they'd be able to afford the lifestyle they wanted. Similarly, 51 percent felt they'd be able to downscale certain aspects of their lifestyle, if needed.
 
Estimating how much money they'd need in retirement was hit or miss. While 48 percent said they estimated their retirement savings needs accurately, another 24 percent said they now need more money than they had expected and 28 percent said they need less money than they'd expected.
 
They're enjoying themselves and keeping busy. About half (52 percent) said they have less free time than they expected. "Most said they were have as much, or more, fun as they thought they would," noted Keckler.
 
Many are highly engaged — 11 percent are working part-time and 40 percent volunteer.
 
Not many seemed to have done much research about their upcoming Social Security or Medicare benefits. Just 47 percent consulted Social Security's website or resources before deciding to retiree. "I'd have loved to have seen that a little higher," says Keckler.  Only 24 percent checked out Medicare resources.  "That could be higher too," Keckler adds.
 
The transition into retirement was a bit bumpy for some. When asked to name the hardest thing in retirement, 23 percent said "losing connection with colleagues," 15 percent said "getting used to a different routine" and 11 percent said "finding my purpose/passing the time."
 
When Ameriprise asked them what they would have changed about preparing for retirement, Keckler says many wished they'd planned to have enough activities and interests.
 
Formula for Happiness in Retirement
So is there a magical formula for retirement happiness? Keckler thinks so, based on the survey.
"Be in control of your retirement decision and combine that with the right emotional and financial preparation," she says. "Put all three together and that seems a great combination to have a confident and happy retirement."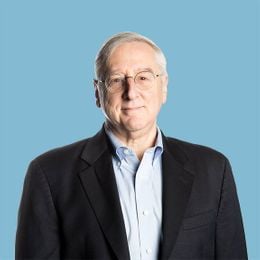 Richard Eisenberg
is the former Senior Web Editor of the Money & Security and Work & Purpose channels of Next Avenue and former Managing Editor for the site. He is the author of "How to Avoid a Mid-Life Financial Crisis" and has been a personal finance editor at Money, Yahoo, Good Housekeeping, and CBS MoneyWatch.
Read More