Norman Lear on Laughter, Longevity and Love for USA
The TV icon's 93rd birthday video went viral and he's going strong
Norman Lear, creator of iconic 1970s TV programs such as All In the Family, The Jeffersons and Maude just turned 93. He celebrated by debuting a music video on iTunes and YouTube, lip syncing to Paul Hipp's "Happy Birthday to Me."  He's always wanted to sing for an audience, so this fulfilled a birthday wish and proved that after seven decades of accolades and accomplishments, he still wants to make people laugh.
I met Lear at the Milken Global Conference, where he was a keynote speaker, and called him in July to say happy birthday. He told me the two most important words in the English language are "over" and "next." Clearly, he's focused on what's next.  He has several projects in the pipeline, including a national tour for the paperback version of his book, Even This I Get to Experience, and a reboot of his TV hit, One Day At A Time for Netflix with an all-Latino cast. We also talked about his script for life, love and the pursuit of happiness.
Living in the Moment
Lear says enjoying the "now" – which he calls "the wonderful hammock" – is probably the hardest thing for anyone to embrace, but the most important. He discussed being a parent (he has six children), noting that the "being" of parenthood is days, weeks, months and years of little tasks and responsibilities without much pause to look thoughtfully into your child's eyes — no matter whether your child is five or 50. Trying not to miss those moments is how Lear lives his life.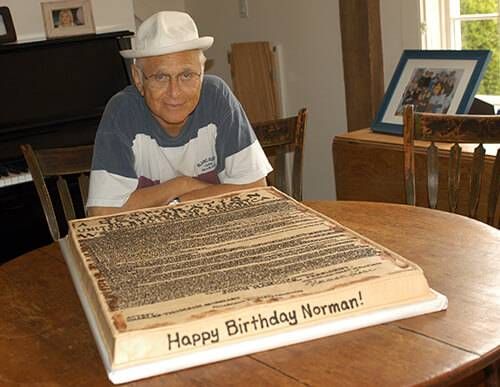 He told me a story (after all, he is one of our greatest storytellers) about how every man or woman has a garment with two pockets: one pocket has a message "I am but dust and ashes — a small grain in the sand of the world" and the second pocket's message is "For me, this was all created." He said acknowledging those gifts — that we are here and that all the wonders and opportunities the world presents are ours — is how he looks at life.
Laughter Meant Success in Career and Life
There is no one who comes close to what Lear has meant to television comedy, considering his canon of work in the 1970s (for which he was one of the original seven TV pioneers inducted into the Television Academy Hall of Fame in 1984).
In an era when families on TV meant Bonanza or Bewitched, he introduced a new realism, with new types and new ways of being a family unit. Archie and Edith Bunker (along with Gloria and Meathead) in All in the Family held the No. 1 spot on TV for five years and captured 60 percent of the viewing audience.  He also gave us African-American couple George and Louise Jefferson, middle-aged feminist Maude Findlay and a cast of others. Lear had nine shows on the air at the same time — five of them in the Top 10 Nielsen ratings, something even today's popular CSI, NCIS and Law & Order franchises can't match.
While his shows were heralded as sparking social discourse on taboo topics such as abortion, race relations, religion, rape and other silent issues of the time, the man behind it all said he only had one goal in mind: Make 'em laugh.
"I always filmed our shows before a live audience — every one of them," explained Lear. "Having 250 people sitting 25 feet from the stage area — it gives you instant feedback on whether you did well or not." Ratings for Lear was icing on the cake; laughter from a live crowd, priceless. Clearly he did well.
After years of success, he realized laughter was an essential ingredient in his life. He needs it as much as oxygen and believes in some of the scientific studies showing humor and laughter can cure what ails you — not completely, but it is a good prescription in our over-medicated lives and for living a longer and more fulfilling life. To wit, he has appeared on Saturday Night Live and in 2003 voiced a character on South Park.
When I told him I read that adults laugh only 15 times a day as opposed to small children who laugh up to 400 times a day, he shared one of his future program ideas: To be the nonagenarian talking to nine-year-olds about the wonders and absurdities of life. For Lear, it's always "what's next?"
Age Is in Your Head
I told him as a woman in her 50s, I often feel like I'm still in my 30s in my head. I asked him what age he is in his head. He replied that he is always the same age as the person to whom he is talking. If he's talking to a twelve-year-old, he is 12, if he is talking to a 60-year-old, he is 60. It is this gift of being present and mindful of the conversation between two people that I believe has made him the icon he is. His shows were speaking to each of the millions of viewers who tuned in because he tuned in to them. I felt it when we spoke — he listened and observed and was present. There really is no better gift to give.
Falling Back in Love with America
Norman Lear is a proud American. He really loves this country but feels most people today have fallen out of love with what America is and should be. He ascribes this to a lack of civic studies in schools. He becomes passionate when he talks about having had to understand The Bill of Rights, The Constitution, American ideals and freedoms as a young boy. He said that is where we are falling down on the job — we are not teaching our younger generations to appreciate who and what it means to be an American.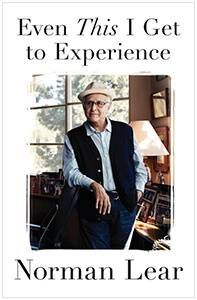 As a World War II veteran, Lear is part of what Tom Brokaw called "The Greatest Generation." Yet, Lear says "every generation is, and should be called, the greatest generation." It is one of the reasons he purchased a Dunlap broadside — one of the first published copies of the U.S. Declaration of Independence. He toured what he calls "America's birth certificate" around the country to schools and events. The roadtrip ended in Philadelphia,  Pa., with a star-studded dramatic reading of the document produced by Rob Reiner. He wants Americans to know their DNA, their history, their rights and their obligations in protecting what America is all about.
Norman Lear in one word
As our lovely conversation was coming to an end, I asked him to find one word that summed up Norman Lear. After a few seconds of contemplation he responded, "Dependable."  But, he quickly elaborated that he truly defines himself in three words, "Count on me." And we can. Family, friends, colleagues, audiences, America — we can count on him to remind us of what is important and to do it all with humor. As we made our goodbyes, he said, "It's been great talking to you. See — even this I get to experience."
Norman Lear's book, Even This I Get to Experience, is available now in hardback and audiobook (which Lear himself reads). The paperback version will be available October 27.
©2015 Sherri Snelling