What Some Nursing Homes Do to Retain Quality Staff
Keeping great caregivers is one of the biggest challenges the facilities face
Massaging elderly residents' hands is one of the favorite parts of Kathy Hehl Curran's job at Filosa's Hancock Hall, a nursing home in Danbury, Conn. The registered nurse says it makes her charges feel relaxed, and sometimes they'll confide their worries.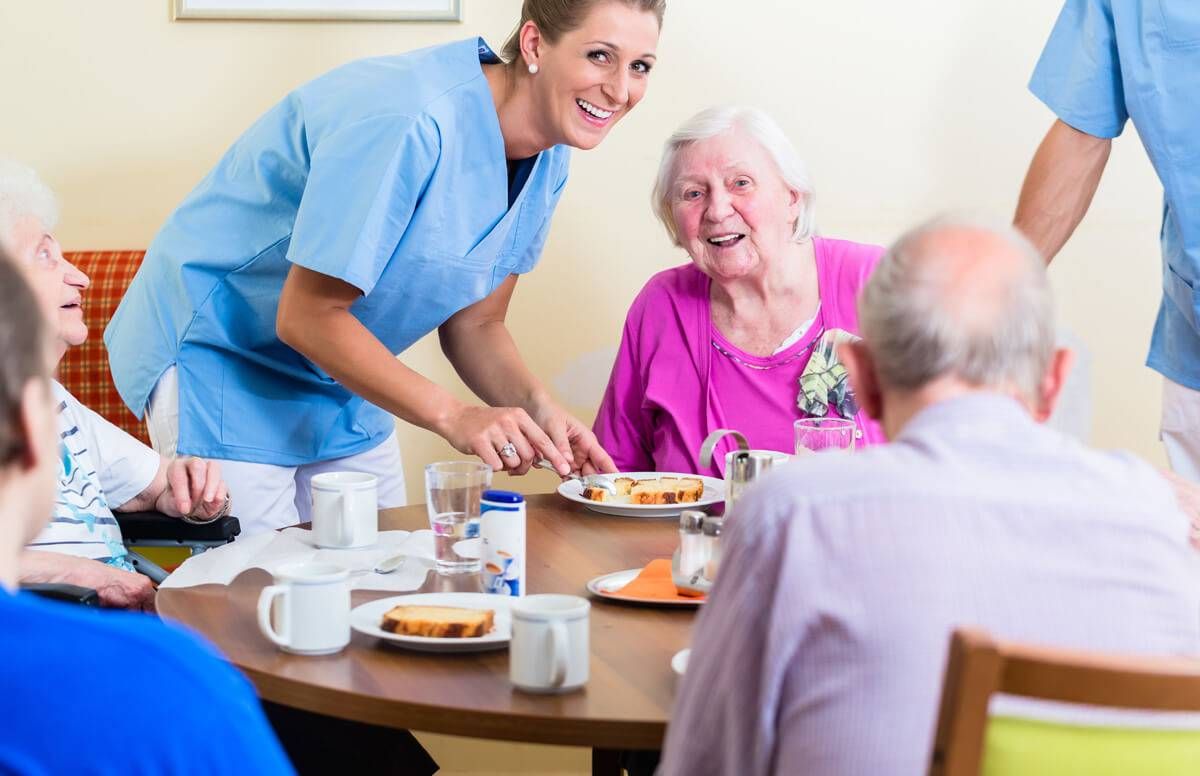 "It's a way to make them feel good and to validate their concerns," Curran says. "If something comes up that needs to be taken care of, then I need to go to the right person and make that happen."
Curran has been at her job for 36 years. This speaks volumes about not only her devotion to her work but also Hancock Hall's winning formula for retaining caregiving staff. Curran credits this to the facility being owned and operated by a family rather than a corporation.
"If you're not taking care of your caregivers, how are they going to deliver good care for your clients?"
When Curran wanted to go back to school, her employers made it possible for her to do that and keep her position. She could move to several different jobs within the company, rather than leave her job to gain other experience. Curran also likes the teamwork and supportive administration at her workplace.
Curran's experience highlights many reasons why caregivers stay: devotion to the population, having their needs met by administration and the autonomy to correct problems that arise.
High Nursing Home Turnover
But Curran's longevity at her employer is a rarity in caregiving.
Researcher Nicholas G. Castle, professor of health policy, management and leadership at West Virginia University in Morgantown, estimates the rate of turnover for nurses at 40% and certified nursing assistants (CNA) at 45%.
One in four nursing assistants and one in five home health aides report that they are actively looking for another job, according to PHI, an association for long-term care workers.
Why Caregivers Leave
Eleanor Feldman Barbera, a New York-based psychologist specializing in long-term care and author of the book The Savvy Resident's Guide: Everything You Wanted to Know about Your Nursing Home Stay but Were Afraid to Ask, cites a major reason why nursing home staff leave. Contrary to some stereotypes, caregivers are devoted, kindhearted folks who really want to do a good job, so when facilities are understaffed, Barbera says, workers can't do the kind of job they want to do.
"They leave because they're not treating the residents the way they want to treat them," she says.
Other factors associated with caregiver turnover can include:
Working for a for-profit organization
Low pay and high workload
Inability to deliver high-quality service due to workplace/system issues
Feeling undervalued by society and the workplace
Castle says that top management turnover also can result in an exodus of registered nurses (RNs) and CNAs. He explained that staff can wonder, "Why would I want to work here if the management doesn't want to work here?" In addition, job satisfaction is highly related to how licensed practical nurses and RNs treat the aides.
Retention Begins with the Hiring Process
Experts says retaining good caregiving help begins before people start their jobs. Lia Jill Levitt, a Connecticut-based consultant to long-term care facilities and founder of Ain't She Sweet, says employers need to determine whether the applicant just needs a job to pay the bills or considers this work a calling.
Several experts pointed out that simply liking older people, while a good start, does not necessarily guarantee a successful career choice. To avoid turnover from that issue, some institutions give people an opportunity to do "job shadowing," in which they follow an experienced caregiver around for a day to get a sense of what the work is really like.
People can think they like older adults, but nursing homes can have very sick people who need a lot of medical attention. If a prospective employee visits a nursing home and finds the environment unsettling, it may not be the right fit.
Levitt suggests caregiving facility management pay attention to applicants' language: Do they refer to "residents" or "patients?" Says Levitt: "This is not a hospital. This is where [residents] live out the remainder of their life. A better phrase is: 'I worked in your grandmother's home.' Not 'She lived in my workplace.'"
Providing Opportunities to Move Up
Stephen Zimmerman, chief operating officer of AEC Living, a group of independently operated senior living communities in Alameda, Calif., emphasizes that while salaries have to be competitive, it is important to invest in staff.
His company developed a job ladder system letting employees receive paid training and other educational opportunities while they are working. Employees can start at entry level positions and work their way up.
One CNA currently runs an entire home care company, Zimmerman says. She became a medical records assistant, then was in marketing/admissions and now she's administrator of home care, overseeing a staff of 35. AEC Living hires from within, so current employees get the first shot at a job opening.
The Challenge of Staying Adequately Staffed
Nursing homes are open 24/7, and they rely on staff who will show up to work in all types of weather. But even among the most dedicated staff, emergencies can arise. Knowing that on any given day 20% of the staff could call in sick, some companies overbook to be sure they are fully staffed.
Zimmerman is always hiring to maintain a full staff, and it's not always easy, he says. Employees and employers must meet strict government standards. Zimmerman also points out that hiring can be impeded by things like late fingerprint results due to a government shutdown or losing a worker to a restaurant who will hire the person that day.
How Caregiving Differs From Other Fields
Levitt noted that in many other industries, consistent staffing is not as crucial.
"If your marketing director quit, the show can still go on," she explains. "You can have another accountant take over if one leaves. But in a nursing home, residents need to be showered, and an aide can only do so many people at a time." Residents may have dementia or be wheelchair-bound and aides must ensure they don't fall in a slippery shower.
In addition, this work is very intimate. "If you have a new person taking your clothes off and washing the most intimate parts of your body, and that person switches every six months, don't you think that would be quite emotionally disruptive for the residents?" Levitt asks.
Fair Scheduling and Feeling Valued
Nursing homes compete for a shrinking pool of good workers, and once they hire them, it's to the nursing homes' advantage to keep them as long as possible. Some of the methods used to retain staff don't require money, but can make a big difference.
One method is evenhanded scheduling. For example, at AEC Living, people work four days on and two days off. That way, everybody comes in some weekdays and weekends, Zimmerman says.
He also makes sure that the human resources and accounting staff occasionally work on holidays. "It would not be fair to have just the caregivers work those days," he says.
There are other ways to let staff know they are valued.
Mary Savoy, a registered nurse and executive director/administrator of Forest Hills, a senior care community in Washington, D.C., gets a list of upcoming birthdays from the payroll department every month and then writes a personal birthday note to every  employee. She also sends notes to acknowledge other events in employees' lives and to help new hires feel welcome.
Employees at Forest Hills can also be nominated for an award and to win a $250 check from the Ceca Foundation, which recognizes and awards professional caregivers for their excellence in service.
Residents and their families also can help retain quality caregivers by learning and using their names, Barbera says. Let them know you appreciate their hard work, says Anne Tumlinson, a nationally recognized expert on aging and long-term care and one of Next Avenue's 2018 Influencers in Aging.
"If you like them and you are having a good experience, just be very mindful that it's important to recognize the work that they're doing. You're part of the recruitment team," Tumlinson said in a Next Avenue video about long-term care facilities.
The Rewards of Staff Retention
Castle notes that caregiving staff like to work in high-quality facilities where they feel the residents are well cared for. He says it is a "chicken-and-egg" situation, since a stable staff creates great facilities. This kind of environment can both attract and retain excellent staff.
When staff members consider their work a calling — and know they're able to do a good job — there are intrinsic rewards.
Curran, at Filosa's Hancock Hall, sums up her experience this way: "In all the years I've worked here, I've come away with so much more than I have given to anybody. I have become a better person, a kinder person, a better listener, because of the residents."
In the end, high-quality nursing home managers realize they rely on their caregivers to take care of their residents. As Zimmerman put it, "If you're not taking care of your caregivers, how are they going to deliver good care for your clients?"
Deborah Quilter
is an ergonomics expert, a certified Feldenkrais practitioner, a yoga therapist and the founder of the Balance Project at the Martha Stewart Center for Living at Mount Sinai Hospital in New York. She is also the author of Repetitive Strain Injury: A Computer User's Guide and The Repetitive Strain Injury Recovery Book.
Read More