How to Observe Memorial Day During the Pandemic
6 ways to honor the fallen this year
On Memorial Day in 2019, visitors browsed the solemn exhibits of the Pearl Harbor National Memorial in Honolulu surrounded by 2,390 six-by-eight-inch U.S. flags, each tagged with the name and duty assignment of a person who died in the attack that prompted the United States' entry into World War II.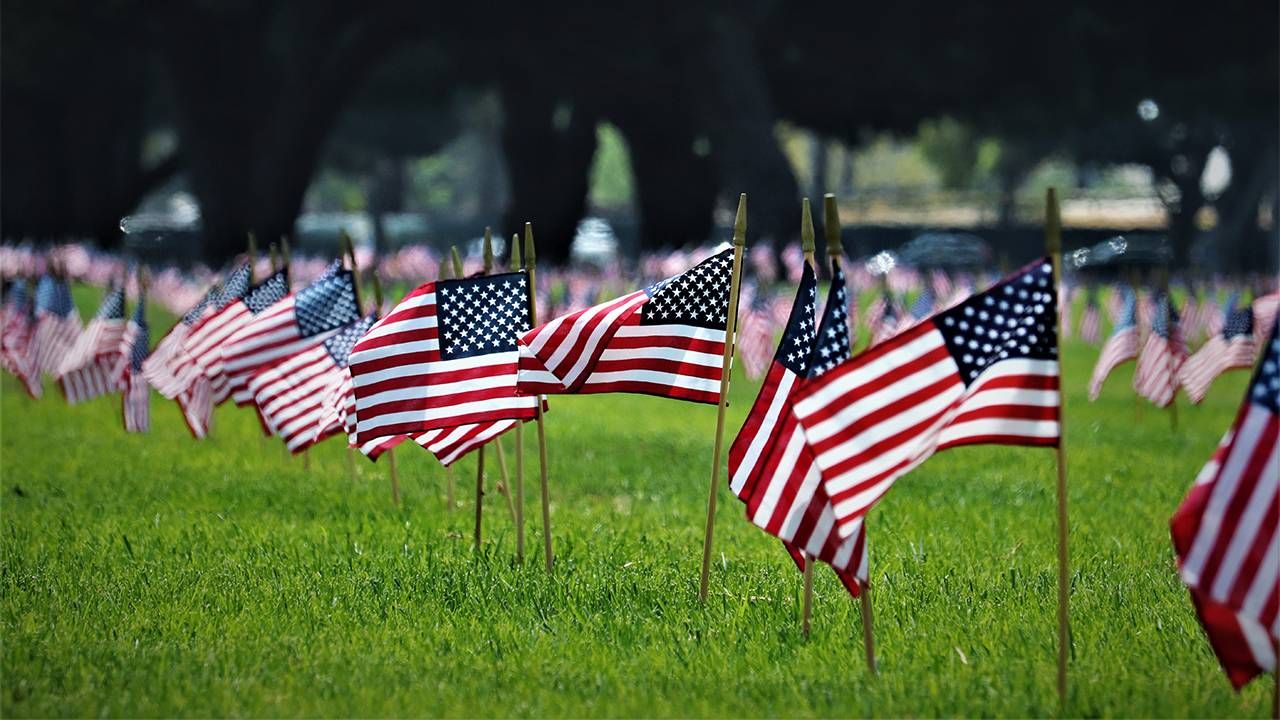 Last year, visitors could only participate in the ceremonies via livestream. The Pearl Harbor National Memorial has re-opened for 2021, but reservations are required and more information is available on Facebook.
"When we build these special places like the Arizona Memorial, it's not just for people to come and look at and take pictures," says Jay Blount, chief of Interpretation and Education at Pearl Harbor National Memorial. "We're doing it for the men and women who fought and died here."
In 2020, the coronavirus pandemic forced the cancellation or alteration of many traditional events that take place on Memorial Day, which was established in 1868 to honor Americans who have died in service to the United States.
Some in-person events have resumed, most with reservations required (check websites for details) but many virtual opportunities still exist for Americans to honor the fallen on Memorial Day.
Here are six ways to reflect and remember:
1. Pay Respects at a National Cemetery
For many families, visiting the graves of loved ones lost in service is a Memorial Day tradition.
"It's that day of the year for them to stop, to pause, to reflect," says Jim Horton, director of Honolulu's Punchbowl National Memorial Cemetery of the Pacific, where each year 5 million visitors pay respects to more than 61,000 interred or memorialized veterans and dependents.
Punchbowl and the 141 other national cemeteries managed by the U.S. Department of Veterans Affairs (VA) remain open. People are welcome to walk the grounds and visit graves, as long as they comply with local health and travel restrictions. The VA also encourages posts to its Veterans Legacy Memorial website, which has a page for each veteran interred in a national cemetery.
2. Watch the PBS National Memorial Day Concert
Since 1989, PBS (full disclosure: Next Avenue is produced by the PBS station TPT in St. Paul, Minn.) has broadcast the "National Memorial Day Concert" live from the U.S. Capitol's West Lawn. This year, the show will once again be a compilation of musical performances and special messages from stars and dignitaries around the country - no live concert will be held.
"It's the least we can do to carry on," said executive producer Michael Colbert. "We're going to let people know that we remember their sacrifice. They're not forgotten."
"It's that day of the year for them to stop, to pause, to reflect,"
This year's show will feature a tribute to the nurses who served during the Vietnam War; recognition of the 70th anniversary of the Korean War and the more than 36,000 Americans who lost their lives; and a commemoration of the upcoming 20th anniversary of 9/11 and the sacrifices made by Gold Star Families. Actors Gary Sinise and Joe Mantegna will once again serve as co-hosts; others scheduled to appear include General Colin Powell, USA (Ret.), The Four Tops, Alan Jackson, Gladys Knight and the National Symphony Orchestra, among many others.
The 90-minute program will air at 8 p.m. Eastern Time Sunday, May 30. Tune in to your local PBS station or stream the concert on the event website or Facebook page.
3. Visit a Virtual History Exhibit
Museums and memorials around the world offer online tours and learning opportunities that make fitting Memorial Day tributes. Virtual visitors can view the Vietnam Veterans Memorial wall in Washington, D.C., reach further back in time with the Smithsonian's online Gettysburg Address exhibit or travel to the Netherlands' Anne Frank House, where the famed Jewish teenager wrote her famous diary in hiding during World War II.
The National World War II Museum in New Orleans strengthened its online education programs after Hurricane Katrina, says Gemma Birnbaum, associate vice president for media and education. The Museum is once again open to the public, with timed tickets required. Online webinars and events continue, including a recent presentation about Armed Forces Day, and 'BB's Stage Canteen' which features music and entertainment. There will also be a virtual Memorial Day celebration.
"At the heart of our mission is hearing directly from those who were there," Birnbaum says. "They really did shape the world that we live in now seventy-five years later."
4. Support Veterans, Active Duty Personnel and Their Families
With more than 20 million living veterans today, most Americans can find personal ways to express their gratitude for those who died in service by supporting those who survived. Nursing homes and organizations like the Veterans of Foreign Wars may also provide practical opportunities to care for veterans, as well as their loved ones.
"Almost a million and a half Americans have given their lives for our country since the founding of the republic," Colbert says. "This is a time to remember them, but also to really remember their families, who are partners in their sacrifice."
America's Gold Star Families, Operation We Are Here and Military Families United are just a few organizations that promote healing for families who have lost a loved one in the military or support those currently navigating the challenges of active duty.
Blue Star Families has an initiative this year called "Team Up Against COVID-19" offering educational resources, conversations with First Lady Dr. Jill Biden and others, including Dr. Anthony Fauci, and also providing information on local vaccination sites.
5. Explore and Preserve Your Military Legacy
"If you are quarantined with loved ones, take advantage of the time to appreciate them," Birnbaum says. "Memorial Day reminds us that you never know when you might lose them."
One way to do this is to speak with friends and family members about their own service experiences. The National World War II Museum offers tips for conducting interviews with veterans, as well as resources to assist with online research.
Through the American Folklife Center at the Library of Congress, you may also contribute your, or your loved one's, reflections to the national historical record. Since 2000, the Veterans History Project has collected the oral histories and documents of more than 100,000 veterans who have served in U.S. armed forces from World War I through the present. Participation details are available at the Veterans History Project website.
6. Observe a Moment of Silence
Sometimes, the most powerful memorial is a private one. In 2000, Congress inaugurated a National Moment of Remembrance, encouraging Americans everywhere to pause at 3 p.m. local time each Memorial Day to reflect on the service and sacrifice of the men and women who have fought for the United States.
Given the daily disruptions the pandemic has caused, Horton says there could hardly be a better time for quiet reflection and gratitude.
Horton says. "Maybe this is an opportunity for people to look outward instead of looking inward — that's really a lot of what Memorial Day is about."
Jessica Wambach Brown
Jessica Wambach Brown is a freelance writer based in Kalispell, Mont. While she typically covers military history, veterans' affairs and historical travel for national magazines, a personal interest in adoption led her to seek out resources for grandparents-to-be.
Read More