It's OK To Be Just OK at Making Art
Trying her hand at painting took this writer out of her comfort zone
Since the day I could read "See Sally run," I've been a Word Girl following a predictable path: diary keeper, pen pal, school newspaper editor, poetry contest competitor, reporter and magazine editor. In recent years, I've joined two book clubs, written novels and coached other writers. Not that I don't like, say, art.  Through a scheduling quirk in junior high school, however, I learned that if I wanted to play the cello in the orchestra (which we will not discuss) after sixth grade, art no longer fit into my schedule. I never took another art class.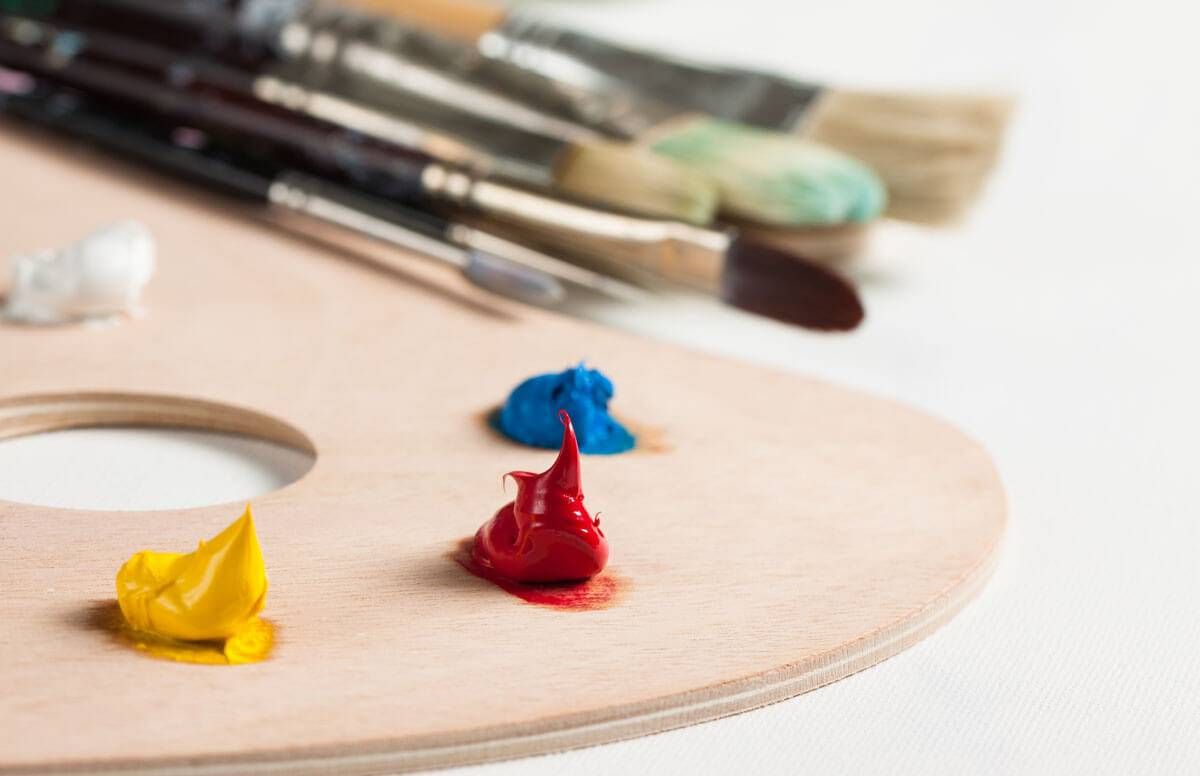 Until this year.
What grabbed me was a catalog description: "Join Gene's painting class to express yourself and improve your artistic skills. Receive highly personalized instruction in a fun, casual atmosphere."  The time slot worked: Friday afternoons, when I'd otherwise be ruminating on whatever I'd recently composed, not necessarily improving it. Most likely by 1 o'clock at the end of the work week, to paraphrase Oscar Wilde, I'd have spent all morning taking out a comma and would be spending all afternoon putting it back in.
The Temptation to Make Art
Making art was tempting. I'd loved weighing in on the cover- and layout-design of the magazines I edited, McCall's and Lifetime. Maybe, like George W. Bush (who has taken up painting), I'd even turn out to be talented.
But then again, how could I join such a class when the artist in the family was my sister, Betsy?
As kids, our aunt had tried to teach us to knit. Betsy promptly produced itsy-bitsy doll clothes followed by scarves and sweaters. The scarf I knit wouldn't fit a Barbie. My sister later designed her own wedding contract with Hebrew calligraphy and an intricate border so exquisite that friends begged her to design their marriage contracts. This led to a flourishing business that surprised no one in our family because obviously, she took after our fine-motor-skills Dad.
I, on the other hand, was like Mom, who never got artsy-er than frosting a cake, was the best customer of the Fargo Public Library and for amusement, joined a history club that required presenting a research paper every year. ("In seventeenth century Canada, unlicensed fur traders, the descendants of French trappers and native women, ran a brisk business….")
Nevertheless… the word 'fun' in the catalog stood out like a clown nose.
Ten years before, when I'd had the luxury of a severance payout after a job ended, friends had urged me to pursue a hobby. I did: I joined a writing workshop. This led to writing books, which while new for me, was still safely in my comfort zone.
Live dangerously, I told myself. I handed over my credit card, shopped a craft store and armed with acrylic paints and nervous trepidation, showed up.
Believing in a Smidge of Talent
The first thing I learned was to forget anything I'd ever thought I knew about art. That wasn't hard, because despite years of visits to the Met, I still mistook Monet for Manet.
I discovered that if I wanted to sketch, I had to hold the pencil high up in its middle, not toward the point, and that when I was trying to copy a face — like new-painter 43, I was determined to create portraits — I should view the photograph I was copying as shapes and shadows, not actual features. Those weren't nostrils, just spots, and they were purplish, not black.
Also, the filbert brush is the one for making cute little daisy shapes, and in color, if you're not careful, every combo turns sludge brown.
On and on the instruction went, as I tried to process information in an entirely new way.
My teacher needed to repeat his suggestions to me early and often, but praised my color sense and encouraged me to think that I had a smidge of talent. The technical definition for smidge — on a scale of one to 10 — is probably about 2.5.
I didn't kid myself. I was no Mary Cassatt. Probably no George W. Bush, either. But even as I took regular flak for my brush hygiene, I could live with that. My instructor wasn't a book reviewer pointing out that my plot was a snoozefest or that my characters arched their eyebrows every time they had an insight. I take my writing very personally. Not so, my art. With my first portrait, a kinda sorta likeness of a toddler I love, I had already exceeded my expectations.
My second portrait was of my little niece in Santa Monica, whom I painted next to a palm tree, holding an ice cream cone. In real life, she is 4; on canvas, I'd estimate her age to be 11. Still not sure why.
My third effort was my 2-year-old neighbor holding a doll. She recognizes Dolly, but insists the kid is me. (Hey, everyone's a critic.)
My work-in-progress is meant to be my husband back in the day. This assumes he once looked like a bobbleheaded cast member of West Side Story.
Rejuvenation, Not Perfection
So often in life, we're urged to practice until we reach perfection. Master that etude, that golf swing, that pastry crust. Don't even think about playing bridge or dancing the tango unless you can take the time to do it right. But is that really true?
On one level, I suppose it is. If you're learning to fly a plane, please pass the damn test.
But in many cases, dipping a toe in alien waters is rejuvenating all on its own. Without aspirations of greatness, you may still exercise a different part of your brain, break out of constricting stereotypes or simply re-introduce yourself to an activity you were forced to abandon in seventh grade because you thought you might like the cello better.
The bottom of the painting-learning curve is as far as I may ever go. But I've discovered the bigger lesson is that there's liberation when you may never exceed average. You don't have to excel to enjoy every activity, and if you're far from a virtuoso, there's no need to deliver a TED Talk on The Cult of Failure to justify your time.
I see my art experience as a whole new take on nevertheless, she persisted. For three hours every Friday, I lose myself in a visual world. When I return to my computer to write-write-write the next day, I am refreshed.
Now, when I visit a museum, I study brush strokes up close, bringing far greater pleasure than in the past. And that's... OK.
Sally Koslow
is the author of Slouching Toward Adulthood: Observations from the Not-So-Empty Nest and three novels, including Little Pink Slips, inspired by her years as editor in chief of McCall's magazine. Her latest novel, Another Side of Paradise, was released in May.  Follow her on Twitter @sallykoslow and visit her website.
Read More