As Older Adults Prepare to Walk Around, Will Infrastructure Let Them?
How the pandemic is adding to the difficulties of aging in place
Shelter-in-place restrictions are being lifted and the country is beginning to open up, which means that more Americans will be eager to get out and explore, or rediscover, their downtowns. But some — particularly those whose vision or coordination isn't what it used to be — may find unexpected  difficulties.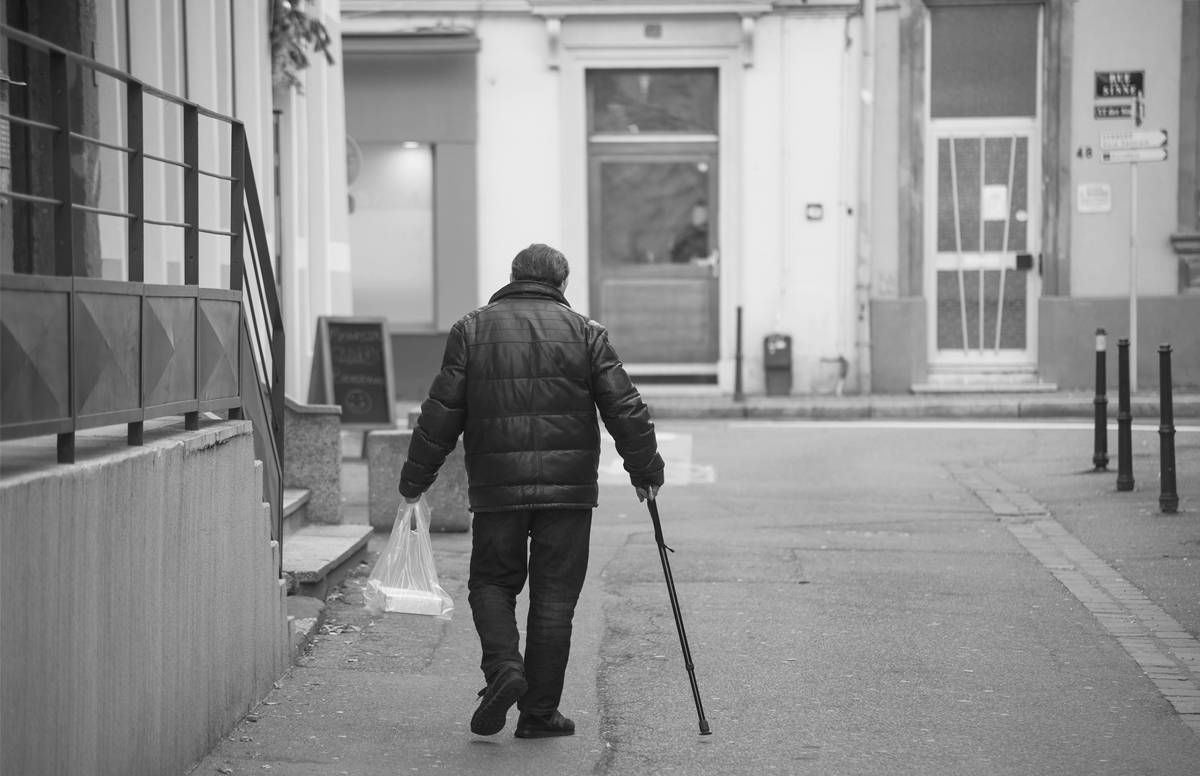 Irma Sheppard, 80, knows a thing or two about that. She has lived in central Philadelphia for some 30 years and had been able to walk to most places she needed to go: the supermarket, CVS and her Silver Sneakers fitness class at a local gym. But Sheppard has recently noticed some lurking hazards. "The pavements are very bad here," Sheppard said of her neighborhood. "Some blocks, you have to be very careful when you're walking."
Uneven, steep and broken sidewalks; cracked or missing curb ramps at street crossings to let people wheelchairs cross; restaurant signs on sidewalks; outdoor tables and ever-present scaffolding are increasingly causing challenges to people who can't see well, walk with a cane or use a wheelchair.
A Growing Problem for Residents of Older Cities and Towns
It's a growing problem particularly in older, historic cities and towns with aging infrastructures and tight budgets.
"We take for granted our ability to go from one street to another, from one corner to another, and to do so safely."
And the COVID-19 pandemic is only straining already stressed municipal budgets nationwide. Philadelphia, for example, says it will have to scrap a $5.2 billion spending plan proposed in March as it now faces what the city calls "significant losses in revenue" due to the pandemic.
Philadelphia is being sued over its alleged failure to comply with a 1994 order to make sidewalks and curb cuts (ramps graded down from a sidewalk to a street) compliant with the Americans With Disabilities Act.
"Philadelphia's sidewalks are dilapidated, disintegrating, and teeming with obstructions, making everyday travel difficult and dangerous for the thousands of people with disabilities that call Philadelphia home," say the plaintiffs, which include individuals and groups like Liberty Resources, the Center for Independent Living for the Philadelphia area.
Other cities, including New York City, Portland, Ore.; Long Beach, Calif. and  Arlington, Texas have faced similar suits.
The Interest in Retiring Downtown
"These cases are important for thousands of people across the U.S.," said David Ferleger, a Philadelphia lawyer specializing in disability rights and an attorney representing the groups. "People who are able-bodied — we take for granted our ability to go from one street to another, from one corner to another, and to do so safely."
Philadelphia is seeking a partial dismissal of the case and the city's court filing says it's "moving ahead with planned accessibility upgrades to the best of its ability and remains committed to working with the disabled community as a partner in these efforts."
Boomers around the country have been eyeing city centers as potential places to live in retirement. Carl Dranoff, president and chief executive of Philadelphia-based Dranoff Properties, a developer of luxury apartments and condominiums, said his firm continues to see interest in a high rise it's building in the heart of the city's arts district.
Downtowns — with proximity to restaurants, cultural institutions, gyms and supermarkets — have also been drawing empty nesters who want to trade their suburban houses and cars for the convenience and vibrancy of big cities.
Other pre-retirees prefer to remain where they are as they get older, which includes urban areas. "There's a consistent desire for people to age in place no matter where they live," said Danielle Arigoni, director of AARP's Livable Communities program.  A 2018 AARP survey found that about three-quarters of people age 50 and older "want to be able to age in their community," she said.
What Boomers Want in Communities
That survey also found that well-maintained streets, particularly sidewalks, were among respondents' top priorities, Arigoni said.
But, she added, "there's a general perception that sidewalks aren't maintained, and buckling really does pose an impediment," especially in older, historic cities.
Even in tight financial circumstances like ones cities are experiencing these days, there are small, "really cost-effective ways" cities can fix problems such as loose bricks or buckled pavements, Arigoni said.
If an older adult wants to avoid steep hills, the app takes a flatter route.
An AARP community challenge grant has funded about $3.5 million in such projects over the last several years, Arigoni said. Projects funded in 2019 included walk audits and traffic calming in a Washington, D.C. neighborhood; the reactivation of a neglected alleyway in Newnan, Ga. and a collaboration with artists to repair potholes in Chicago.
"Using demonstration projects can be a really powerful way of encouraging the community to see sidewalks differently and build that political support," said Arigoni.
There's an App for That
PathVu, a startup in Pittsburgh that helps cities improve accessibility and walkability, is working on a potential solution. It's building an app to let users navigate walking routes and avoid potential hazards.
"For example, if an older adult wants to avoid steep hills, it takes a flatter route," alerting the user to "tripping hazards" as they come up, said co-founder Eric Sinagra.
The app's currently being tested in downtown Pittsburgh. "Our goal is to continue to grow to other cities across the country and across the world," Sinagra said.
Meanwhile, some cities are trying to keep pace with repairs.
Boston has set aside more than $1 billion over five years for improvements to sidewalks, roads and bridges, said Emily Shea, commissioner of the city's Age Strong Commission. "We have improved over four thousand curb cuts, replaced miles of sidewalk with age-friendly materials such as concrete and filled hundreds of tree pits to lessen tripping hazards," she said.
Well-maintained sidewalks are actually important to city dwellers of all ages, research shows.
"There's a lot of alignment between what older adults and millennials want," said AARP's Arigoni. "They want options on how they get around."