Older Dancers Are the Ones to Beat on the Ballroom Circuit
Ballroom dancing's benefits are plenty and competition pushes dancers
Most people these days know about ballroom dance competitions because of ABC's TV show, Dancing with the Stars, which pairs celebrities with professional dancers. But in ballroom competitions across the United States, the largest group of dancers is age 51 and above.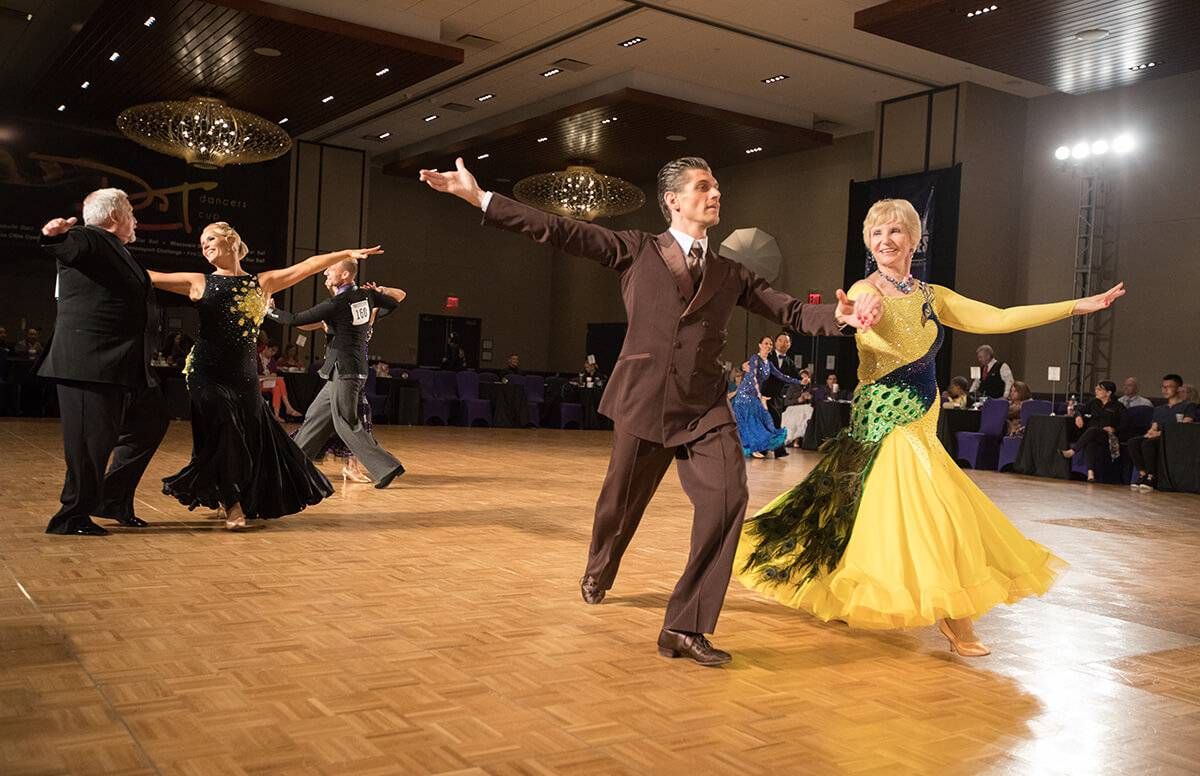 Often, way above.
The ultra-fit professionals in their skintight gowns and slinky Latin dresses may get the oohs and ahhs at these events, but it's often the older adults who command the most respect.
Entering 332 Ballroom Dances With 17 to Go
Sheila Tuck, 77, drew special attention in June at the Twin Cities Open Ballroom Competition in Minneapolis for entering 332 dances with her instructor, Tommy Radon, from the Storm Dance Centre in Voorhees, N.J. It was her ninth competition in 2017, and she's scheduled to do 17 more.
"I can't sit back," said Tuck, who works full-time as an office administrator when she's not dancing. "I keep saying if I sit down, I'm going to die."
Tuck wasn't the oldest dancer on the dance floor in the Twin Cities competition. That distinction went to Therese Meszaros, who asked that she be described only as "a very senior dancer."
Meszaros entered 100 dances at this competition but is quick to note that she had entered 212 dances at the Crown Jewel Dancesport Competition in Aventura, Fla.
"I was in 182 dances in 12 hours. That's the most I've ever done," said Meszaros, who retired this year after 27 years as a nutrition counselor with the Minneapolis Heart Institute. Asked why she competes, Meszaros quipped, "I'm on the right side of the grass."
More Thrilling Than Bridge
Ballroom dancing has much to offer older adults. It builds strength and endurance, develops balance and helps stave off dementia. But as a 61-year-old with two years of ballroom dancing lessons behind me, I wanted to know why older dancers compete.
For one thing, it's expensive. Dresses studded with Swarovski crystals sell for several thousand dollars and up. Paying an instructor's expenses and fees, together with travel costs, lodging, food and entry fees can run as high $10,000 or more. And let's face it, older dancers will never look like the pros.
So why do it?
"Because it's exciting, it's thrilling," Tuck said. "I can't sit back. I hate bridge. It's boring!"
Tuck, who is originally from Newcastle, England, started dancing in 2006, several years after her husband passed away. Like most people, she started with social dancing and dance recitals with her instructor, called showcases. But she wanted more of a challenge.
Now, Tuck's dance card is so full it puts younger competitors to shame. She said she doesn't worry if it's too much.
"I feel if I throw 10 balls in the air I'll catch as many as I can," Tuck said.
Move It or Lose It
Meszaros, of Minneapolis, has been competing for about five years with her teacher, Jeff Nehrbass, a Lutheran minister from Camden, Minn. She said many dance instructors hesitate to take on students her age because they're not as flexible as younger dancers.
That's a shame, Meszaros said. "I think if you don't move it, you're going to lose it," she quipped.
Competitions, Meszaros said, benefit older dancers by proving to them that they "can do something young people can do, and do it as well."
Socialization Is a Major Benefit
Meszaros said traveling to competitions also filled a need for her after losing her husband of 64 years in 2015. "It's a way to socialize," she said.
Pat Moriarity, 70, agreed. Moriarity, the co-owner of a steel company in the Twin Cities, said he was turning into a hermit before he got into dancing at Cinema Ballroom in St. Paul.
"I lost a bet seven years ago and had to pay it off by taking a dance lesson," Moriarity said. "I was never going to take a second lesson, and here I am, several hundred thousand dollars in. I feel like lucking into ballroom dancing is one of the best things I've ever done."
Moriarity, who takes a dozen private lessons a week with three instructors, said he likes socializing with them, especially at out-of-the-way competitions where there are fewer distractions. "They actually do care about you," he said.
Dancing is all about the relationship between partners, Moriarity said. "You dance well because you have a good relationship with that instructor."
Ballroom Competition = Mastery (But It's Pricey)
Competing also forces dancers to continue improving, he said, adding that there's no end to it.
"Social dancers get a to a point where they're not going to get better. You've got to push yourself," Moriarity said.
Joan Endres, 75, said she especially likes the "pretty dresses" she gets to wear as a ballroom dancer, though they do come at hefty price.
"I never thought I would spend that much money on a dress," Endres said. "But you adjust to it."
She started slowly in ballroom dancing, taking one private lesson a month for a few years, plus some group classes. "I never imagined I would be in a competition," Endres said. "Never, ever."
After dancing at a few studios in the Twin Cities, she now works with instructor Gene Bersten of Dance With Us America, in Edina, Minn. Endres said that although dancing with Bersten is a pleasure, he's pushed her hard to improve. "Sometimes I think he thinks I'm 50 years old," she said with a chuckle.
The work has paid off, though. Two years ago in Florida, Endres won the senior open category in the U.S. Dance Championships Latin division.
Endres advises newcomers to find a good instructor, then enter showcases at their ballroom or a local competition that doesn't add travel expenses to the bill.
Some ballroom competitions cater more to amateur partnerships and charge dance fees of just a few hundred dollars, said Leland Whitney, vice president of social dance with USA Dance.
Other ways to cut ballroom competition costs include buying used attire or renting it, doing your own hair and make-up and traveling with a teacher who has several students competing to spread out the professional's travel expenses.
Sandi Gotz, 67, said she got into competitions slowly, both because she's shy and because the dresses cost so much. She said her teacher, Martin Pickering, looks for ways to save his students money and doesn't push them to spend more than they can afford. Gotz enters one or two competitions a year now, and after doing well in Wisconsin last year, she's hooked.
"The glitz and the glitter — at this age, to be part of this — it's just the excitement of it," Gotz said, beaming. "It's the most challenging thing I've ever done — and you see the results."
Dan Browning
is an investigative reporter for the Star Tribune in Minneapolis. He previously wrote a series of articles about his wife, Elizabeth Cummings Browning, a bright, loving, mother and talented singer-songwriter who was diagnosed in August 2012 with probable frontotemporal dementia (FTD), the most common form of brain wasting that strikes people under 60.
Read More