Older Entrepreneurs: Gloomier Than Younger Ones
Findings from the Kauffman Foundation's 2018 survey of entrepreneurs
Entrepreneurs in America are generally pretty optimistic these days, according to a new survey. So why are older business owners more pessimistic than younger ones?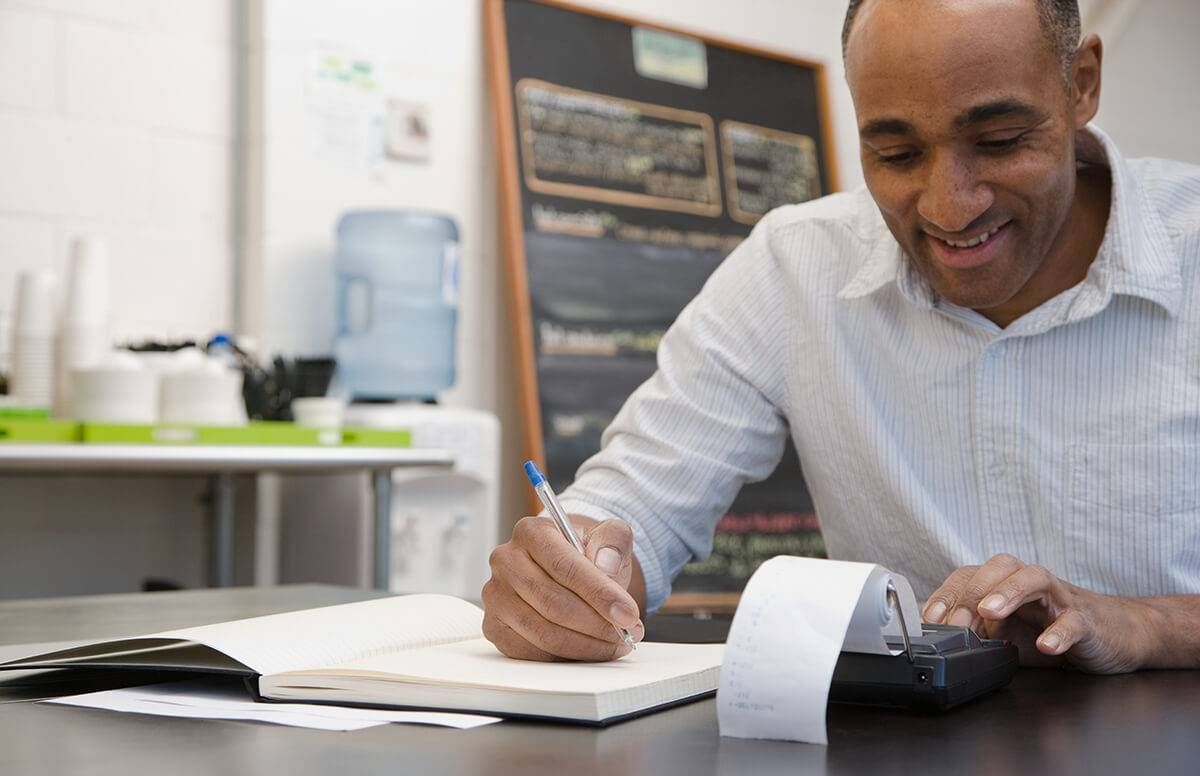 Yesterday, the Kauffman Foundation, a nonpartisan group supporting entrepreneurship, released its 2018 State of Entrepreneurship survey of 2,165 business owners. Overall, 77 percent who've been in business more than five years and 67 percent of newer business owners rated their 2017 performance positively; so did 70 percent of owners under age 45. But only 59 percent of entrepreneurs 45 and older said their businesses did well last year.
Similarly, 91 percent of entrepreneurs under 45 said they expected their businesses to perform well this year, but just 81 percent of those 45+ felt that way.
Older Entrepreneurs vs. Younger Entrepreneurs
At a time when a sizable number of people in their 50s and 60s are considering starting their own businesses, possibly as retirement income, the age disparity seems disconcerting.
"These findings are consistent with previous research we conducted, where older entrepreneurs tended to cite practical concerns around making money and meeting family obligations," said Larry Jacobs, vice president of public affairs for the Kauffman Foundation. "They are likely harsher critics of themselves and their business if they aren't meeting or exceeding those expectations."
By contrast, Jacobs said, "younger entrepreneurs tended to be more driven by passion, motivated by the idea. Money, although important, was a secondary consideration."
On a more hopeful note, the Kauffman researchers found that most older entrepreneurs had support from family and friends to start their businesses, just as younger ones did. In fact, they were slightly more likely to get the encouragement: 82 percent of those 45+ had support compared with 80 percent under 45.
Also, older entrepreneurs reported having less difficulty starting their businesses than younger ones, in a variety of ways.
For example, while 32 percent of startup owners under 45 said obtaining the necessary licenses to operate their business was difficult, only 23 percent of older ones did. Also, 23 percent of owners under 45 said registering their business for a state tax ID was difficult, but just 14 percent of those 45+ felt that way. And 21 percent of those under 45 said applying for loans was difficult, but a mere 14 percent of those 45+ did.
I suspect older owners found things a bit easier because they have more experience dealing with paperwork and bureaucracy.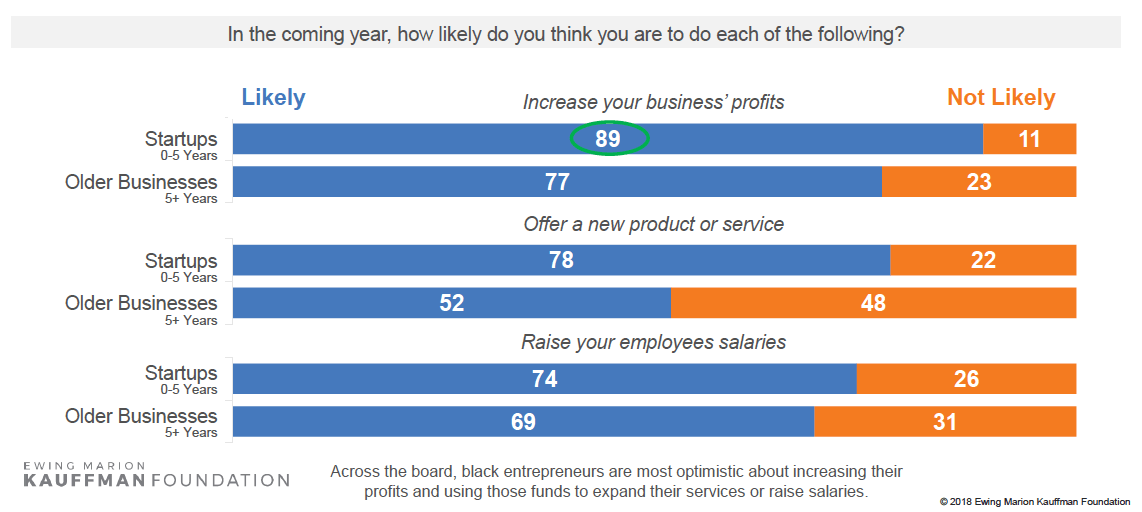 Big Plans for Business Growth in 2018
Overall, entrepreneurs have big plans for 2018, especially newish businesses.
Some 78 percent of owners of startups younger than five years plan to offer a new product or service this year; 74 percent plan to raise their employees' salaries and 55 percent plan to hire additional employees. (For owners of older businesses, 52 percent plan to offer a new product or service; 69 percent plan to raise employees' salaries and 38 percent plan to hire more employees.)
Female Entrepreneurs vs. Male Entrepreneurs
The survey also found a few striking differences between female entrepreneurs and male entrepreneurs.
Female entrepreneurs appear to struggle more than males in the first year of owning a business, the survey found. Only 52 percent of women with first-year startups said their ventures performed well last year, while 67 percent of men said theirs did. The difference, however, fades over time. Among businesses that are five years old or older, 77 percent of women and 77 percent of men said their business performed well last year.
Women were also more pessimistic than men about the year ahead for their businesses: Only 41 percent of women with startups under five years and 36 percent of women with older businesses felt conditions will get better for their companies in 2018. By contrast, 48 percent of men with the young startups and 49 percent of men with the older ones felt that way.
And women were more likely than men to feel the government doesn't care about "business owners like me" — 65 percent of women startup owners said that vs. 56 percent of men. Based on her recent interview with Next Avenue's Kerry Hannon, it looks like U.S. Small Business Administration Administrator Linda McMahon aims to fix that. McMahon said she wants to set up about 13 more women-owned business centers around the country.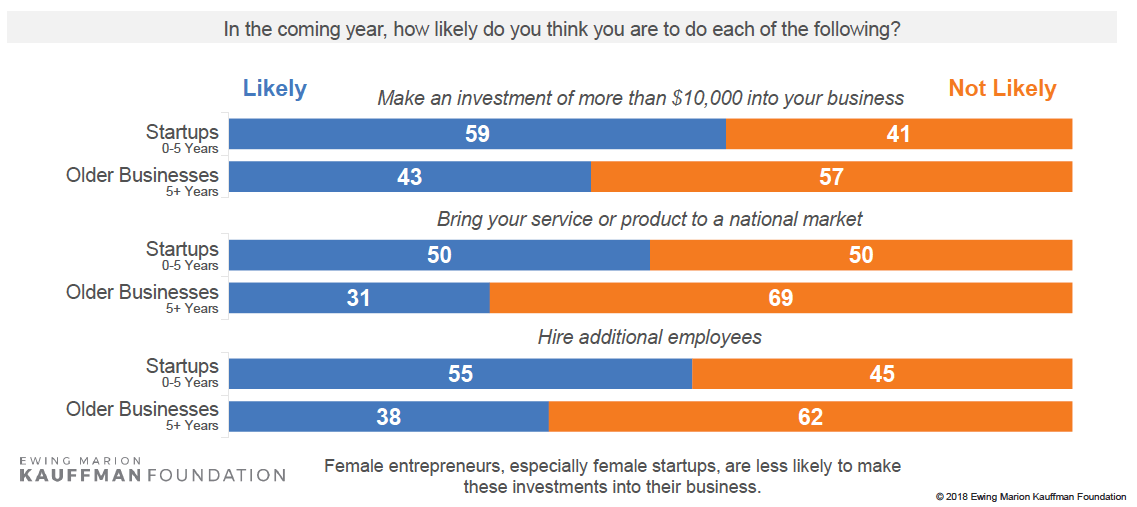 Does the U.S. Government Care About Entrepreneurs?
Entrepreneurs of all ages told Kauffman they thought government incentives currently favor established businesses over startups, but older owners were more likely to believe this: 84 percent of those 45+ felt this way, compared with 77 percent of those under 45. About a third of entrepreneurs felt the government "doesn't care about business owners like me."
The Kauffman Foundation also just began having entrepreneurs meet with members of Congress to discuss the policies that impact business owners, in hopes of promoting "pro-startup policies" nationwide.
"Encouraging entrepreneurship begins with listening to entrepreneurs, helping to raise their voices and removing the barriers that block them from starting and growing their businesses," said Kauffman Foundation President and CEO Wendy Guillies. "The goal is to make entrepreneurship accessible to every interested American, to infuse it into the economy."
That may be an uphill climb. Kauffman Foundation research shows that entrepreneurship in America has been on the decline for a decade. That decline, the Kauffman Foundation's State of Entrepreneurship report says, "has dragged down productivity, wages and living standard for all Americans."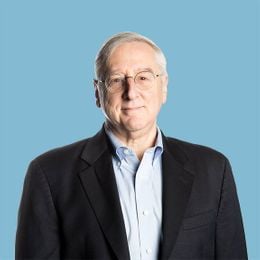 Richard Eisenberg
is the former Senior Web Editor of the Money & Security and Work & Purpose channels of Next Avenue and former Managing Editor for the site. He is the author of "How to Avoid a Mid-Life Financial Crisis" and has been a personal finance editor at Money, Yahoo, Good Housekeeping, and CBS MoneyWatch.
Read More