Opinion
OPINION: Go Old School With the COVID-19 Vaccine Rollout for Older Adults
Lack of internet access shouldn't be a barrier to getting vaccinated
The federal government's recommendation that the COVID-19 vaccine be made available to adults aged 65 and up is a welcome step in the effort to accelerate the distribution of these life-saving shots. Unfortunately, many of the older adults most at risk of serious illness or death from COVID-19 are the least likely to have online access to vaccine information and registration options. Other forms of outreach to this population are essential to an effective vaccination effort.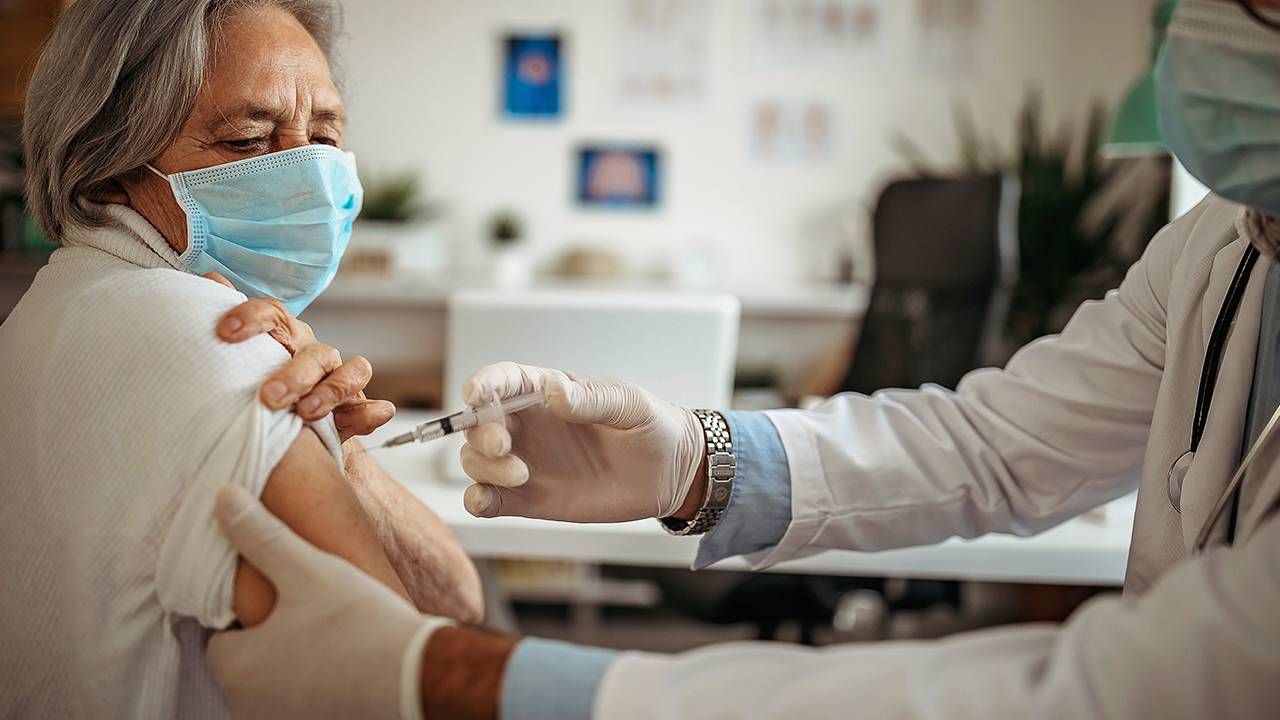 In a recent Los Angeles Times story about this problem, Donna Spratt, 82, of Cerritos, Calif., explained that she couldn't figure out how to use county's online system for vaccination registration."Once you're retired, you kind of lose contact with these things," Spratt said. She needed to get her daughter to arrange for the appointment and her son to drive her 20+ miles to get the shot.
The digital divide between young and old has already emerged as a critical problem during the months of sheltering in place: older people without internet access have faced increased risks from social isolation without the ability to connect even via Zoom. Internet access is also crucial to accessing essential services like grocery delivery and telehealth video visits during the pandemic. 
Those who most need the vaccination may be least able to get it.
The statistics on technology use make this divide starkly clear. Although many older adults are tech-savvy and frequent users of tablets, smartphones and laptops, the 65 and over population consists of multiple subgroups, with widely disparate technology skills and access.
According to a recent Pew study, while nearly three-fourths of people over 65 use the internet, only 59% of them have home broadband, a critical component for those unwilling or unable to venture into public spaces. Among the "oldest old," the numbers are even bleaker: 60% of people ages 75-79 go online, but only 41% have home broadband and just over 30% own smartphones. Of those 80 and up, 44% report using the internet, 28% have broadband capacity at home and only 17% own a smartphone.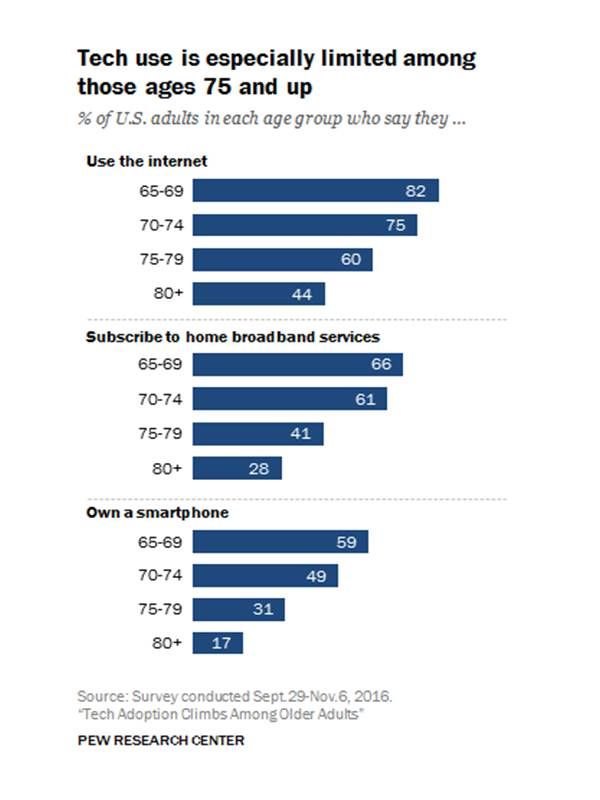 This problem is not hypothetical. It's playing out in news reports across the country as older people deal with crashing websites and hours spent waiting on hold and homebound older adults turn frantically to their adult children for help. My 96-year-old father and his competent and loving caregivers are still waiting to hear from his health care provider regarding how he will get the vaccine.
In Santa Clara County, Calif., where I live, vaccines are available to people over either 65 or 75 depending on their health care providers. Many of my friends in these age groups have no idea when or where they will receive their shots.
Digital access by older people of color, who are at greater risk of complications or death from COVID-19, is even more limited. The upshot of this discrepancy is that those who most need the vaccination may be least able to get it.
One well-meaning volunteer effort in South Carolina offered drive-through registration with volunteers using iPads to help older adults sign up for a vaccine appointment, provided they had an email address. But even a requirement as basic as email may be out of reach for many older people.  
A Simple Solution
One silver lining in recent months has been the emergence of pilot programs by nonprofits and local governments who are scrambling to deliver internet-ready tablets and digital literacy training to older residents. Health providers are reaching out to make video visits possible for older patients who have never been online, too. But these efforts take time — the one thing the oldest and most at-risk people do not have with this surging and deadly virus.
Policymakers, health care providers and logistics managers need to think fast and creatively about other ways of getting the word out to older people who are now eligible for a vaccination.
Beyond digital solutions, there are simple ways of doing this. Flyers delivered via the Senior Nutrition Program, Meals on Wheels and similar programs; public service announcements on radio and television and in print media in multiple languages; targeted bulletins sent to retirement communities; telephone outreach from senior service and health care providers; student-run community service projects; help from family members and postcards sent by mail can all play a role.
Like anyone else, older adults will need information in these formats about potential vaccination side effects and follow-up, and where and how to get a shot. 
And of course, the ability to make a vaccination appointment by telephone is key.
But we cannot expect our oldest adults to spend hours trying to get through or to deal with complicated phone-menu options. The telephonic appointment process must be user friendly and provide the same chance at securing an appointment as a laptop user with a fast internet connection.
These are issues of both health and equity, since internet access is even more limited in some rural areas and among lower-income groups who have already suffered the most.
Technology can do many things, but only for those who can use it. Right now, it's time to go old school.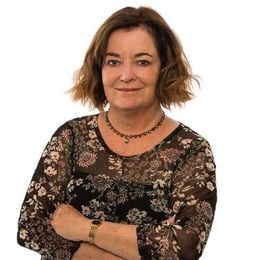 Susan Nash
is a consulting research scholar at the Stanford Center on Longevity. She is a former Encore Fellow with the City of San José, Calif., where she worked on the city's age-friendly action plan and digital literacy issues.
Read More