Pay Close Attention to Dental Health
For caregivers, and those they care for, maintaining good daily habits is vital
Older adults (and their caregivers) face a number of obstacles when it comes to dental care.
Isolation, lack of mobility or transport and medical issues all play a part in poor dental health. Retired Americans who have lost company dental benefits or are on fixed incomes may ignore their dental health. But poor dental health can lead to many more problems.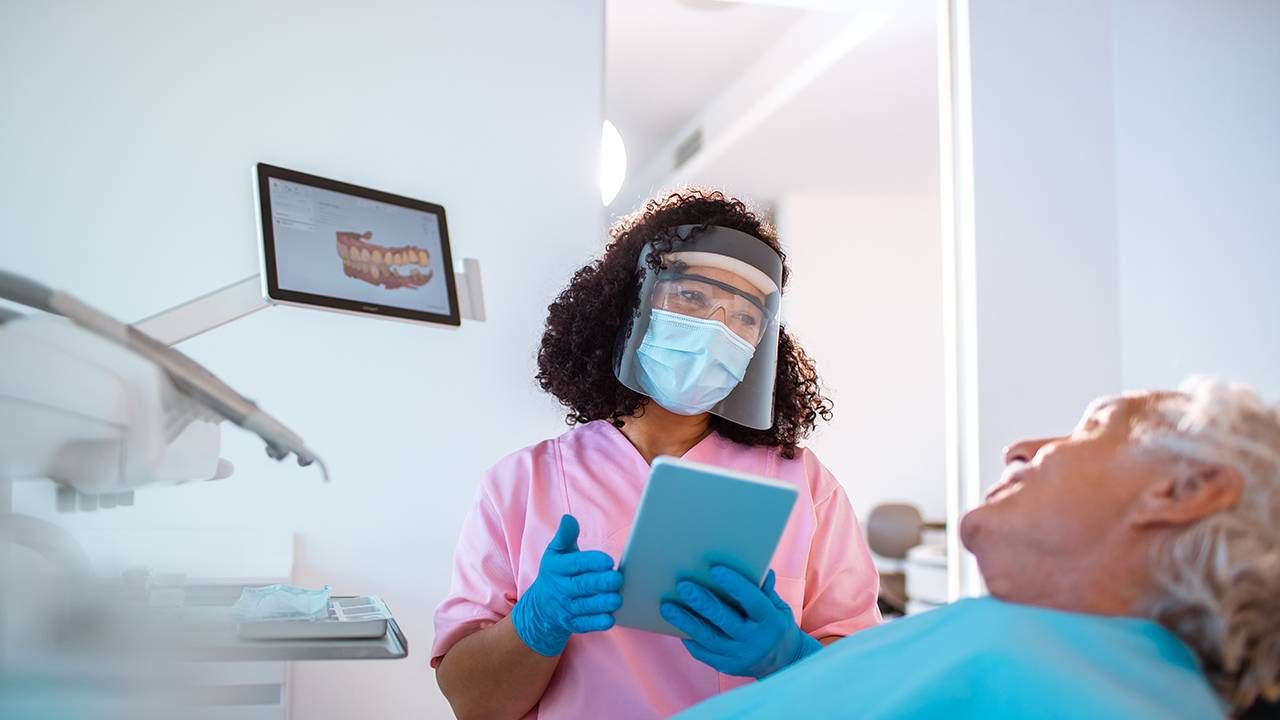 Building a Dental Bridge
"In our opinion, the greatest challenge for dental health is lack of awareness – about its importance to overall health and how vital daily care is to preventing disease," says Deborah Jacobi, licensed dental hygienist, policy director and spokesperson for Apple Tree Dental, a Minnesota nonprofit providing dental care to people in need. "Better, broader oral health literacy could change personal behaviors and increase the priority of daily oral care for dependent adults."
Access to dental care is a critical issue that needs to be addressed, says Dr. Judith A. Jones, who teaches at the University of Detroit Mercy School of Dentistry.
Overworked caregivers may not see oral hygiene as a priority, however it should be considered as important as bathing and medications.
"While the oral health of the nation has improved since the last Surgeon General's Report on Oral Health, there remain critical disparities in oral health among underserved minority and poor older Americans," said Jones. "As a nation, making care available through federal programs would go part of the distance, but we need to take a life course approach to the social determinants of health to improve health equity as a whole, and oral health equity in particular."
Don't Give Mouth Health the Brush-Off
Overworked family caregivers may not see oral hygiene as a priority, however it should be considered as important as bathing and medications. Untreated infections could spread through the rest of the body. Older patients may be ashamed of bad breath, tooth decay or tooth loss, which can lead to increasing isolation and depression.
Here are some things to look for:
Is the mouth dry? Some medications can cause dry mouth. Encourage loved ones to drink water or suck on sugar-free candies to increase saliva (if choking is not an issue). Saliva helps decrease the risk of cavities, says Wisconsin-based dentist Dr. Patrick Campbell. "When an elderly patient suffers from dry mouth, rampant dental cavities can be the result. It is important for elderly patients to have a healthy dose of fluoride in their diet and oral hygiene routine."
Is the toothbrush clean? Foul-smelling bristles or blood on the bristles of toothbrushes can point to problems such as inflammation, plaque or periodontal disease. Make sure the toothbrush isn't too abrasive; soft bristles are best. Use toothpastes containing fluoride, and ask your dentist about fluoride mouth rinses.
Are toothbrushes easy to grip? Toothbrushes, or handles that are larger and easier to grip, are available to help older patients with dexterity issues. "Many people find electric toothbrushes pleasant to use. Even simple versions are helpful if dexterity, arthritis, or other limiting conditions are present," says Jacobi. "Increasingly sophisticated brushes provide feedback on whether areas of the mouth were missed. There are also many toothpastes and rinses offering a range of benefits from extra fluoride to bacterial control. Regardless of the type of toothpaste or brush, it is important to get in there and do something every day."
Rinse and repeat? Many supplement drinks are thick and can stick to the teeth and gums. Routine daily rinses with water and regular brushing can help counteract decay. A relatively new product, silver diamine fluoride, has increased in popularity in the dental community. "If an elderly, homebound patient has a large cavity, it may not be feasible (or safe) for the patient to see a dentist for more invasive care. This product can be applied to the cavity in just about any setting," says Campbell. "The advantage of this medication is the arresting properties, as it essentially stops a cavity in its tracks."
Do dentures fit? Make sure removable dental prosthetics fit and are cleaned properly. "Elderly patients often have already had complete or partial dentures for years," says Campbell. "I often see improper care and cleaning of dentures, which can lead to mucosal fungal infections or build-up on dentures."
Is help needed? Compromised patients may need help with mouth care, and teaching younger household members to brush and floss the teeth of older family members can bridge the stigma of disability. "Having a son or daughter provide daily care requires delicacy to protect the older adult's dignity," says Jacobi.
Are they stoic? Some older adults may not report mouth pain or may have less sensation in the mouth. Watch for signs such as changes in chewing (like chewing on one side of the mouth or not biting down completely), refusal to eat, becoming withdrawn, aggression or other unusual behaviors.
Have they had a recent dental exam? Keep up with regular dental visits; dentists have COVID-19 protocols in place. Even if the older adult may only have a few teeth left, dentists and dental hygienists can check for mouth sores, oral cancer or other problems. Talk to your dentist about at-home visits.
Where to Find Help
Traditional Medicare doesn't cover most dental procedures, although some private Medicare Advantage Plans include dental coverage. "Some commercial dental plans are available for retirees," says Jones."The devil is in the details, however. I recommend reading the fine print."
Many dental offices are now offering their own in-office dental plans.
But there are ways to obtain affordable dental care, too. Look for dental and dental hygiene schools, community clinics, and Veterans Administration (VA) dental clinics, if eligible. Many dental offices now offer their own dental plans. "This type of dental program has recently been gaining popularity and has been successful for patients who are looking for alternative affordable dental plans," says Jones. "Check with your dentist to see what is available in your state."
Jacobi suggests contacting state dental associations, oral health coalitions and health departments in your area, which often maintain lists of nonprofit and charitable dental care options. Health Savings Accounts (HSAs) are often available for those still employed, to help pay for dental care, and there are credit cards designed for medical and dental costs.
"In the past, a greater percentage of Americans wore dentures, having lost all their teeth to decay or periodontal disease. Today's older adults have invested significantly in dental care including orthodontics, crowns, bridges, and implants. Without good daily care, these restorations will fail," says Jacobi. "Our aging demographics mean that there are a lot more teeth to be cared for. Not doing so effectively will lead to untreated disease, pain, unnecessary suffering and higher overall health care costs."
Additional Resources
Visit the American Dental Association's MouthHealthy.org site for information on elder dental care, paying for dental care or where to look if you don't have dental benefits offered through your employer. Other good sources of information:
The American Dental Hygienists Association
National Association of Dental Plans
Here are some dental assistance resources especially for veterans:
U.S Department of Health and Human Services
U.S. Department of Veterans Affairs