Person-Centered Health Care Takes Spotlight at Aspen Ideas Festival
Shifting from a provider-driven system is hard, but it's happening
Question: What do you get when you bring together the nation's best minds in the field of health at the Aspen Institute's 2016 Spotlight Health conference?
The answer, based on what I learned attending the four-day opening event of the Aspen Ideas Festival, is fascinating insights about "person-centered care," one of the buzziest terms among medical professionals and caregivers today.
Before I tell you about what I heard at Spotlight Health, first a definition of person-centered care. You might think that all health care is person-centered, but the reality is far different.
What Is Person-Centered Care?
For the most part, health care has forever been provider-driven, with doctors and other medical pros at the center of the universe, setting goals for patients and choosing treatment options. In person-centered care, the fulcrum shifts to the values and preferences of the person getting the medical care (particularly an older person), as well as his or her family. It's holistic, can save health providers and insurers money and, as a recent Next Avenue article noted, can even help prevent elder abuse.
The tricky part is making it financially viable.
At the session, Getting Person-Centered Care to Get Results, Dr. Bruce Chernof, president and CEO of The SCAN Foundation, and Dr. Mark McClellan, Food and Drug Administration Commissioner under George W. Bush, delved into the need for person-centered care and where people are starting to receive it.
"Person-centered care says if you build a model of care that encompasses personal goals to drive functional outcomes — not just medical outcomes — you will achieve better care, better opportunities and lower costs," said Chernof, whose SCAN Foundation (a sponsor of Next Avenue), aims to advance a coordinated system of high-quality services for older adults that preserve dignity and independence.
Why Getting to Person-Centered Care Is Hard
Chernof, who formerly served as director and chief medical officer for the Los Angeles County Department of Health Services, added: "The medical system will focus on quality of health. But there are not great metrics for 'Did I honor your goals to drive your plan of care? Did we do that well?'"
Or, as Chernof added, "We need less data and more information."
In today's hierarchical health-care organizations, Chernof said, person-centered care "is not impossible, but it's hard."
Today, McClellan noted, about the closest we typically get to person-centered care is when a family member or caregiver tries to "put together all the pieces of the health care system."
Now a professor and director of the Duke-Margolis Center for Health Policy at Duke University, McClellan recalled the time when he and his family needed to coordinate care for a family member, saying, "Boy, it was not easy."
Where Person-Centered Care Is Popping Up
McClellan maintained that person-centered care is starting to take shape, though. "We are in the midst of a gradual shift from paying for services when the emphasis is on an acute illness and preventing infections to a person-centered approach, due to big data, remote monitoring, digital care and opportunities for personalized care," he said. "But moving to those models is really hard."
McClellan cited Gundersen Health System, based in LaCrosse, Wis., as one place where person-centered care is happening. "They don't ask, 'What's your health problem?' They ask, 'What can we do to help you meet your needs? What are the resources that are important to you?'"
McClellan, who also ran the Centers for Medicare and Medicaid Services from 2004 through 2006, pointed to Medicare-approved Accountable Care Organizations (ACOs) as another way person-centered care is beginning to develop.
However, the business model is still what you might call in beta. "Only one in 10 ACOs get it right financially, in a sustainable way," McClellan said.
The business model issue is why The SCAN Foundation just produced a nifty person-centered care Return on Investment (ROI) calculator that hospitals, insurers and health systems can use. At The SCAN Foundation Aspen Ideas Festival booth, I got a test-drive and saw how a user can determine what the initial outlay might be to adopt a person-centered approach and how long it would take to recoup the investment and start saving money by switching to this way of working.
Person-Centered Advice
But what about the here and now? What's a person to do if he or she wants person-centered care — or wants it for a loved one?
McClellan suggested starting by contacting your Area Agency on Aging to learn about local resources that support medical care. "They may not offer a lot of help directly, but they can connect you to resources in your area," he said.
Chernof directed the Aspen audience to The SCAN Foundation's 10 Resources to Prepare for Aging with Dignity and Independence brochure and 10 Things You Can Do checklist, both on the group's website. Both are helpful guides to get essential support and resources.
When asked how America's health system for older Americans could become more person-centered, Chernof said he'd like to see Medicare reimbursement tied to the answers to three questions for patients: "How confident are you that you understand your plan of care? If you had a problem, is there one person you could go to for help? And, could you get hold of that person?"
If those questions had to be asked and answered well, said Chernof, "I guarantee you the way health care operates would change."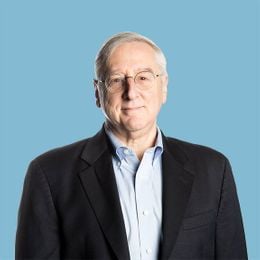 Richard Eisenberg
is the former Senior Web Editor of the Money & Security and Work & Purpose channels of Next Avenue and former Managing Editor for the site. He is the author of "How to Avoid a Mid-Life Financial Crisis" and has been a personal finance editor at Money, Yahoo, Good Housekeeping, and CBS MoneyWatch.
Read More