Phil Rosenthal, Culinary Adventurer, Serves Up His TV Show in a Book
Recipes, photos and behind-the-scenes stories are on the menu
Cow udder tacos. Dried crickets. Bear salami. He's tasted them all, but you won't find the recipes in Phil Rosenthal's new "Somebody Feed Phil The Book." Instead, expect Anthony Gird's brownies, Sarah Grueneberg's salumi sauce, Cole Ellis' honey-roasted turkey breast, Michael Solomonov's duck stew, Emily Shaya's red beans and rice, Martin Picard's maple pie and Rosenthal's mother's matzoh ball soup.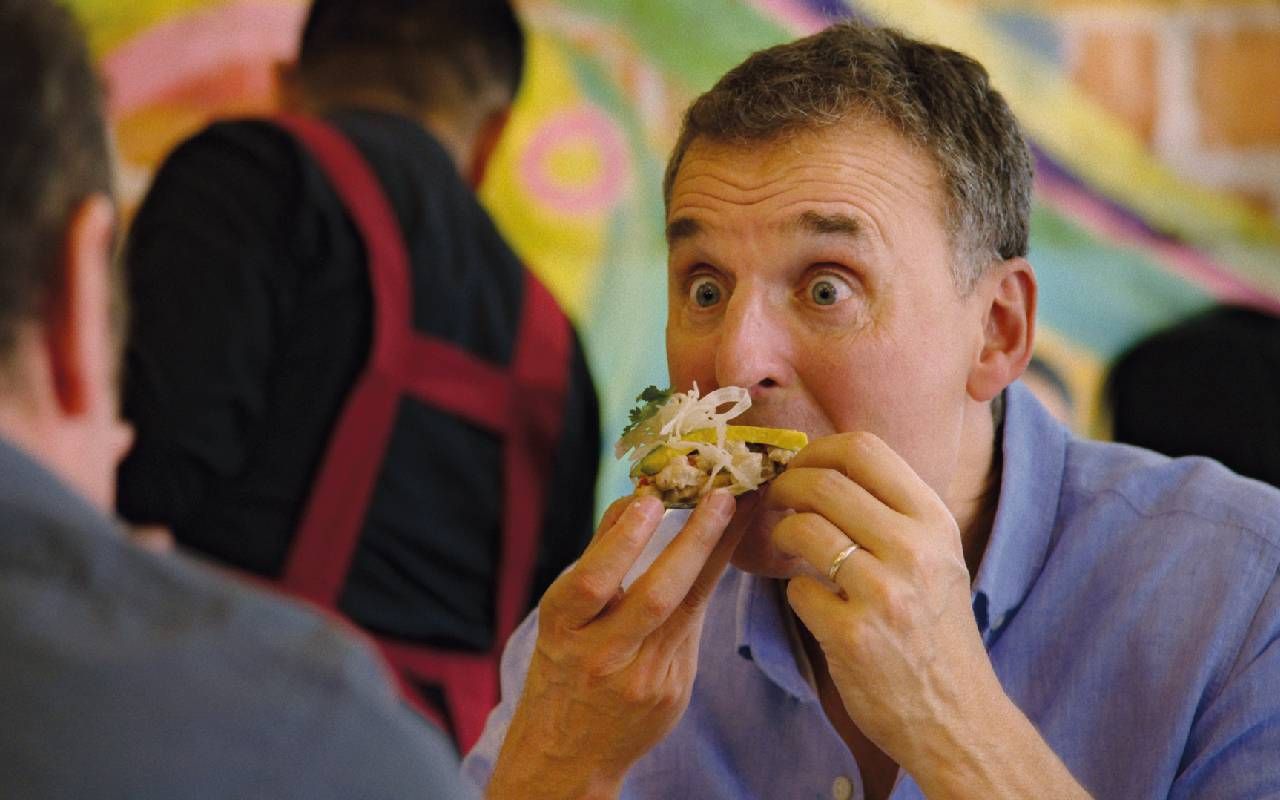 Those recipes, along with more than 50 others, are from the first four seasons of "Somebody Feed Phil," Rosenthal's culinary-themed travel show on Netflix, which debuted in 2018. "Chefs we met along the way contributed recipes, so the book is special," Rosenthal said in a phone interview from his home in Los Angeles.

"Food is the great connector, and laughing together is the cement."
In search of local food traditions and the serendipitous connections that travel so often offers, the amiable Rosenthal, 62, has traveled to Venice ("like a movie that's been art-directed"), the Mississippi Delta, Dublin, New Orleans, Lisbon ("new, exciting — and familiar") Chicago, Cape Town, London ("the gateway drug to Europe"), Hawaii, Tel Aviv, San Francisco and Copenhagen, where (oops) Rosenthal picked up an open-faced sandwich that custom requires be eaten with a knife and fork.
Co-authored by food writer Jenn Garbee, the book is a veritable feast of gorgeous food photos, untold tales from the locations where the unscripted shows were filmed and transcripts of some of the hilarious back-and-forth between Rosenthal and his parents on video calls he placed as he traveled.
"Travel literally enhances your life," Rosenthal said, echoing a theme he emphasizes in more than one chapter.
Working as a courier, Rosenthal made his first overseas trip at 23, when he flew to Germany and traveled for two weeks before returning to New York. "I remember thinking then that this is what your extra money is for. There is no more mind-expanding thing — or fun thing — we can do in life than meet people from other lands, learn about them and bond with them. Food is the great connector, and laughing together is the cement."
'I'm Exactly Like Anthony Bourdain …'
The "Somebody Feed Phil" Netflix series was preceded by the PBS series "I'll Have What Phil's Having," which aired in 2015. Before that, Rosenthal was known as the creator of the award-winning comedy "Everybody Loves Raymond." (Sample the show here).
Currently, Rosenthal co-hosts a podcast called "Naked Lunch" with writer David Wild. "We've been friends for 25 years, eating with people from the music world, comedians, actors, family and friends, and I'd always said we should be taping the conversations," Rosenthal said. "And now we are."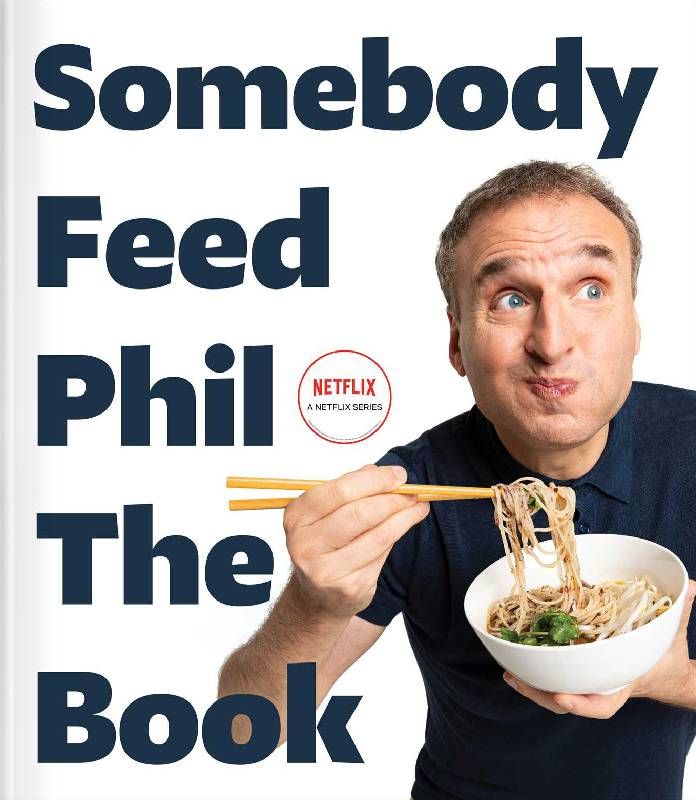 About those cow udder tacos: In the first season, Rosenthal sampled them in Mexico City. It wasn't his favorite dish and did not garner the joyful raising of the eyebrows and widening of the eyes, his signature signs of gustatory delight.
"I've learned that I can taste things, and I'm not going to die even if it tastes bad. The last thing I ever want to do is be culturally insensitive — to faint, to cry or to run away," Rosenthal said. "At best, I am not brave, but I am polite." He did admit that he wasn't entirely sorry that his schedule didn't allow time to try baked iguana while he filmed a segment in Oaxaca.
After the ninth and final season of "Everybody Loves Raymond," Rosenthal knew he wanted to do a food show, but several networks turned down his pitches. When he walked into the office at PBS, apparently he said the right thing. "I told them I'm exactly like Anthony Bourdain if he was afraid of everything," Rosenthal said, laughing.
And yet on "Somebody Feed Phil," Rosenthal is quite adventurous, even away from the table or the food truck. He's had close (very close) encounters with elephants, camels, zip lines and stand-up paddle boards. He even had a go at piloting a gondola in open water and he learned to dance a tango, all while the cameras roll. Where's the fear?
"When my brother, who is my producer, presents me with these things, my first reaction is always 'NO,' but Richard says, 'You're doing it. You'll be fine. You'll be safe.' And he's always right," Rosenthal said. "I've learned that all the fun in life comes in taking little steps outside your comfort zone — in terms of food, conversations and relationships." (In Rosenthal's first book, "You're Lucky You're Funny," read how Rosenthal convinced Ray Romano of that.) 
Next Up: Somebody Feed Phil The Musical?
Does Rosenthal have favorite go-to places where he orders the same things over and over, like the rest of us? "Sure," he said. "There's a neighborhood joint where I get the breakfast burrito, the coffee shop where I stop when I walk the dog and a number of local dinner spots. Because I'm such a fan, I even invest in restaurants — I love these artists."
His appreciation goes deeper. Rosenthal founded Somebody Feed the People, his family's philanthropic initiative that works with organizations to address food access and insecurity and to support chefs and restaurant workers. Also, Food Forward, a nonprofit dedicated to reducing food waste and increasing access to healthy fruits and vegetables, benefits when Rosenthal's fans buy merchandise at his shop. His involvement in both, he said, reflects his hope that "maybe I could attract some good because of 'Somebody Feed Phil.'"
"If you were going to pick a city with every kind of restaurant, you'd be hard pressed to find a more worldly city than Los Angeles."
Sometimes, the memory of a favorite dish he tasted long ago and far away haunts him. That's true for the bagels Rosenthal sampled in Montreal, in the third season, and also for the khao soi, a fragrant noodle soup, that he enjoyed in Chiang Mai, Thailand, while shooting the first season.
"I can order the bagels, but the soup is not readily available," Rosenthal said. "However, if you were going to pick a city with every kind of restaurant, you'd be hard pressed to find a more worldly city than Los Angeles. Is the khao soi here as good as what I had in Thailand? It's certainly more easily accessible."
Asked what's next — maybe "Somebody Feed Phil The Musical?" — Rosenthal laughed, and then admitted there have been discussions about a stage show recounting what he called his "crazy life." That would be tasty fare, indeed.
Patricia Corrigan
is a professional journalist, with decades of experience as a reporter and columnist at a metropolitan daily newspaper, and also a book author. She has written for Next Avenue since February 2015. Read more from Patricia at latetothehaight.blogspot.com.
Read More