Phone Calls to Outreach Lines Skyrocket During Pandemic
Isolated and lonely adults are sharing their fears and desperately wanting connection
The anxiety and grief are palpable when Patrick Arbore answers calls made to the Friendship Line, an 800-number call line designed for older adults who are in crisis or just need somebody who can talk to them. They're worried about a lack of control over their health and wonder what a "new normal" may look like someday. One caller, in rapid speech, kept repeating that she's "scared to death."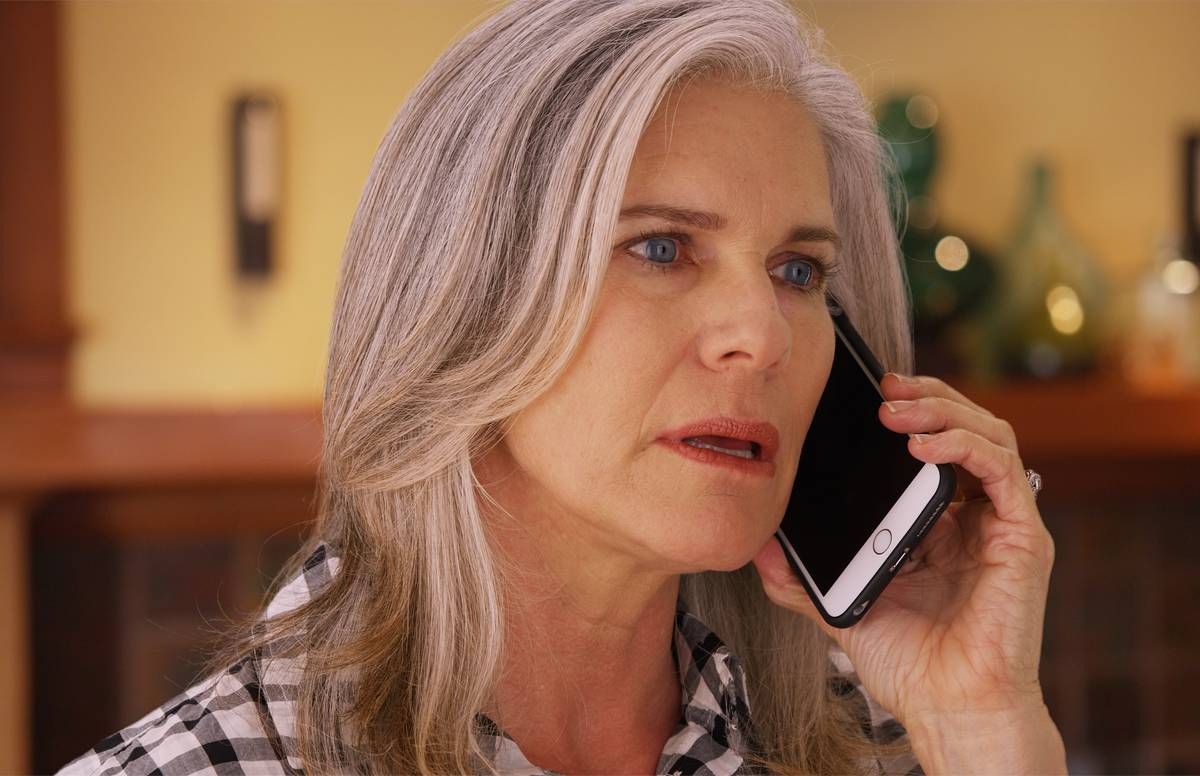 "There is this almost existential loss that something has changed in our regions, our counties, our towns and our cities that people fear will never come back," says Arbore, the Friendship Line's founder. "And that's a scary thing to think about."
Calls from lonely and isolated older adults to the 47-year-old Friendship Line, part of the San Francisco-based Institute on Aging, have skyrocketed during the COVID-19 pandemic. Daily calls soared from 500 or 600 in February to 700 or 800 since mid-March.
"There is this almost existential loss that something has changed in our regions, our counties, our towns and our cities that people fear will never come back."
And those totals are poised to grow even more. Because of growing isolation and loneliness among older adults during the pandemic, the Friendship Line announced a new partnership with the California Department of Aging on April 24 to extend its services and better support the entire state. Nearly two dozen staff members from the Alzheimer's Association will help answer the additional calls.
"These connections are what bind us to life, and I feel that even more strongly in the midst of the coronavirus," Arbore says. "Where would we be if not connected to one another?"
Our Commitment to Covering the Coronavirus
We are committed to reliable reporting on the risks of the coronavirus and steps you can take to benefit you, your loved ones and others in your community. Read Next Avenue's Coronavirus Coverage.
Arbore brings an understanding to those he counsels during the phone calls. He's 72 and lives alone. "I am aware of that underlying feeling of loss," he says. "That something big is changing in our world, and it may never go back."
'Scared to Death'
Long before the pandemic posed unprecedented challenges for the country, the older adults who called in to the Friendship Line were mostly grappling with a recent traumatic loss or multiple losses over many years. They were often isolated, lonely and depressed, all longtime struggles for older Americans. In a survey of Next Avenue readers earlier this year, 75% said they feel lonely occasionally, frequently or always. Nearly 30% said loneliness is negatively affecting their quality of life.
The pandemic has only exacerbated these feelings and emotions. Facing a higher risk of serious complications from the illness, they're on their own more than ever as favorite gathering spots are shuttered and visits with friends, family and neighbors are strongly discouraged. Now, says Arbore, people call in with a high level of anxiety and grief.
One woman told him the pandemic had resurfaced memories from decades ago. She was again mourning the loss of Pan American World Airways and its "elegance." The company closed nearly 30 years ago. She told Arbore, "'All these different things I've lost along the line are starting to come up because I have too much time on my hands.'"
Says Arbore: "Losses of a lifetime can really start to resurface with more emotions."
The North Carolina Baptist Aging Ministry's Hope Line, which serves older adults in the state, was just getting started as the coronavirus began to spread. Before the health crisis, the ministry was hearing primarily from callers who had no family connections or loved ones nearby, answering about 10 calls a month, says Melanie Beeson, call center director. Between mid-March and mid-April, the ministry took in 300 calls. It has added more phone lines and hours to meet the need.
"We're getting folks that do have family and do have church connections but because of the pandemic, they're not able to take part in their usual activities," Beeson says.
One caller, a grandparent, had been living with her child and grandchildren, but had to move out. "She was really missing the activity of her grandchildren being in the home," Beeson says.
Active Listening and Authenticity
For the callers who dial in, the staff member or volunteer on the other end of the phone line is a friendly person to lean on, someone who can offer the encouragement and ideas they need to regroup.
Volunteers with the North Carolina ministry are trained to be active listeners — meeting callers where they are and providing small steps they can take to improve their well-being, whether that's calling a friend or reading a Bible verse.
On the Senior Talk Line, a service in Birmingham, Ala. that places calls to older adults in the region, coordinator Ana Sullivan says being authentic is critical. "We've got to be real. I'm not saying to be authentic you have to unload all your [own] fears and concerns. But just be realistic about the situation," Sullivan says. And, she adds, offer up solutions.
One woman said the pandemic had resurfaced memories from long ago ... "All these different things I've lost along the line are starting to come up because I have too much time on my hands."
To somebody who is missing in-person visits with their friends and family, offer to video chat with them instead, for example. Researchers have found that video chats with loved ones can provide a mental boost for older adults.
Arbore often finds himself recommending that callers turn the TV news off. A couple of Sundays ago, just to experience what many of his clients told him they do, he watched cable television news for four hours. "I really felt anxious afterwards," he says.
Instead, Arbore suggests to callers that they watch some local news in the morning and evening to stay informed, but that they otherwise turn TV news off, especially right before they go to bed. "One of the things that contributes to feelings of depression or suicidal ideation or hopelessness or loneliness is disrupted sleep," says Arbore, who also founded the Center for Elderly Suicide Prevention & Grief Related Services.
How to Help Lonely or Isolated Older People

For those who are reaching out to older adults — friends, family or neighbors — call line experts say it sometimes doesn't take much to lift their spirits. Here's how to help:
Focus on their practical and emotional needs. Ask them what would be most helpful. If they want to avoid the grocery store, says Sullivan, help them place an online order. If they're not sure how to get a face mask, send one to them — or make it yourself.
Sullivan also advises looking for ways to connect with them emotionally since you can't be with them physically. Mail a picture made by a grandchild or great-grandchild or, if they love coffee, a new mug to use each morning. "Every time they see it, they'll know they're not forgotten," Sullivan says.
Drill down deeper. Find out what their true concerns are and talk them through. Some may simply need reassurance that, say, their Meals on Wheels meal will continue to arrive. For others, the worry can be much deeper. Arbore acknowledges those concerns aren't always easy to uncover, especially among men who are less likely to open up about their feelings.
He often wades into the conversation by citing statistics showing that many deaths from COVID-19 are among those 70 and up, like Arbore himself. He shares that those statistics scare him. "If it's a man, I'll say, 'What do you think?' If it's a woman, I'll say, 'What do you feel?'" Arbore says. "That really allows the conversation to open up."
Just make the call.  Even just a five or 10-minute call on a regular schedule can make a difference for an older person who is feeling lonely or isolated. "It's not the quantity. It's not the amount of time. It's the consistency of it," Arbore says. "It's really an opportunity to say to that older person, 'I haven't forgotten you.'"