Physical Therapy When Physically Being There Isn't Possible
More patients and therapists are finding telemedicine works well for PT
Mary Mihaly had been dealing with knee pain for years but was able to manage it with ibuprofen or aspirin until last year.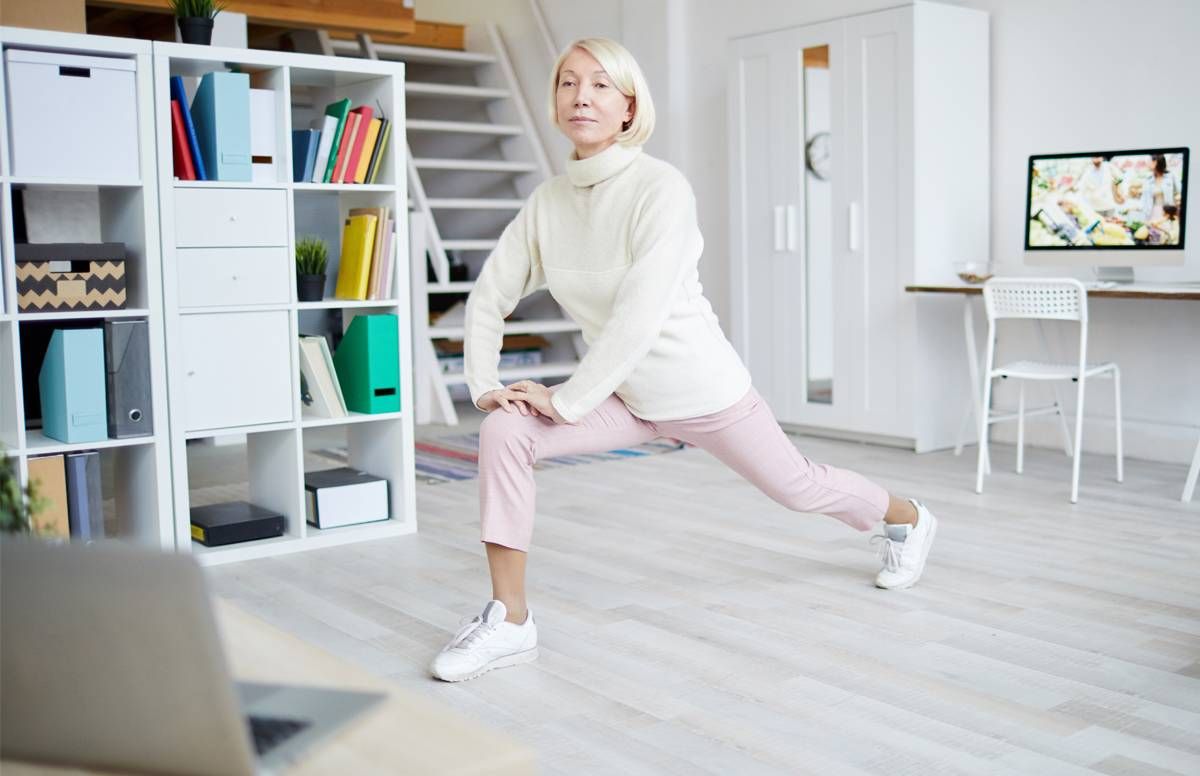 "Last October, I went to Australia and the knee pain ruined it," says Mihaly, 69, a Cleveland-area writer and author. "I couldn't explore Sydney and I couldn't enjoy the wineries."
When she returned home, she saw her doctor, who diagnosed her with arthritis. Her treatment included steroid shots and a course of physical therapy. She started seeing a physical therapist every week in January at the Cleveland Clinic. Mihaly was about to transition to appointments every other week when the COVID-19 pandemic took hold.
"I didn't want to come into the hospital, so we started talking over the phone," Mihaly says. Now she and her physical therapist converse that way for about 20 minutes to review her progress, and her therapist then sends her an email with videos and descriptions of the exercises she's to practice at home in the coming two weeks.
COVID-19 Ushers In More Telemedicine
COVID-19 is changing the landscape of the country, including health care, as more doctors and specialists offer telemedicine (also known as telehealth) appointments for patients who are sheltering at home.
"It's going to be the way of the future for therapy."
Telemedicine has grown popular for diagnosis and treatment of minor conditions, but what about when you need physical therapy post-surgery or after an injury like a broken bone or torn ligament? Can you access physical therapy safely and effectively from home via telemedicine?
The answer, based on recent weeks, appears to be yes. Here's a closer look at how the field of physical therapy is adapting and what that means if you need physical therapy now or will in the future:
The Pros of Remote Physical Therapy
"Telemedicine was really brought up to give patients access to care where access was difficult, like in rural areas or to see a specialist," says Michael Mayrsohn, owner of Metro Physical & Aquatic Therapy in Garden City, N.Y. Since COVID-19 took hold in New York City (currently the hardest hit area of the country), that entire practice has transitioned to telemedicine appointments.
"We've all spoken to patients by phone and used email before to stay in touch, so it's a natural progression to keep in contact," Mayrsohn says. "Now we use a video conferencing platform [to conduct appointments]."
Telemedicine is both safe and more convenient for physical therapy patients, he says. "Most practices deal with competing with patient's lives. Patients are busy, and in the past, we'd get a lot of cancellations due to snowstorms, for example. Being able to work with patients remotely means patients can do at their own speed and in their own homes," Mayrsohn says.
Our Commitment to Covering the Coronavirus
We are committed to reliable reporting on the risks of the coronavirus and steps you can take to benefit you, your loved ones and others in your community. Read Next Avenue's Coronavirus Coverage.
Telehealth Tradeoffs for a Typically Hands-on Specialty
However, there are some tradeoffs for a specialty that has traditionally been hands-on.
An initial diagnosis or evaluation is more challenging to do virtually, says Sherri Betz, spokesperson for the American Physical Therapy Association (APTA) and a board-certified geriatric clinical specialist. Betz has offered telemedicine evaluations for the last 10 years or so and is now is doing all her physical therapy appointments remotely.
"You have to get really creative," says Betz. "After we rule out any red flags that might require the patient going to the hospital … we can move into muscular skeletal assessment and test muscle strength by doing it functionally, such as by watching squats, lunges and heel raises. Those kinds of functional assessments are much more practical for virtual sessions."
There can be other drawbacks to performing physical therapy at home. One issue? Some patients have had trouble accessing telemedicine platforms if they're not technologically savvy.
"Sometimes I'll walk them through the software and how to set up the platform depending on the device they're using. The technology is the most challenging part," Betz says.
Because Betz can't feel for tissue tension during a telemedicine session, it's critical that she have the camera set up so she can clearly see her patients when evaluating or instructing them. "You have to get a good view, with good quality images," she says. The same goes for patients being able to see and hear their therapist during a telemedicine appointment.
Doing Exercises in a Home Setting
While traditional physical therapy may use a lot of bells and whistles (think cables, assistive devices and other special equipment), patients at home typically don't have access to the same types of devices at home. That means therapists have to get more creative with exercises and approaches.
"My therapist talks me through what's going on and what I'm supposed to feel."
While doing physical therapy actually touching patients is always better, Mayrsohn says, "we can instruct them to buy a tool on Amazon and demonstrate how to use it." Therapists at his practice have been dropping off dumbbells, resistance bands and even transcutaneous electrical nerve stimulation units for patients to use at home.
In addition, patients can use other props like water bottles, soup cans and brooms for exercises. "You can even put tennis balls into a pillowcase for self-massage of the back," adds Betz.
Make the Most of Telemedicine Appointments
Because the physical therapist isn't with you to manually adjust or support you, it's important to follow your therapist's exercise instructions closely and communicate how your body feels during and after sessions.
"My therapist talks me through what's going on and what I'm supposed to feel," says Mihaly. "I was doing one exercise, and it was hurting my knee. I told my therapist that and she said, 'Point your toes,' and that worked fine."
Asking for guidance about how an exercise should feel in different parts of your body will help ensure that you're using proper form. Make sure that you can distinguish between the slight discomfort that comes from performing a challenging exercise and pain that indicates you may be pushing yourself too hard.
When performed under supervision, the risk of injury during these sessions should be very low, says Mayrsohn. And if you keep up with your protocol at home, you're just as likely to progress and heal as if you're in the traditional setting.
The bottom line? The convenience and flexibility that telemedicine offers make it likely that more people will opt for virtual physical therapy appointments even after COVID-19 has eased.
"It's going to be the way of the future for therapy," Mayrsohn says. "We're finding that not every patient needs to come in … if they're comfortable doing at it home and they like that experience, we're going to do everything in our power to make it available."
For more information about physical therapy and telemedicine, visit the APTA's telehealth webpage.
Kelly K. James
is a health, wellness and fitness writer and ACE-certified personal trainer based in Downers Grove, Ill. She's also working on a prescriptive memoir about how to thrive as a midlife employee in corporate America.
Read More