Picking the Right College to Avoid Student Loans
Smart advice from the author of 'The Debt-Free Degree'
(The following is excerpted from the new book The Debt-Free Degree by John F. Wasik. The e-book is available on Amazon.com and other sites.)
We had a two-layered financial strategy when my daughter sat down with us to come up with a list of colleges she should apply to in her junior year.
We asked two questions:
Which schools in general would offer the most amount of debt-free merit or financial aid?
Which schools had sufficient endowments to cover most college costs without loans?
These were tough questions, since our primary goal was to find the right college for our daughter. A "good fit" is hard to find since you need to find the right atmosphere, academic challenges, post-graduate opportunities and a whole list of other intangibles.
By looking at a college's endowment, or the amount of money it has in its kitty, you can tell if the school can afford to offer a full scholarship. That's why you shouldn't even look at college price tags early on. Universities with healthy endowments may not charge you full price for attending, but they won't tell you upfront.
But numbers mean little early on in your college search. Like most families, we dedicated the end of our daughter's junior year to college visits. These are absolutely necessary to get a feel for campuses, although they can be highly deceptive, especially when you go in the summer and there are few students around. And large endowments don't guarantee that your child will receive non-loan aid.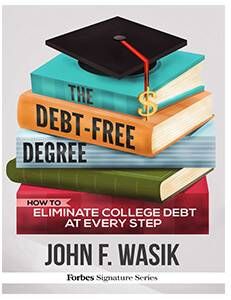 Generally, nearly every campus tour will show you the newest buildings, most modern dorms, recreational complexes and updated dining amenities. Many colleges have spent so much on facilities, they rival the finest resorts. Most adults see themselves happily ensconced there. I would've gladly attended most of the colleges we toured.
Yet what you see is not what you need to know. You have to get beyond the window dressing, which is an art form in the college tours.
Parents: You have to listen to your children because they are not thinking about how much a college education costs — they can't fathom that amount of money — nor can they think beyond what they see in the present. They're just not hardwired for the world of careers, mortgages, credit cards, unemployment or loans.
What they do know is what feels right in an intuitive sense, which is what they are best at in their late teens.
Some students may thrive in a sprawling state campus with big sports programs and lots of activities while others may prefer a smaller, liberal arts college. Your son or daughter should feel comfortable with the campus, class sizes and programs. Having a specific major in mind certainly helps, although don't pressure your child to decide what he or she wants to do with the rest of their life when still a teenager.
Colleges That Provide Grant-Based Packages
If you're a debt hawk, as we were, you can keep your own list of colleges your child has seen that favor grants over loans.
First, do your homework. Focus on colleges that don't saddle their students with much debt. That eliminates most for-profit colleges and, surprisingly, many state universities. Every college on your preferred list can tell you how much debt their graduates have and how much non-loan aid they provide.
The newly revamped government site College Navigator will give you a good snapshot of who's providing the most non-loan aid. It's an excellent first stop in finding the right college fit at an affordable price.
I like College Navigator because it lets you search for colleges by states and zip code while breaking down the best values. It will tell you which colleges have the lowest "net" price after all aid is offered. That's what you're likely to pay, not the horrific "list" price that most colleges display.
If your child will be applying to multiple colleges, compare the aid offerings. Who's offering the biggest tuition discount, work-study or grant package? What's your "net cost of attendance" after all grants, loans and other forms of aid are subtracted from total expenses from each school?
Two good sources for surveying what colleges have to offer, tax benefits and financial aid are:
Finaid.org It has authoritative articles on financial assistance and a search engine for scholarships.
Edvisors.com It provides a private loan search engine and a wealth of information on college financing.