Pivot to a Second Act With Purpose
To launch an encore career, find a way to use the skills you already have
If you're one of the 31 million Americans who'd like to pivot to an encore career for your second act — doing work that provides purpose and a paycheck —  here's my advice: Play to your strengths.
 
That's my key takeaway after attending the 2013 Encore Leadership Institute in Sausalito, Calif. last week.
 
I talked with some of the movement's pioneers, facilitators and winners of the eighth annual Encore.org Purpose Prize awards (six women and one man, all over 60, doing remarkable things to make the world a better place).
(MORE:Purpose Prize Winner Fights for Caregivers)
No Need for a Radical Career Shift
I had mistakenly thought that launching an encore career meant a 180-degree move into a field that's entirely different from the one you labored in for decades (before: accountant; after: disease eradicator). And I assumed you'd need to spend years plotting your new adventure. Wrong.
 
"What's interesting about this year's Purpose Prize winners is that they reflected the trend that people are drawing heavily on their skills and hobbies in their encore careers," said Marc Freedman, the Encore.org CEO and founder credited with popularizing the "encore career" term. "Their work is very much anchored in the existing trajectory of their lives."
 
As Encore.org Vice President Marci Alboher, author of The Encore Career Handbook, noted, some of the winners (like Ysabel Duron) founded organizations and others (like Vicki Thomas and Barbara Young), put their talents to use within existing nonprofits.
 
What they had in common — along with millions of others in their 50s, 60s and 70s pursuing encore careers — was that they combined their expertise and talents with an "aha moment" to make the world a better place.
(MORE: Words of Wisdom to Anyone Eager to Start an Encore Career)
 
Her Two "Aha Moments"
Take Carol Fennelly.
 
After years as a social activist running Washington D.C. homeless shelters with her life partner Mitch Snyder, she began doing public-radio commentary and writing. Then she heard about stabbings, deaths and unconscionable living conditions at the Youngstown, Ohio prison where D.C. inmates had been transferred after theirs closed — a five-hour drive from Washington, making it hard for families to see their loved ones.
 
"At some point, I woke up in the middle of the night and said to myself: 'You know what? I'm really not a writer. I'm an activist and I need to do something about this because nobody else is,'" Fennelly, 64, told me. Aha moment No. 1.
 
Aha moment No. 2: Recuperating from ankle surgery, Fennelly saw a story on TV about video teleconferencing. "It was a new concept in 1999 and I thought: 'That's it! We can do video teleconferencing and get families connected."
 
She then spoke with one of her radio listeners who "ran a computer company that designed supersecret Internet programs for the Pentagon" and asked him if he would design one for her to create a teleconferencing capability.
(MORE: Purpose Prize Winners: Changing the World After 60)
 
He did, which led to Hope House, Fennelly's group that has since hosted 25,000 video teleconferences, 19,000 book readings by inmate fathers for their kids and 31 prison-related summer camps that let children spend time with their dads.
 
Fennelly said the skills she'd honed in her first career made her second one possible.
 
"I learned all these great lessons about running organizations and raising money and equalizing the dialogue when you're in a powerless position and your adversary has all the power," she said.
 
Fly Fishing With a Second Purpose
Purpose Prize winner Ed Nicholson, 71, a Vietnam vet, combined an aha moment with his work skills and hobby to found Project Healing Waters Fly Fishing, which mentors disabled soldiers and veterans during fishing trips. He calls his encore career "serendipity."
 
In 2005, the retired Navy captain turned defense contractor was at Walter Reed Medical Center, recovering from prostate cancer surgery.
 
"I'm feeling somewhat sorry for myself," Nicholson recalled, "and as I'm walking down the hall, I'm seeing young men who are really traumatized. One caught my attention: He was in a wheelchair, without any legs, a baby in his lap and his young wife pushing him. I said to myself: 'Man! And I think I've got problems?'"
 
Nicholson then thought about how much he was looking forward to fly fishing again and wondered whether the Iraq and Afghanistan vets he saw at Walter Reed would want to learn how to do it, too. "From that moment, I realized I wanted to engage these individuals and get them out of the hospital," said Nicholson.
 
Working with the hospital's occupational therapy clinic, he used the leadership skills he developed in the Navy to roll out a network of fly fishing groups across the country. His organization now has 158 programs in 48 states and abroad.
 
What an Encore Career Can Do For You
While Fennelly and Nicholson have brightened the lives of the prison families and vets they assist, they told me their encore careers also provided immeasurable personal benefits.
 
"There's something about going to bed at the end of the day and knowing that the world is a different place because you got up that morning," said Fennelly. "I don't think I'm exceptional in any way. I think I'm an ordinary person who got to live an extraordinary life."
 
Nicholson said he's been rewarded by creating lasting friendships with the new fishermen. "That's been the real fulfillment for me," he said. "Not only to see them progress and hear their testimonials, but building those relationships. That never would have happened if I had just retired."
 
One more benefit Nicholson derived from assisting the young soldiers and vets: "I learned how to text because these guys wouldn't answer the phone or email."
 
Spreading the Encore Message
Encore.org is working diligently to get corporations and institutions onboard so their employees and alums will launch second acts with purpose. Freedman believes employers in America haven't done enough to reinvent retirement for their constituency.
 
"There simply aren't the kinds of transition pathways and practices that we provide young people, such as internships and gap years after high school," said Freedman.
 
Leading the Encore.org charge are its Innovation Fellows around the country, tasked to spend a year on unique initiatives. For instance, Rebecca Conwell hopes to create social innovation courses for people 50+ at Tulane University. Bob Roseth, who's about to retire from his University of Washington job heading its public relations office, is now leading a campaign to help the school's faculty and staff embark on encore careers when they leave their full-time positions.
 
Speaking at the Purpose Prize ceremony, Freedman described this year's award winners: "They're ordinary people doing the best work of their lives at a time that used to be known as the 'leftover years.'" He said. "They're making a monument of those leftover years."
 
You can, too.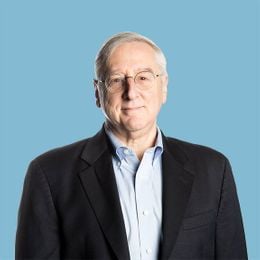 Richard Eisenberg
is the former Senior Web Editor of the Money & Security and Work & Purpose channels of Next Avenue and former Managing Editor for the site. He is the author of "How to Avoid a Mid-Life Financial Crisis" and has been a personal finance editor at Money, Yahoo, Good Housekeeping, and CBS MoneyWatch.
Read More