Planning a Visit to Accessible National Parks
A little online research and a few phone calls can prepare you for a fulfilling trip
Kristin Secor has a love for travel, and regularly visits national parks across the country. But Secor was born with a rare form of muscular dystrophy that affects her muscle strength and mobility, among other issues. She also has scoliosis and is on a ventilator to assist with her breathing. So she uses a wheelchair or a mobility scooter when she is away from home.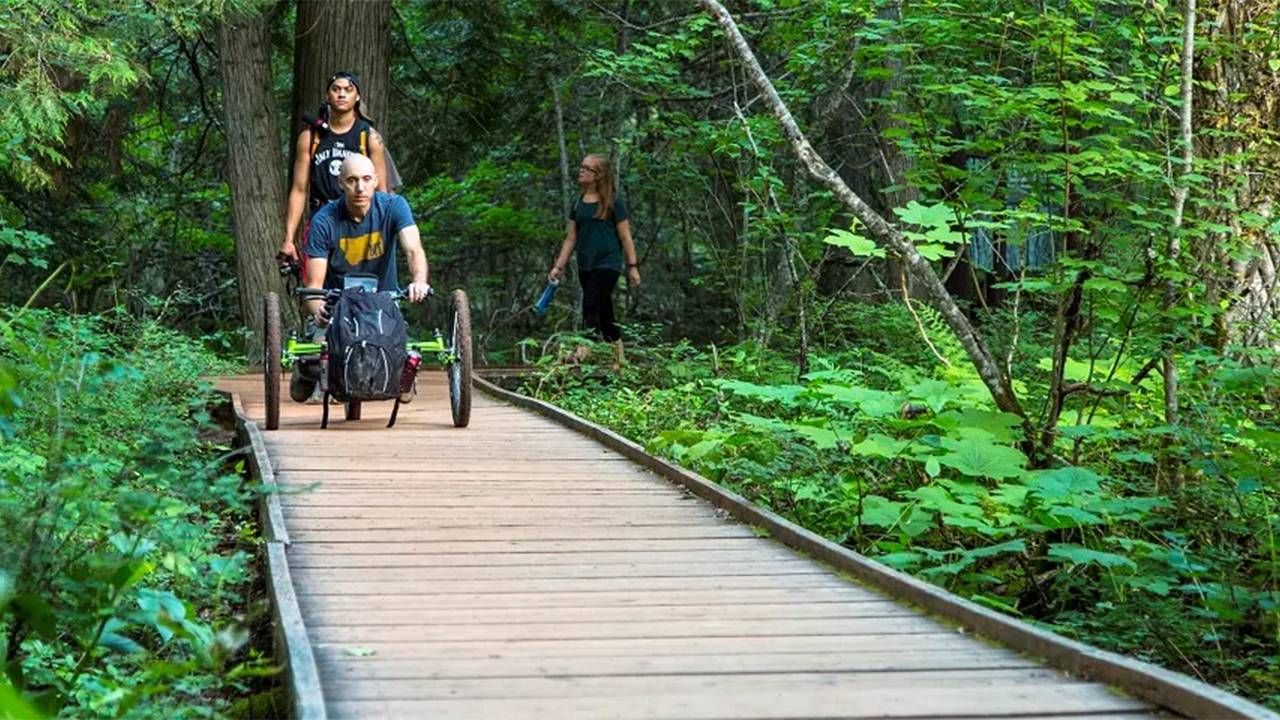 Despite her physical limitations, Secor finds ways to travel and enjoy the outdoors. On her blog, World on Wheels, she encourages people with disabilities to travel by offering resources and recounting her own experiences, including her trips to National Parks.
"Using the tracked chair gave me a sense of freedom and independence that I hadn't been able to experience in a long time."
"These beautiful places allow you to reconnect with various types of nature and can even provide unique opportunities or experiences. I miss being able to hike to some of the incredible views and just being able to be in the middle of the woods," says Secor.
When she visited Sleeping Bear National Lakeshore in Northern Michigan, a free local program allowed her to use an all-terrain chair with bulldozer-like tracks to go on a two-mile hike through the woods and up a hill so she could enjoy views of Lake Michigan.
"This hike is something that would not have been possible with other mobility equipment due to the inclines, tree roots and rocks," she says. "Using the tracked chair gave me a sense of freedom and independence that I hadn't been able to experience in a long time."
Every Park Has Some Accessible Features
In 1968, Congress passed the Architectural Barriers Act, which requires federal entities to make their facilities accessible. The Rehabilitation Act in 1974 requires them to make their programs and services accessible.
"From that point forward, every time the NPS built a new facility or started a new program, or did a major renovation of an existing facility, the project had to bring the facility up to the current accessibility standards. As a result, every park has some accessible facilities and features," says Jeremy Buzzell, manager of the National Park Service's Accessibility Support Program. "When something does not meet accessibility standards, it often is because we cannot modify the historic character of the site, cannot disturb cultural resources, or we need to limit the impact to the natural setting."
Your visit to an accessible national park or national forest should start with research about the park you want to visit. Each park is unique in its terrain and its ability to adapt sites for accessibility.
"Almost every unit of the National Park System has some accessibility features such as paved trails, tactile exhibits, or assistive listening systems," says Buzzell. "However, because no two parks are alike, no two parks have the same features. Our primary recommendation to any visitor with a disability is to do some research on the park's accessibility features before visiting."
Information Aplenty on the Web
If you are traveling to a specific area of the United States, go to NPS.gov and enter the state in the search box. From there, you can see a list of all the National Parks in that state. Each park has a drop-down menu under the Plan Your Visit category that includes the section labeled Accessibility.
"The website will give you an idea on the accessibility for each place, accessible lodging options within the park, and more," says Secor. "I then use Google, blogs and Facebook travel groups I belong to in order to get more information."
If you have a permanent disability, apply for a free, lifetime Access Pass at the National Park Service website. The website states that the Access Pass "may be issued to U.S. citizens or permanent residents of any age that have been medically determined to have a permanent disability (does not have to be a 100% disability) that severely limits one or more major life activities."
You must provide proof of your U.S. citizenship or permanent residency, as well as documentation of your permanent disability to qualify for the pass.
You can apply for an Access Pass at a federal recreation site if you have all of the necessary documentation with you, according to the website. Passes are not available at all national parks. The website has a list of locations that offer passes. You can also obtain a pass by mail, but there is a $10 processing fee included.
Service Dogs Only, Please
"Service dogs are welcome at National Parks consistent with federal law," says Buzzell. The NPS website states that only dogs are classified as service animals and they must perform a specific task that assists a person with a disability. "Emotional support or comfort animals are not service animals," the website says.
With global travel restrictions lifting, many people are putting on hiking boots and returning to the great outdoors. The National Park System recorded 297 million recreation visits in 2021, a 25.3% increase from 2020, when many parks were not open or fully available to visitors because of the COVID-19 pandemic.
Some parks have adopted timed-entry systems to spread out the flow of incoming traffic and allow park employees to manage the park more efficiently. A timed-entry pass designates a specific time period for you to check in. If you are early or late, you will not be allowed entry to the park.
"Trail information can change significantly from year to year, and the website may not have the most current information."
While she does a lot of research before traveling, Secor notes that "trail information can change significantly from year to year, and the website may not have the most current information." She recalls a trip to a national lakeshore where she expected at least three accessible trails to be available. But the park's efforts to prevent erosion caused those trails to be inaccessible at the time.
Buzzell, of the NPS, suggests that you confirm critical information like accessibility before making the trip. "We recommend contacting the park directly if there are any special requests or needs for making your experience accessible and enjoyable," he says.
Check weather conditions at your destination and take note of altitude and other factors that may affect the quality of your experience, says Secor.
"It can be easy to underestimate Mother Nature," she says, "but it's important to take note of these things and how they may potentially impact your health and overall ability to explore."
Changes in altitude or temperature differences could affect your breathing, stamina, or other issues. "It's a good idea to familiarize yourself with signs of dehydration, heat exhaustion and altitude sickness, as well as what to do if you start experiencing these symptoms," says Secor.
Check Out These Accessible Destinations
● Acadia National Park, Maine
● Badlands National Park, South Dakota
● Congaree National Park, South Carolina
● Great Sand Dunes National Park and Preserve, Colorado
● Rocky Mountain National Park, Colorado
● Sleeping Bear Dunes National Park, Michigan
● The Gila National Forest, New Mexico