In Portugal, Uncharting the Course
How a spontaneous trip through Portugal's Alentejo taught me the delights of the unexpected and the value of slowing down
"I hope you're right about this," said my husband, Floren, hands gripping the steering wheel as we wove through traffic in Badajoz, Spain, our final stop before crossing into the Alentejo, Portugal's most rural and least populated region.
For more than a decade, we'd been taking side trips from our annual visit to Spain, and I'd spend weeks planning each itinerary. But we'd been so busy prior to our departure that all I'd come up with was a broad-strokes outline: a couple cities whose scenic medieval castles were large enough to be viewed on Google Maps, and could be easily accessed from Route N246, a main road near the Spain-Portugal border.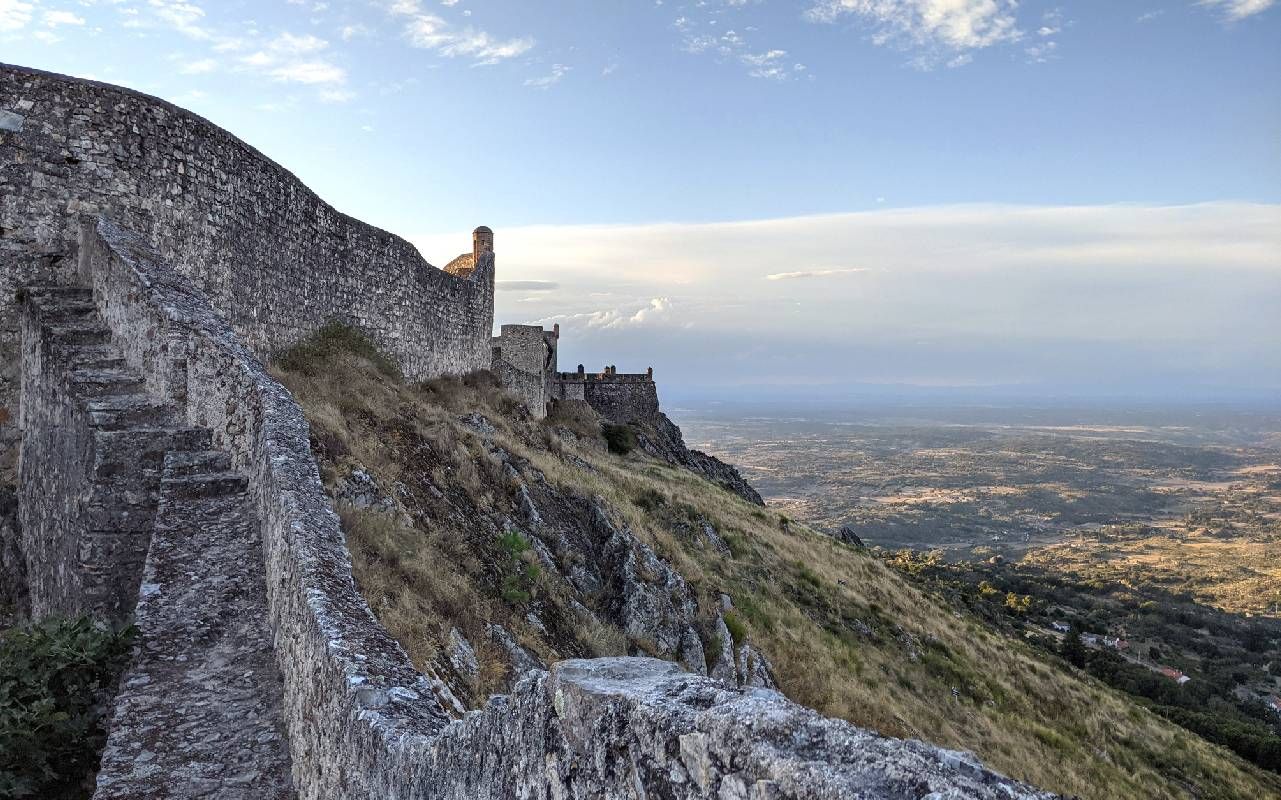 I shifted in my seat. Had I doomed this trip from the get-go?
Within twenty minutes, traffic all but disappeared. The landscape unfolded onto green plains punctuated by the occasional farmstead or olive grove. Cattle grazed, and hawks circled overhead, scouting for snacks. I rolled down my window, inhaled the scent of earth and hay, and felt my shoulders relax away from my ears.
Exploring Elvas
Shortly after, a castle materialized on a hillside, squatting above a walled city. We'd arrived in Elvas, a UNESCO World Heritage site that boasts a pair of Renaissance fortresses and the 16th century Amoreira Aqueduct, a 5-mile stretch of arches along the eastern edge of the city.
We spent the afternoon admiring the city's historic architecture and poking our heads into shops and cafes, in search of local specialties like sericaia, a custardy cake topped with preserved plums.
Once our bags had been deposited at Hotel São João De Deus, a 56-room, converted 17th century convent, we set out on foot. Our first stop: the Praça da República, Elvas's main square, home to a compact Gothic church that looks out over a mosaic-paved plaza. At a little after three p.m. — typical lunchtime in Spain but late for Portugal — it was mostly empty, as were most of the nearby restaurants.
Based on its modern-meets-vintage aesthetic and large menu of small plates, we chose Mercato, where a college-age server, brunette curls escaping her ponytail, suggested different dishes: codfish croquettes, cream of carrot soup with chopped boiled egg, and clams steamed in olive oil and white wine. We dug in, listening to a pair of gray-haired men in tweed caps debate soccer with the cook.
We spent the afternoon admiring the city's historic architecture and poking our heads into shops and cafes, in search of local specialties like sericaia, a custardy cake topped with preserved plums. Around one corner, a wizened woman in a housedress and cardigan sat on a wooden chair, shucking peas and watching a group of small boys tossing a broken cassette tape — an exotic relic from another age — back and forth. Under a balcony hung with a patchwork quilt, a young man in a T-shirt and jeans leaned against a doorway, cigarette dangling from the corner of his lips.
The wind had picked up, and I tugged my jacket around me as we walked the star-shaped perimeter of fort Nossa Senhora de Graça. Every overlook felt like a view into an eternity of rolling farmland, holm oak and lemon groves, and yucca plants with a central spire taller than me.
As the sun slipped down the sky, we took a seat outdoors at Acontece, a busy restaurant fashioned out of a vintage 1950s service station. We sipped white sangria with tropical fruits and snacked on a salad of fresh tuna atop aioli-coated potatoes, taking our time, savoring the flavors and lively atmosphere.  
Back at the hotel, I threw open the windows to the garden patio below and fell asleep to the soundtrack of rain rattling the long-leaved palms, their dried yellow tips rapping against the glass.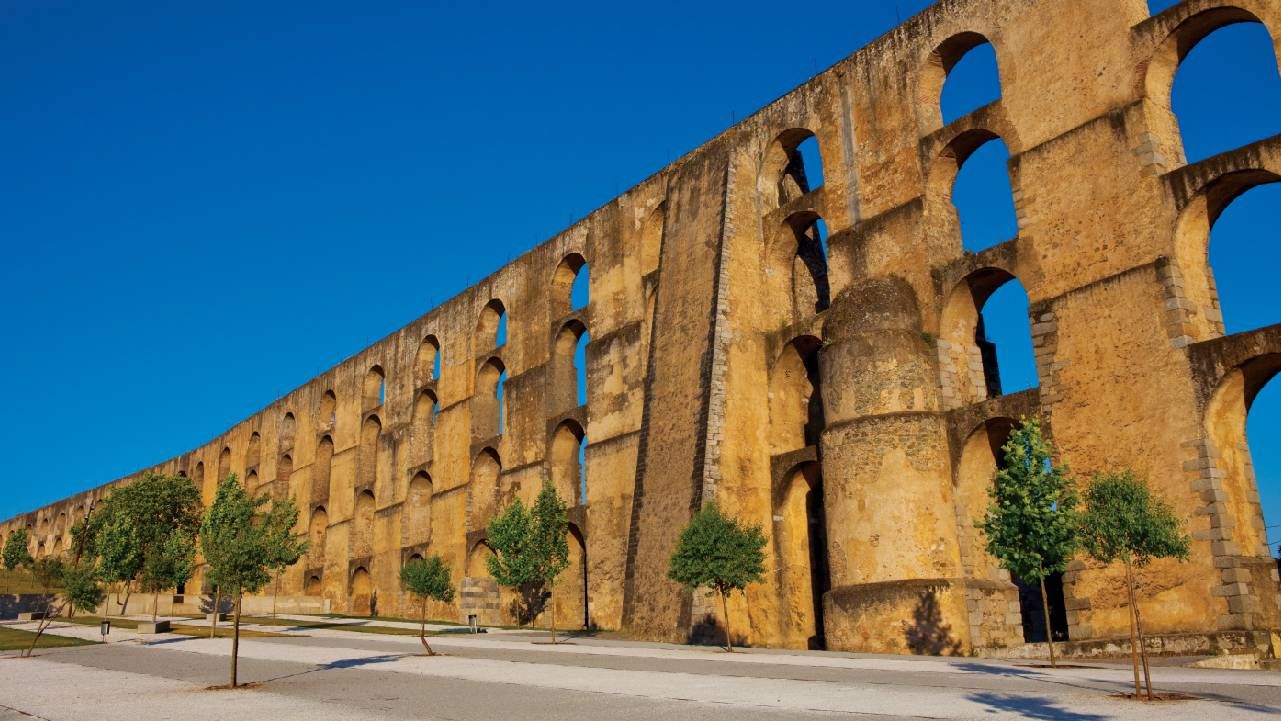 A Town Called 'Hope'
In the morning, we drove through a number of small towns named after saints and decked out in azulejos, tin-glazed decorative tiles that have been made in the region since the thirteenth century. Panning around on Google Maps, I announced, "Let's stop in Esperança," for no better reason than that I liked the idea of a town called "hope."
The sleepy façade of Esperança, with its neat, low-slung white buildings trimmed in bright shades like azure, butter and magenta, concealed an unexpected treasure: the entrance to a 9-mile walking trail through the Sierra São Mamede Nature Park. Named for the largest mountain range south of the Tagus River, the park has several distinct microclimates that have given rise to cork oak forests and scrubby habitat for the rare Bonelli's eagle.
The trail's points of interest also include former frontier outposts, a wine cellar and rock paintings that date to the Neolithic. We paused at the latter, transfixed by human figures and geometric shapes rendered in red, orange and black ochre faded from millennia of sun exposure, but still a powerful testament to humankind's desire to make its mark.
Breath caught in my throat, I stared out over the forested slopes and swooping valleys 
We turned onto route M517 and into Mosteiros, a tiny northern municipality of less than 500 people along a tributary of the Caia River. Along the iron-fenced river walk, we walked apace a female swan and her cygnets, who squawked out a dialogue while paddling around the water's perimeter.
Heeding the call of my grumbling stomach, I shaded my eyes against the sun and looked for restaurant signs. "There," I said, pointing to a terrace with umbrella-shaded tables. "That's where we'll have lunch."
Floren shrugged — Why not? had become the theme of our trip—and we sat down to lunch in Sede F.C. Mosteirense, the headquarters of the local soccer club. Our server placed a bowl of fresh green olives and glasses of ice water on the table and left us to peruse a menu packed with regional fare like fried cuttlefish served with paprika-laced dipping sauce.
Sated, we continued north, past crumbling homesteads with quince trees growing up through their roofs. An old, rickety green car trundled past, the suntanned arm of its driver waving to us. Out the passenger's window, I made eye contact with an enormous, unblinking white bull who observed us from a hillside pasture, lower jaw working a mouthful of cud.
The Breathtaking View in Alegrete
The car wheezed uphill, toward Alegrete, a town carved into the side of a mountain. "Should we —," Floren began.
"Yes," I answered, without hesitation.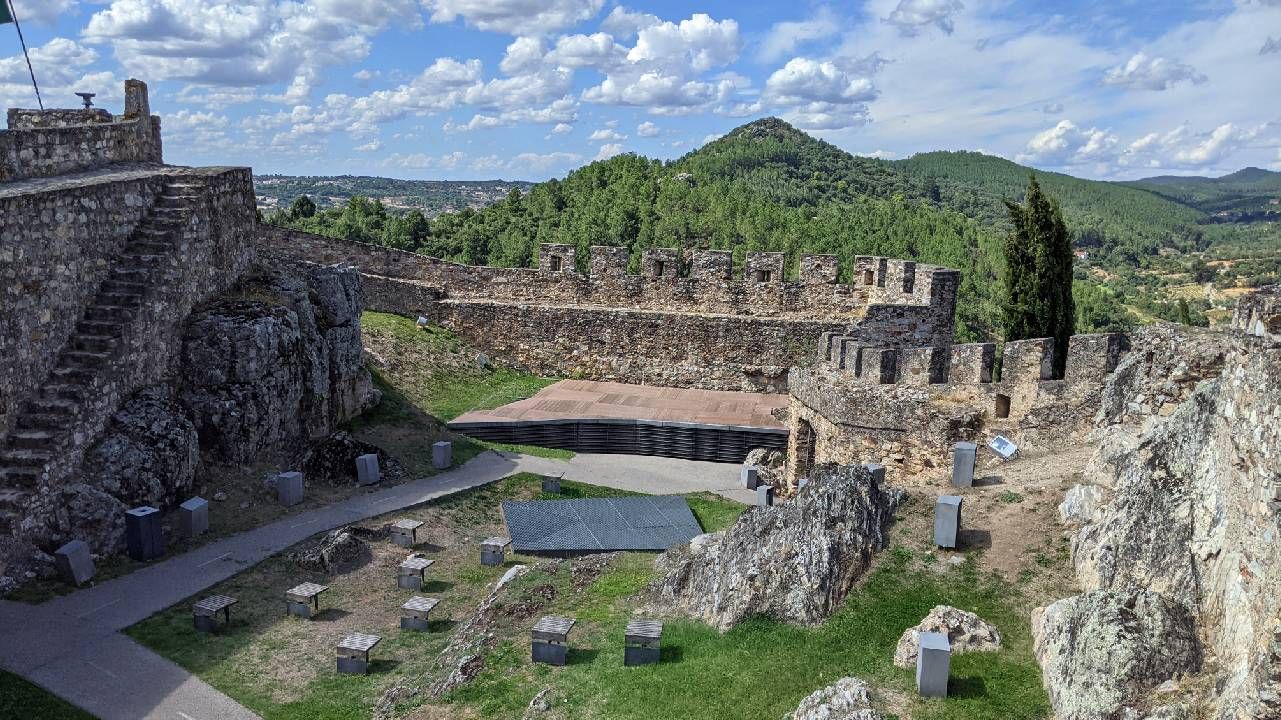 The only tourists in town, we walked the diminutive main square and up a steep street, toward Alegrete Castle, a Moorish fort conquered by King Alfonso I in 1148, and used to surveille a medieval trading road. Although its keep and part of its outer walls are all that's left, it's somehow more picturesque in ruin. Breath caught in my throat, I stared out over the forested slopes and swooping valleys, the only sound the distant ringing of a cowbell and the call-response bleating of sheep and goats.  
Back in the car, at a sign for a waterfall, we detoured onto a bumpy dirt road clustered with prickly pear, their mittenlike branches blooming with fruit that glowed flame orange in the late-afternoon sun. We took a quick half-mile walk downslope, past a large praying mantis that paused sunbathing long enough to put up its dukes. In the distance, the São Julião cascade flowed in a narrow stream between rocks and trees. We paused, listening to the trickle of the water and the breeze that played the tree leaves like tambourines.
Keeping a Lazy Pace
In less than 20 minutes, we reached Marvão, the highest spot in the Alentejo. Located at a vertiginous 2,700 feet, it was first settled in the prehistoric era, then fell to the Romans and later to Arabic conquerors. Their legacies are still felt in the Roman ruins of Ammaia, founded in the first century BC in the river valley, and in Marvão Castle, built during the Islamic Umayyad dynasty.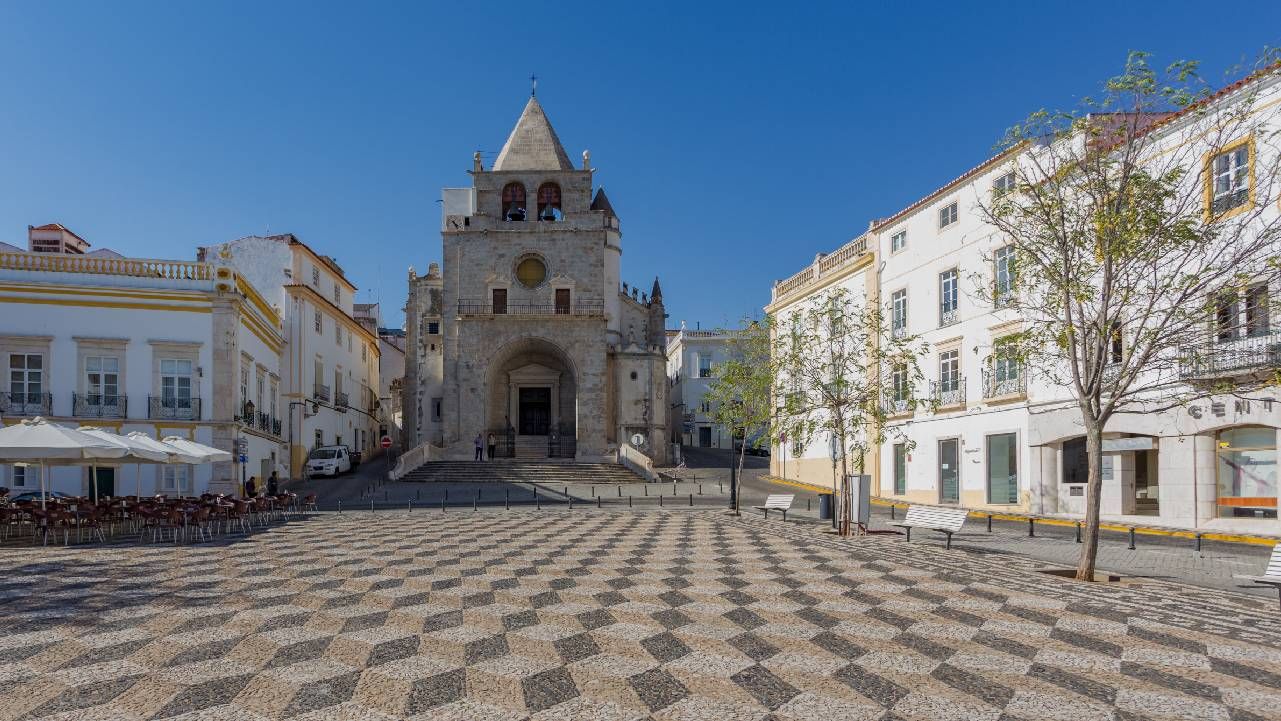 The latter is spectacularly preserved, even among European conservation standards, its blocky garrisons and curving towers as sturdy as the day they were erected. We walked its walls, which seemed to stretch for miles, over a tumbling landscape of hills, valleys and forests. I closed my eyes, the weight of the past — and all that's lost and gained as empires rise and fall — settling around my shoulders like a mantle.
We wound through the tidy cobblestone streets of downtown Marvão, where tile-roofed houses were adorned with clay pots bursting with flowers and herbs. Pat Benatar's "Love Is a Battlefield" blasted from the open door of a bar, an incongruous reminder of the modern stewards of this ancient city. In a tiny bakery, we sampled sweets made from chestnuts. At a craft shop, we admired carved wood bowls and figurines. Each stop punctuated the lazy pace of the day with a new delight.
As twilight shrouded the landscape in pinks and violets, we sat down to a meal at Varanda, an old school European restaurant with lovely views over the rooftops. We ate in companionable silence, absorbing the impact of the unexpected treasures we'd unearthed simply by slowing down and letting go of the idea of seeing "everything."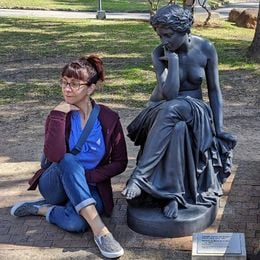 Robin Catalano
A specialist in coastal experiences, the northeast U.S., and Spain, Robin Catalano is a travel journalist and the writer behind the travel blog Once More to the Shore. Her work has appeared in National Geographic, Travel + Leisure, TIME, Smithsonian, Conde Nast Traveler, AFAR, Hemispheres, and a range of other publications, both national and regional.
Read More