OPINION: 2020 Election: How Important Is a Presidential Candidate's Age?
People are asking if a president can be too old. Two professors answer.
Rep. Eric Swalwell got the high-impact moment he wanted in the June 2019 Democratic presidential debates when he said: "Joe Biden was right when he said it was time to pass the torch to a new generation of Americans 32 years ago. He's still right today… If we're going to solve the issues of automation, pass the torch. If we're going to solve the issues of climate chaos, pass the torch. If we're going to solve the issue of student loan debt, pass the torch. If we're going to end gun violence for families who are fearful of sending their kids to school, pass the torch."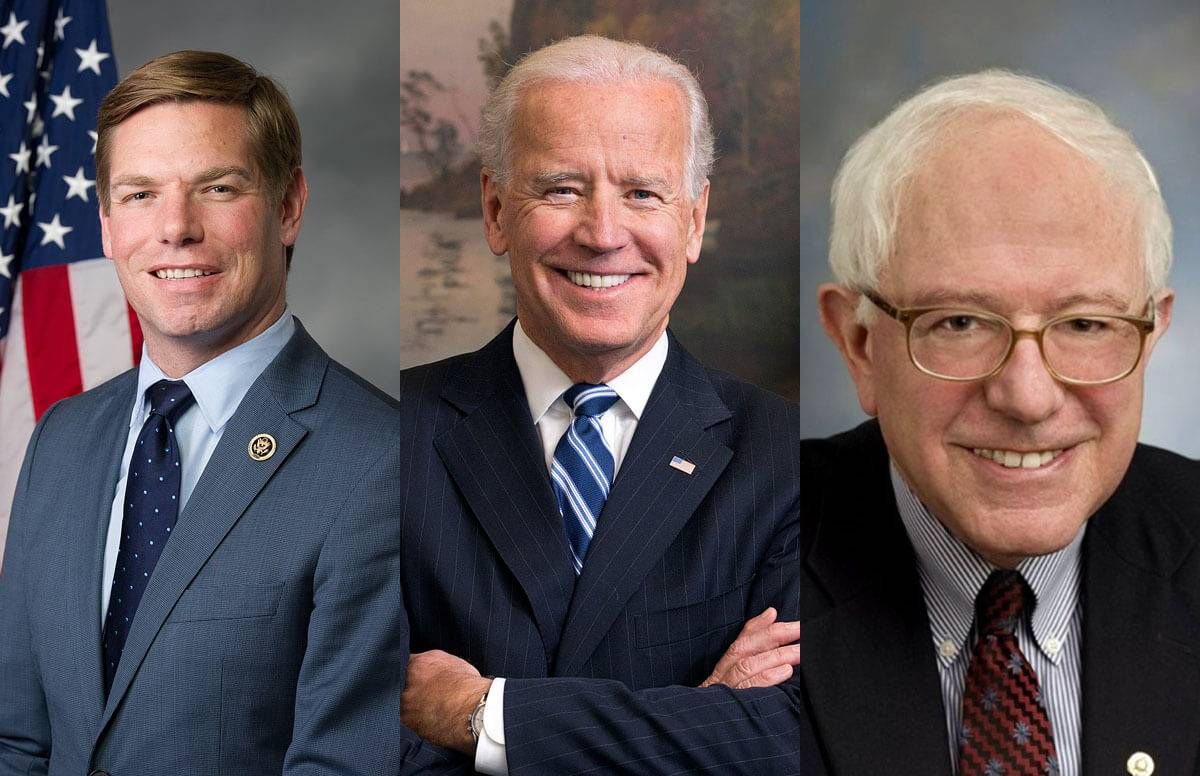 Swalwell was only the most recent voice to draw attention to presidential candidates' ages. Many people are asking "Can a president be too old?" or emphatically saying that after a certain age (typically in the 70s), people are too old to run for the office.
For instance, Andrew Ferguson, a 63-year-old staff writer for The Atlantic described the Democratic Party as the "tyranny of the 70-somethings."
What Notable People Have Said About Biden, Sanders and Age
Biden and Sanders have received the brunt of the focus: Author Fran Lebowitz — who is 68 — told HBO host Bill Maher that former Vice President Joe Biden and Sen. Bernie Sanders are "too old to drive." Former Defense Secretary Robert Gates — who is 75 —  stated on CBS' Face the Nation that those two may not have the "energy… required to be president." Since leaving the Obama administration in 2011, Gates has been elected President of the Boy Scouts of America. He now serves as Chancellor for the College of William & Mary and is a Principal with a strategic consulting firm.
The concerns raised about a presidential candidate's age highlight a common fallacy, known as the "ecological fallacy."
Last Wednesday night featured Sen. Elizabeth Warren, who recently turned 70. On stage Thursday night were Biden (76) and Sanders (77). All aim to replace President Donald Trump, 73.
As researchers who study the aging workforce and the psychology of aging, we think that when Americans are deciding on a presidential candidate, they should focus on physical and mental functioning, instead of age.
Is the Talk About Older Candidates Simply Ageism?
Focusing solely on someone's number is simply ageism.
More than one in 10 Americans aged 45 and older report that they've been on the receiving end of ageism in the workplace, according to a GOBankingRates survey. This despite 1967's Age Discrimination in Employment Act, which was designed to protect "older workers" — defined as anyone 40 or over.
Currently, nearly half of Americans are at least that age. More than three in 10 are 50 or older, with their share of the population expected to grow until at least 2060. In 2000, one in eight workers were 55 or older. By 2024, that'll be nearly one in four.
Although with a few exceptions, mandatory retirement was made illegal in 1986, age discrimination is still common. But it's hard to prove.
Maybe voters understand that we now have an older population better able to work longer than ever. And that older Americans have gotten much healthier, on average, than in the past. Fewer older adults report they have fair or poor health than a couple of decades ago. Only about three in 100 Americans between ages 75 and 79 live in nursing homes.
The Common Fallacy About Age
The concerns raised about a presidential candidate's age highlight a common fallacy, known as the "ecological fallacy."
It means using aggregate information for a group to assume the unique characteristics of individuals. In this case, some assume that because older people have a higher chance of being diagnosed with dementia than younger people, in general, there's a strong likelihood that anyone over 70 will.
For example, a Boston Globe writer cavalierly used an instance of House Speaker Nancy Pelosi, 79, forgetting a name as evidence of cognitive decline. At ages 35 and 68, respectively, we have forgotten names, too. Does that mean we are not suited for responsible jobs?
How to Assess a Presidential Candidate
Let's not assess candidates' suitability for the presidency simply by their age. Let's ask ourselves what our true concerns are:
Could the person respond to that urgent, important 3 a.m. phone call with speed and good judgment?
Does the person have policies and strategies for governing?
What actions has the person taken to show competence to be president?
How — on the campaign trail, in the debates and at work — has the person shown himself or herself to be mentally and physically healthy enough to be president?
Has the person shown an ability to connect with all generations?
Age is truly just a number. Yes, it is a number that correlates with some of the scariest aspects of our lives. But it does not cause them.
We have not yet picked the candidates that we will support in this contest, but one thing is certain: Our choice will have nothing to do with when they were born.
(Next Avenue invites opinion pieces that reflect a range of perspectives. Doing so helps our readers learn about views from a multitude of experts.)
Michael A. Smyer
is a professor of psychology at Bucknell University and the founder of Graying Green. Smyer is a fellow in the inaugural class of the Encore Public Voices Fellowship.
Read More