How to Protect Yourself From Flu (and COVID-19) This Fall and Winter
This flu season is expected to be more robust than last year. Here's what to know about both vaccines.
Last year, flu season began seven months into the pandemic, when COVID-19 cases were rising nationwide and vaccines hadn't yet become available. Many schools and businesses were operating remotely or on hybrid schedules, and the Centers for Disease Control and Prevention (CDC) was advising all Americans to cover their noses and mouths with masks. Although COVID-19 case counts remained high for months, considerably fewer Americans than usual contracted the flu during that time frame.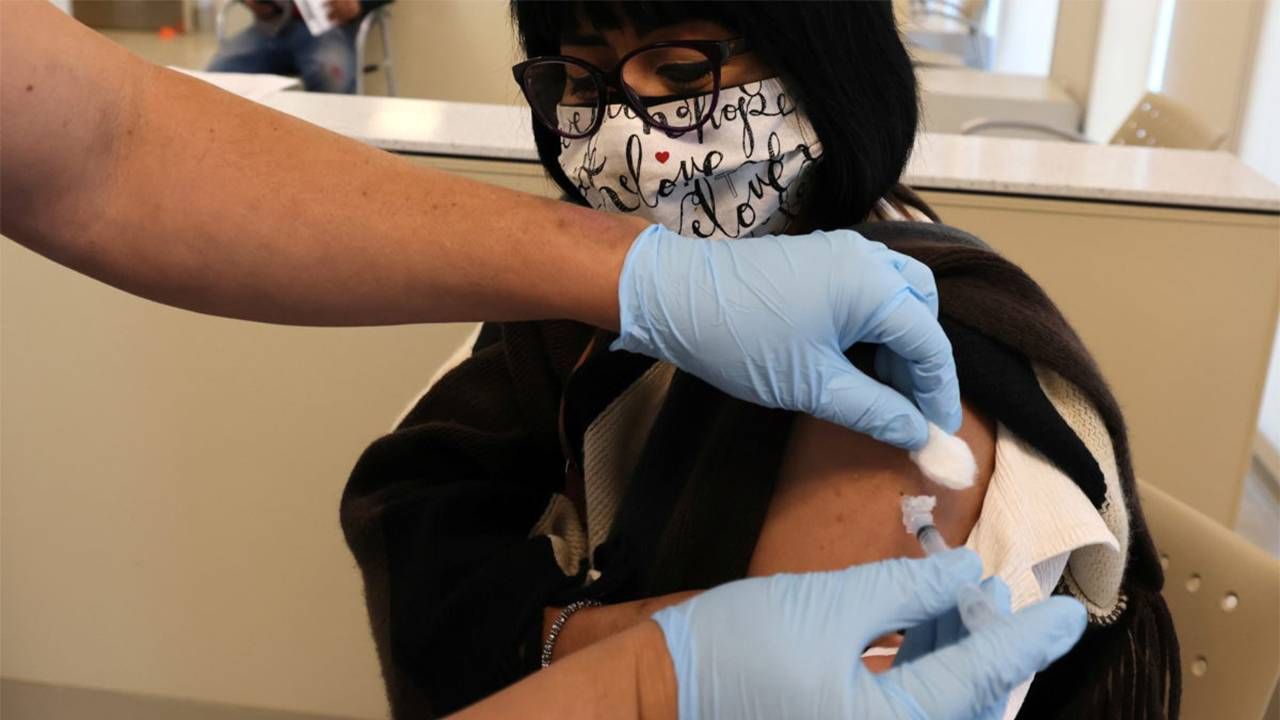 "There was historically low flu activity during the 2020-2021 flu season," said Dr. William Schaffner, medical director of the National Foundation for Infectious Diseases (NFID). "Mask-wearing and social distancing, along with school closures and reduced travel, likely contributed."
This flu season, however, medical experts are expecting greater spread of infection. Several health care leaders participated in the 2021 NFID Influenza Pneumococcal Disease News Conference to discuss the possible effects of COVID-19 on the 2021-2022 flu season.
"The low level of flu activity last season could set us up for a severe season this year," said Dr. Rochelle P. Walensky, director of the CDC. "Why? Well, because of so little disease last year, population immunity is likely lower, putting us all at increased risk for disease this year, especially among those most vulnerable, including our children. This is why it is doubly important this year that we build up community immunity with flu vaccination as we head into the fall and winter."
Flu Vaccines Help Save Lives
Health care professionals have encouraged people to get COVID-19 vaccinations since they first received emergency use authorization in December 2020. Now that flu season is here, they're reminding people to get flu shots to protect themselves and their loved ones. (The CDC recommends that all people six months and older get annual flu shots.) It's especially important if you're at increased risk of health complications because of a pre-existing condition.
"We know that during flu seasons, nine out of every ten people hospitalized with flu had at least one underlying health condition," Walensky said. "Diabetes, asthma, chronic lung disease and chronic heart disease are among the most common long-term medical conditions that place people at higher risk for flu-related complications. Even if you have only one well-managed underlying health condition, you may be at higher risk for flu-related complications and a flu vaccine is the first and most important step you can take to protect yourself against flu."
"For both adults and children, significant disparities in flu vaccination coverage by race and ethnicity have worsened in the past year."
A flu shot doesn't always prevent flu infection, but the vaccine triggers an immune response so if you do get sick, you should have a shorter duration of illness without complications, which should keep you out of the hospital.
"What we're trying to accomplish with the flu vaccination is we're trying to get those white blood cells used to seeing influenza and not responding in a way that is detrimental to individuals who have these chronic health conditions, like COPD and diabetes," said Dr. Cedric "Jamie" Rutland, a pulmonary, critical care and internal medicine physician who is CEO of West Coast Lung and COVID-19 medical director of Private Health Management. "We want these individuals to have the appropriate – almost benign – exposure when you get a vaccination, so the immune system is used to seeing this and doesn't over-respond. Because... over-response is inflammation, and... that's what presents people to me in the intensive care unit."
Flu Vaccination Is Crucial Among Certain Groups
During the news conference, Walensky noted "a worsening disparity among both children and adults in certain racial and ethnic minority populations – groups of people who are disproportionately impacted by serious flu illness, which can result in hospitalization, intensive care unit admission and death. For both adults and children, significant disparities in flu vaccination coverage by race and ethnicity have worsened in the past year."
Last year, significantly fewer Black and Hispanic people got flu shots, compared to white people.
The estimated vaccine coverage for all people six months and older increased for white people to about 56%, but decreased for Black people to nearly 43% and remained similar to the previous season for Hispanic people at about 45%, Walensky said.
"Given this lower vaccination coverage and the higher risk of serious flu outcomes, it is particularly important that we reach people in these racial and ethnic minority populations to encourage vaccination and ensure flu vaccine is easily accessible," she added.
Older adults are also at greater risk of developing flu-related complications, because their immune systems aren't as robust as younger adults' immune systems. A high-dose flu vaccine is available for adults aged 65 and older, to help build the body's immune response to the vaccine. It has been shown to reduce flu incidence among older adults. If people who receive the high-dose vaccine develop the flu, they are less likely to develop flu-related complications that lead to hospitalization.
Flu and Covid Vaccines at Same Time?
Whether you're getting your first COVID-19 vaccine or a booster shot, save yourself a trip to the pharmacy by getting two vaccines during the same appointment.
"We can give flu vaccine and COVID vaccine on the same visit," said NFID president-elect Patricia (Patsy) A. Stinchfield, a retired pediatric nurse practitioner at Children's Minnesota and affiliate faculty at the University of Minnesota's School of Nursing. "You don't need to separate them. Usually we will administer them in separate arms and your immune system recognizes it right away and will start to build those antibodies."
"Don't just ask about the vaccines themselves, but ask about the risk of the disease, too."
You may experience a mild reaction after getting vaccinated this way, but getting two vaccines at once shouldn't significantly increase your body's response.
"The side effects are similar for the COVID vaccine and the flu vaccine, though probably a little more severe for the COVID vaccine in terms of aches and pains," Walensky said. "If you got them both together, you wouldn't necessarily notice that you had worsening symptoms from one or the other."
For maximum protection throughout flu season, get vaccinated in November.
"Most of our data [shows] that it's really after we gather around the Thanksgiving holiday that influenza really starts to take off," Stinchfield said.
Vaccine Questions? Talk To Your Doc
Some people are hesitant to get the annual flu vaccine, according to a NFID survey of American adults.
"We were alarmed to learn that when it comes to flu vaccines, forty-four percent of U.S. adults are unsure or do not plan to get vaccinated against flu during this season," Schaffner said, "and nearly one in four who are at higher risk for the flu-related complications said they were not planning to get vaccinated this season."
If you have concerns about vaccination, talk to a trusted doctor or pharmacist.
"We know that both flu and COVID-19 vaccines are safe and effective in preventing serious illness," Walensky said. "Don't just ask about the vaccines themselves, but ask about the risk of the disease, too... We're here to bring you the latest information we know about how vaccines help people."
What Should Someone 65 and Older Do Who Is Having Trouble Finding High-Dose or Adjuvanted Flu Vaccine?
According to the CDC, "Several flu vaccine formulations are approved for use in people 65 and older, including two 'enhanced' flu vaccines: the high-dose flu vaccine and the adjuvanted flu vaccine, both of which are designed to create a stronger immune response in people 65 years and older. Also, a recent study showed that recombinant flu vaccine can produce a stronger immune response in people 65 years and older. Additionally, there are standard dose flu vaccines that can be used in people 65 and older. It's important to note that CDC does not have a preferential recommendation for any flu vaccine over another, and vaccination should not be delayed for a specific vaccine product when another vaccine licensed for use in people 65 and older is available."
Source: Frequently Asked Influenza Questions: 2021-2022 Season