Public School in a Nursing Home Benefits Young and Old
Residents and kids read, stretch and eat ice cream together at this Oklahoma program
When Nancy Maccourt moved into Grace Living Center in Jenks, Okla., she assumed it was a typical nursing home. But to her delight, Maccourt learned that she'd be sharing space with kindergarteners and pre-K youngsters from the local public school, whose classrooms are inside the nursing home.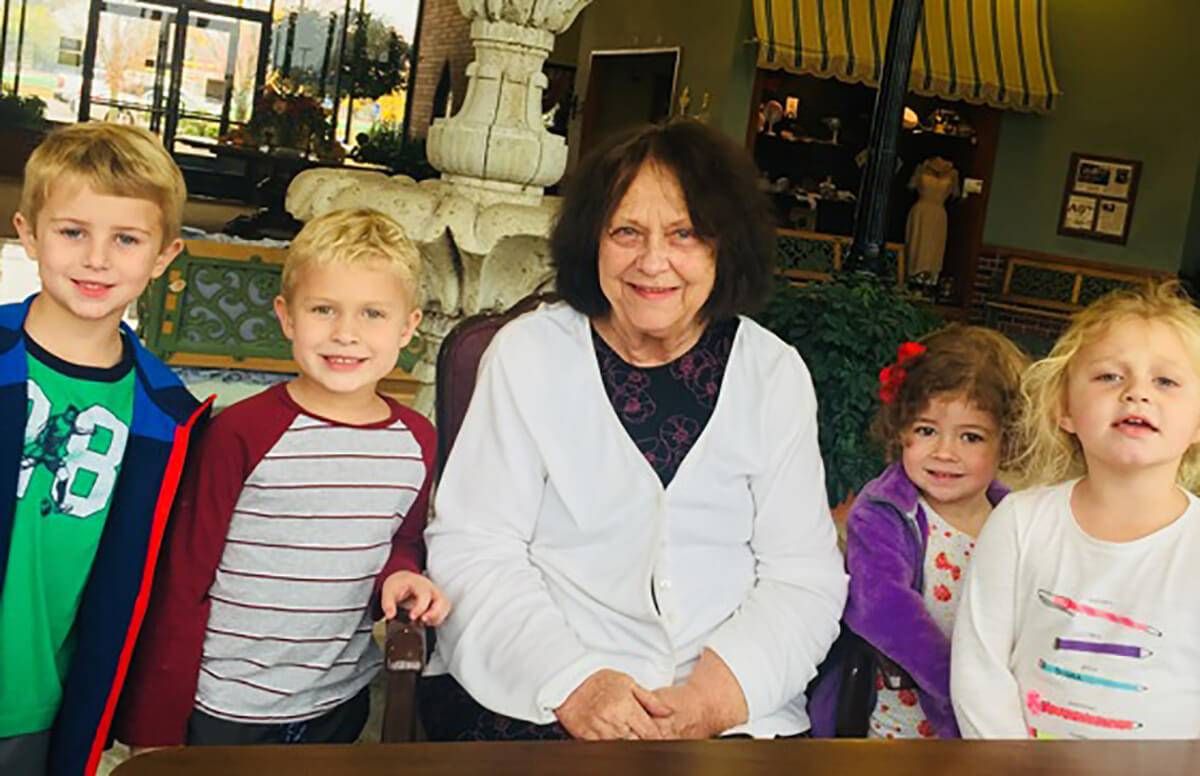 "I was thrilled," she says. "I have nine grandchildren, and I don't get to see them very often. It fills a void to be around the kids. I love it."
Although a number of nursing homes have onsite child care centers, it is rare for a public school to have such a partnership. "It's something we're very proud of," says nursing home administrator Scott Bushong. "We view it as a collaborative extension to connect Grace Living with the greater community."
School in a Nursing Home: The Birth of an Idea
The concept was the brainchild of Don Greiner, whose for-profit chain owns Grace Living.
He approached the school system in 1998. Putting his money where his mouth is, Greiner spent some $200,000 to construct two classrooms, a playground, an ice cream parlor and a beauty salon that looks into a classroom. The school system pays $1 annual rent, making it essentially cost-neutral. For the nursing home, the primary cost — other than construction and modest utilities and maintenance — is the salary of a liaison to the school.
Bushong says the rising generation of boomer elders sees retirement "as a time to create purposeful living." To that end, the intergenerational curriculum focuses on three areas that benefit young and old alike: lifelong learning, wellness and physical fitness, and the arts and humanities.
Among the activities: joint exercise class, reading buddies, shared learning (making self portraits and friendship bracelets), dramatic play and singing.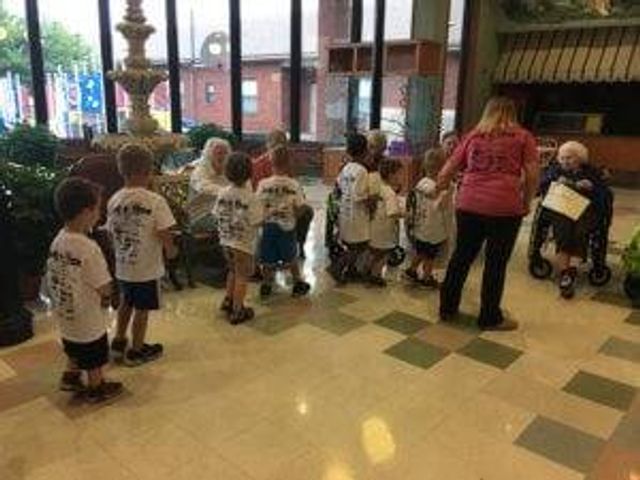 A Winner for Kids
"When they start their school day, I drop them off, and the aides are there with the residents — we call them Grandmas and Grandpas (or "Grands" for short)," says Sarah Koehling, who has had three children attend school there. "They greet each other and give high fives or hugs. It gives a resident a reason to get up and get dressed and get moving."
Wednesdays are a highlight for her 5-year-old twins, as they line up with the Grands for the ice cream social. When the kids (known as the Littles) participated in the PTA's jog-a-thon fundraiser, the Grands lined up inside the nursing home to cheer them on, holding handmade signs and playing musical instruments. The Grands also help with activities like the fall carnival and, together with the Littles, decorate the building for holidays. The children eat lunch at small tables in the hallways and Grands can join them.
Perhaps most impressive, the children at Grace Living Center make remarkable progress in reading, thanks to the regular one-on-one time with their older book buddies, like Maccourt.
"Sometimes we just visit," she admits. "The kids are so full of knowledge, it just blows my mind. That comes from good parenting and the teachers here." She also enjoys gardening with the children, together sampling their harvest of carrots, green beans and radishes.
Jenks West Elementary has pre-K and kindergarten classes in both the traditional school setting and the nearby nursing home.
Principal Suzanne Lair has tracked reading progress for years, comparing the students at Grace Living Center with their peers in the traditional classroom. Consistently, 25 to 30 percent of first-graders at Jenks West overall are not reading at grade level, compared to less than 4 percent of those who attend Grace Living for pre-K/kindergarten. That benefit continues through third grade, Lair says.
Building Character in Kids
Tricia Travers, who teaches pre-K and also is mother to a kindergartner at Grace Living, says the intergenerational program, which serves 46 children, has far exceeded her expectations.
"One thing that's huge is how character-building the program is," she says. "[The children] are really empathetic toward people of all ages. They see people with walkers, wheelchairs, breathing tanks, whose legs have been amputated. A parent told me it allowed her to teach compassion."
Another parent, whose children are now in college and high school, told Travers her kids continue to be "very empathetic. They become so comfortable [with older adults] at such a young age, that has carried on through their lives."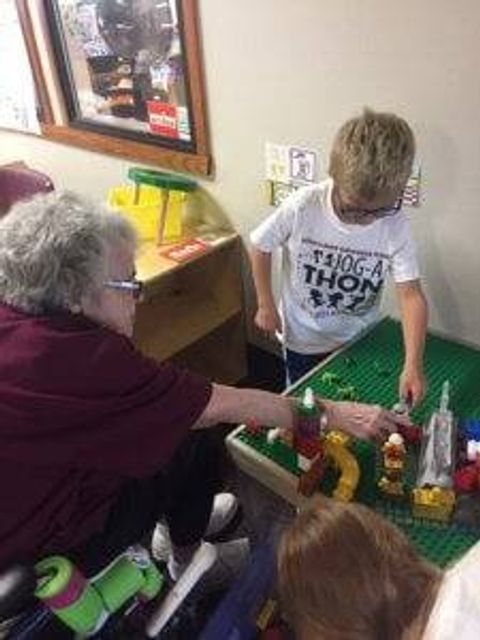 Dementia and Death
Children also encounter residents with dementia. "Something is hardwired in us, whenever those little kids are around, [those with dementia] flip a switch," says teacher Katy Wilson. "They may not remember what they had for breakfast, but they are happy when they hear those babies. They are almost completely different people when the children are there."
Wilson says the kids learn early on "how to regulate their actions." They know to rein in their energy and walk calmly in the hallways to avoid jostling a Grand. "When they do a fist bump, they do it very gently," she adds.
Inevitably, the children are also exposed to the death of a beloved Grand. "We talk about it with the children when we've lost a grandma or grandpa," says Lair. "The children prepare a celebration of life booklet for the family. That's been therapeutic. We talk about it in a very natural way."
Lair says in the program's early days, some parents were concerned about the children's safety. "I remember having to call and plead with parents to consider it," she recalls. But in 18 years, no problems have arisen. Today there is a waiting list for the nursing home classrooms.
The Benefits for 'Grands'
Ensuring that the intergenerational encounters go smoothly and safely is the job of Adele Burnett, the nursing home's liaison with the school.
Having such a position is key to the program's success. She or other staff members are always on hand when Grands and Littles are together. Roughly one-third of residents participate, in addition to those who enjoy sitting and watching the kids on the playground or through the glass walls into the classroom.
"A couple times a day I might cry when I see the relationship between a child and a resident," Burnett says. One recent example: a resident never left her room, saying she had no interest in getting up. Burnett persisted in trying to engage her with the children. "I told her maybe it would make her happy, and it would make the children happy," she says.
The resident finally gave it a try. She later thanked Burnett for not giving up on her. "It's really brought me back to life," the resident said. "When I first came here, I thought my children were leaving me to die. This has given my soul a purpose."
Bushong, the Grace Living administrator, says the program also provides an opportunity for the older generation to pass on their stories, "whether it's about hard work and sacrifice or a sense of our roots as a country and trying to instill that in upcoming generations."
Impact on Both Generations
Donna Butts, executive director of Generations United, a national nonprofit, says that little research has been conducted on the long-term benefits of intergenerational programming in nursing homes. But "what we hear is that young people who have been around older adults have a tendency to be more patient and be more accepting of differences than people who have not been socialized around older adults," she says.
As for nursing home residents, "when you think about intergenerational programming, one of the important impacts is that it decreases social isolation and provides social connection and purpose," says Butts, a 2015 Next Avenue Influencer in Aging. "They have a reason to stay alive. The more in-depth the relationship, the more impactful the experience for both generations."
This is the first of a three-part series on model intergenerational programs. The series is written with the support of a journalism fellowship from New America Media, the Gerontological Society of America and AARP.