Purpose Prize Winner Helps the Blind Get Hired
In her encore career, Kate Williams aids others with her disability
Kate Williams has a smile and a positive energy that lights up a room. For her, attitude is everything. That's a lesson Williams' father instilled in her at a young age with one caveat — it's your choice every day to make that attitude a good one.
 
Williams, 72, is blind, due to a progressive congenital eye disease that began to slowly erode her vision at 47. "It was devastating to me," Williams told me. "But I realized that I just had to learn to do things differently if I wanted to keep working."
 
Today, Williams runs an employment program at Lighthouse for the Blind and Visually Impaired in San Francisco, Calif. to help the blind find jobs. "I have an opportunity to let people know that life is not being defined by your disability, but your ability," Williams told me.
(MORE: Purpose Prize Winners: Doing Great Work After 60)
 
Winning The Purpose Prize
Her awe-inspiring work is why Williams last night was one of six people receiving The Purpose Prize — awarded to Americans age 60 and older who are making an impact — at a ceremony in Tempe, Ariz. (Next Avenue blogger Richard Eisenberg recently wrote about all the Purpose Prize 2014 winners.)
 
The Purpose Prizes are given by Encore.org, a nonprofit that's building a movement to tap the skills and experience of those in midlife and beyond who are improving their communities and the world. Now in its ninth year, The Purpose Prize 2014 came with $100,000 apiece for two winners and $25,000 each to Williams and three others.
 
While all of this year's Purpose Prize winners' stories are impressive, I was especially taken with Williams's and spoke with her about her career path, her current work and her advice to others with disabilities hoping to find jobs.
 
Williams knows intimately how it feels to have people treat you like an outsider once you start using a cane and to have duties taken away when your boss thinks you aren't up the job because you can no longer see. She spent nearly three decades as a human resources professional, mostly working as an executive recruiter for top pharmaceutical and technology companies. But in 2009, when her employer shut down, Williams had the sinking feeling that she wasn't employable.
 
Starting Her Encore Career
Nevertheless, she picked herself up and kept moving. At 67, she began an encore career to help people with a disability like hers by redeploying the expertise she'd gleaned in her previous occupation.
 
Williams started working as an employment specialist for Adaptive Technology Services (a provider of computer technology services for people who are blind and visually impaired), designing an employment-training program for the blind. Within a year, the San Francisco office of the Lighthouse for the Blind and Visually Impaired asked her to create an employment-training program for them.
(MORE: Assistive Technology Helps People Age in Place)
 
The Employment Immersion Program that Williams initiated trains people to pursue jobs in finance, industry, government, nonprofit and other sectors. Its seminars cover everything from personality assessment testing to resumé and LinkedIn workshops to mock job interviews. The program also connects participants with visually-impaired mentors.
So far, the program has worked with 100 blind job-seekers and produced a 40 percent placement rate. And, as Williams told The Purpose Prize ceremony audience, "it has led to $1.6 million in salaries for people who never had a salary before."
 
I asked Williams what employers are afraid of when they think about hiring a blind person. "Is there going to have to be tape on the floor to help them get from their desk to the bathroom?" she replied. "Who is going to take them to lunch? And the big one: How are we going to afford this? They think there is a big expense, but almost always the local Department of Rehabilitation will pay for that equipment."
Her 8 Tips for Disabled Jobseekers
Here are Williams' eight recommendations for disabled jobseekers, and particularly for the blind and visually impaired:
 
1. Start with a positive mindset. "You have to get out of the 'I can't do it. I'm not capable' mentality."
 
2. Pinpoint a company where you really want to work. "Then, network to find someone you know who works there or has a connection."
 
3. Skill up. "In many cases, if you've lost your vision, you will probably have to go back to school for re-training, because you will be shifting careers. It's your responsibility to become qualified for the job with the right certifications and training. If you don't add the education, you're not going to be hired — not because you are blind, but because you aren't qualified."
(MORE: Pivot to a Second Act With Purpose)
 
4. Find a mentor. "It's best if you can connect with someone who is blind and doing a job that interests you. Ask them how they got their job and how they make it work with their disability. The American Federation for the Blind is a good resource. You may also be able to connect with someone through a local blind association in your town."
 
5. Disclose your disability to a potential employer. "There are different viewpoints within the blind community on the timing of this disclosure. Everyone agrees, though, that you should never disclose your disability until you have secured the interview. My opinion is that you should always let your interviewer know in advance, after the interview date is set. If I walk in with cane or guide dog, all the person will be thinking is blind, blind blind… I want the hiring manager to look at my skills and my talents. If they're prepared ahead of time, they can focus on that when they meet you."
6. Make eye contact. "You have to connect with your interviewer; this is true for all jobseekers. And the first thing you need to do is look him or her in the eye. That's not so easy when you're blind. So I teach them to 'look at the voice.' That tells you where the person is. Then, you know that about three inches above the voice, there are going to be a pair of eyes."
 
7. Watch your body language. "Blind people tend to rock or sweep with their bodies. This movement makes people uncomfortable. It frightens them. And blind people often talk with their hands moving constantly, usually look down or are stooped. Repeat to yourself: shoulders back, head up. This gives you a look of confidence and shows how you feel about yourself."
 
8. Tap into the federal government job board. "Go to USAJobs.gov and then click on the link for individuals with disabilities. You can set up a profile and receive job alerts for jobs specifically for the disabled.
 
And Williams had one parting tip. "If you have a guide dog, make sure you give him a bath the night before you go on an interview," she said with a laugh and a sparkle in her eye.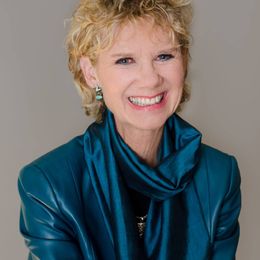 Kerry Hannon
is the author of Great Pajama Jobs: Your Complete Guide to Working From Home. She has covered personal finance, retirement and careers for The New York Times, Forbes, Money, U.S. News & World Report and USA Today, among others. She is the author of more than a dozen books including Never Too Old to Get Rich: The Entrepreneur's Guide to Starting a Business Mid-Life, Money Confidence: Really Smart Financial Moves for Newly Single Women and What's Next? Finding Your Passion and Your Dream Job in Your Forties, Fifties and Beyond. Her website is kerryhannon.com. Follow her on Twitter @kerryhannon.
Read More