Remembering 'Cheers' at 40
A fan's reflection on the sitcom where we knew everybody's name
So there I was, channel surfing in the wee hours of the morning not long ago. I couldn't fall asleep, bedeviled by the challenge of having to make a big life decision. The best remedy for tossing and turning all night, I have found, is to turn on the TV set and lose myself in a beloved show or movie.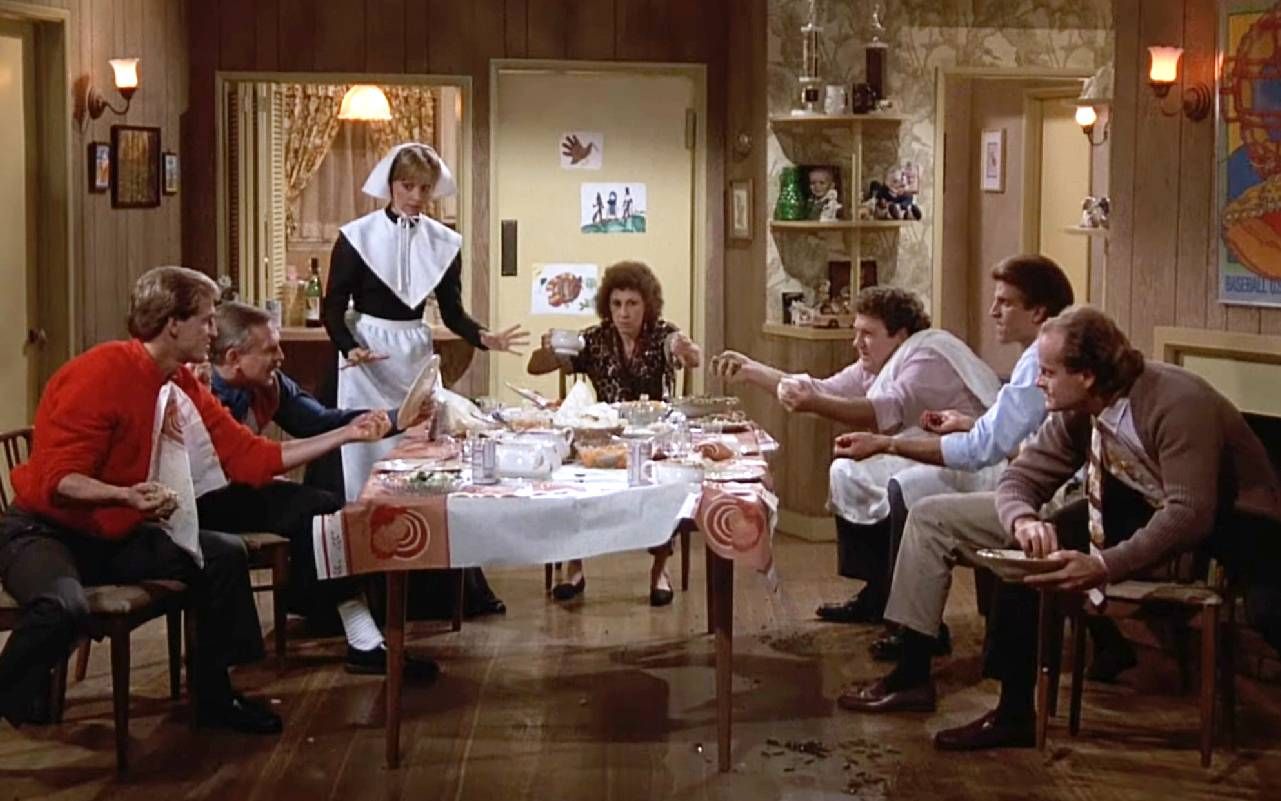 Luckily, I found the perfect solution on an obscure cable channel: back-to-back episodes of "Cheers," the witty, groundbreaking and immensely popular situation comedy that celebrated forty years in September 2022; the show aired on NBC from 1982 to 1993.
"Cheers" took place in a Boston watering hole, where quirky but endearing characters gravitated, night after night.
It was as if the years and decades promptly melted away as soon as I heard that unmistakable theme song. All over again, I laughed at Sam's cockiness, Diane's pretentiousness, Carla's wisecracks, Frasier's pomposity, the Coach's innocence, Woody's innocence, Norm's drollness and Cliff's exasperating observations.
As a refresher, I'll remind you of a few helpful facts. "Cheers" took place in a Boston watering hole, where quirky but endearing characters gravitated, night after night, to escape the humdrum of their lives and find kinship in a welcoming atmosphere, "where everybody knows your name," to quote from the catchy theme song.
A Memorable Cast
The show starred Ted Danson as Sam Malone, the owner of the bar, ex-alcoholic, and former Boston Red Sox relief pitcher who never met a woman he didn't try to hit on; Shelley Long as Diane Chambers, the pseudo-intellectual barmaid and the on-again, off-again, on-again girlfriend (and fiancée) of Sam; Kirstie Alley as Rebecca Howe, the hard-working but forever ineffective manager of the bar, who succeeded Shelly Long in the cast in 1987; Rhea Perlman as the wisecracking waitress and Diane's nemesis, Carla Tortelli; George Wendt, as the unambitious, beer-loving accountant, Norm Peterson; John Ratzenberger as Norm's buddy, the know-it-all mailman, Cliff Clavin; Kelsey Grammer as pompous shrink Dr. Frasier Crane, with Bebe Neuwirth as his better half, Lillith; and Woody Harrelson as Woody Boyd, the dim-witted but eager-to-please bartender from Indiana.
Actor Nicholas Colasanto played the beloved "Coach," Ernie Pantusso; after Colasanto's death in 1985 from a heart attack, Harrelson's character became more significant.
The secret sauce to "Cheers"' success and longevity was that we could all relate to the characters. We've all known an insufferable bore like Cliff Clavin or an egghead like Diane or a playboy like Sam or a smart aleck such as Carla, who was infamous for zinging Clavin. (For example, when Cliff once mused, "There are times when I'm ashamed that God made me a man," Carla shot back, "I don't think God's doing too much bragging about it, either.")
As with the great show "Taxi," which preceded "Cheers" on TV by a few years (airing from 1978 to 1983) the ensemble cast functioned like a championship basketball team. Nobody hogged the ball, and everyone happily passed it around to a teammate.
"Taxi" and "Cheers" where both helmed by the legendary television sitcom director James Burrows. Writer/producer team Les and Glen Charles also created "Cheers."
During an appearance on the late comic Gilbert Gottfried's podast, Burrows disclosed the reason why he thought "Cheers" clicked with viewers. Previously, many successful sitcoms relied on the tried-and-true formula of assembling a string of one-liners. But "Cheers" managed to be different, largely on the strength of its memorable characters, in the tradition of "The Mary Tyler Moore Show," which, by no coincidence, Burrows had also worked on as a director.
"The ("Cheers") audience laughed when Norm entered," Burrows pointed out. "They were laughing at attitudes."
Hailing the Great Shelley Long
I'm going to say something here that a lot of readers may disagree with, but I'll say it anyway: Shelley Long, who played Diane Chambers from 1982 to 1987, was the single greatest lead actor in the history of television situation comedies. No actor was more responsible for the show's success than Shelley Long.
That's right: Long was better, I contend, than Mary Tyler Moore, Jean Stapleton, Julia Louis-Dreyfuss, Carol Burnett, Patty Duke, Katey Sagal, Betty White, Cheryl Hines, Marilu Henner or — dare I say it — the ever-popular Lucille Ball.
Shelley Long accomplished the most difficult feat for an actor: She didn't merely play the role of Diane. She actually seemed to inhabit the character.
Long's range was astonishing. In one episode, she could embody Diane's academic pretentions uncannily and then, a few minutes later, pivot and play Diane as a victim of the anti-intellectual gang in the bar.  
Shelley Long accomplished the most difficult feat for an actor. She actually seemed to inhabit the character.
Long somehow knew, as if by instinct, when to let her foil, Ted Danson's Sam Malone, win an argument for comedic effect or when she had to assert herself — all without interrupting the flow of an episode.
It is an acting gift, the equivalent of when a superstar like LeBron James understands when he needs to pass the basketball or take the shots in order to achieve the goal of a team victory.
For me, "Cheers" lost a lot of momentum when Long left the show after five seasons. Oh, Long surely had her share of film successes afterward, but, alas, she never again quite scaled the comedy heights of Diane Chambers.
Likewise, "Cheers" went on, as Kirstie Alley succeeded Shelley Long in the cast. The sitcom remained highly popular with its audience. But the show seemed (to me, anyway) to be content to rely more on physical comedy and gags instead of the witty repartee that Long and Danson had done so brilliantly.
Societal Value of 'Cheers'
Beyond the laughs, "Cheers" also managed to shine a light on such TV taboos as alcoholism, psychiatry and sexism.
The show put Sam's drinking out in the open and he noted that he drank himself out of a baseball career and a marriage. Clearly, Norm Peterson drank way too much beer for a well-adjusted adult, but the show played his bad habit for laughs.
We met Dr. Frasier Crane after he had treated Diane for some sort of breakdown, following one of her romantic breakups with Sam. Psychiatrists had not been used much as comic vehicles prior to the emergence of "Cheers."
Has there ever been a funnier, more heartwarming sitcom romance than that of Sam and Diane? The foundation for the laughs was the producers' shrewd decision to present Diane Chambers as a formidable, multidimensional character and not merely a puppet to satisfy Sam's whims. Malone, a towering symbol to sexism, did not win every argument with Diane and this, too, showed us what a sexist male looked and, more crucially, sounded like.
The Legacy of 'Cheers'
Many of the show's actors and actresses went on to achieve great success in Hollywood:
Ted Danson has worked steadily and has become a fixture playing himself (hilariously) on "Curb Your Enthusiasm" since episode two of the first season. He has starred in such well received TV shows as "The Good Place" and, most recently, "Mr. Mayor."
Shelley Long appeared in many popular films, such as "Troop Beverly Hills," "The Brady Bunch Movie" and "The Money Pit," and television shows including "Modern Family."  
Kirstie Alley starred with John Travolta in the "Look Who's Talking" movies.
Kelsey Grammer played the same character of Dr. Frasier Crane when he went on to star in the show, "Frasier," for 11 more years.
Woody Harrelson has had a highly successful film career and been nominated three times for an Academy Award, including for "Three Billboards Outside Ebbing, Missouri" in 2017.
Rhea Perlman has appeared in several films and TV shows, including "The Mindy Project."
John Ratzenberger went on to become the voice of "Hamm" in the "Toy Story" movies and has been featured in other Pixar films.
George Wendt co-starred in a drama called "Guilty by Suspicion"with Robert De Niro.
Hankering for a Rewatch? Start with These Five Episodes.
These are five of my favorite "Cheers" episodes:
Give Me a Ring Sometime: The first episode of the series
Pick a Con … Any Con: Coach gets fleeced by con men at the bar
Young Dr. Weinstein: Sam thwarts Diane by hijacking her reservation to a posh Boston restaurant by passing himself off as a renowned surgeon
Thanksgiving Orphans: Featuring one of the greatest food fights in TV history
Dinner at Eight-ish: Frasier and Lillith entertain Sam and Diane
Jon Friedman



Jon Friedman has been teaching classes geared to freshmen, and other courses, at Stony Brook University since January 2014
Read More