Want to Be a Remote Worker? Get These Digital Skills
They'll help you work from home either as an employee or a freelancer
Jim Landis, 53, is job hunting after a year spent as his wife's full-time caregiver. Because she has ongoing medical issues, one of Landis' must-haves is the ability to work from his Denver home at least part-time. To make himself a stronger candidate for remote work, the requirements-analysis manager and software programmer paid roughly $500 for four online classes in advanced digital skills such as data science and data analytics.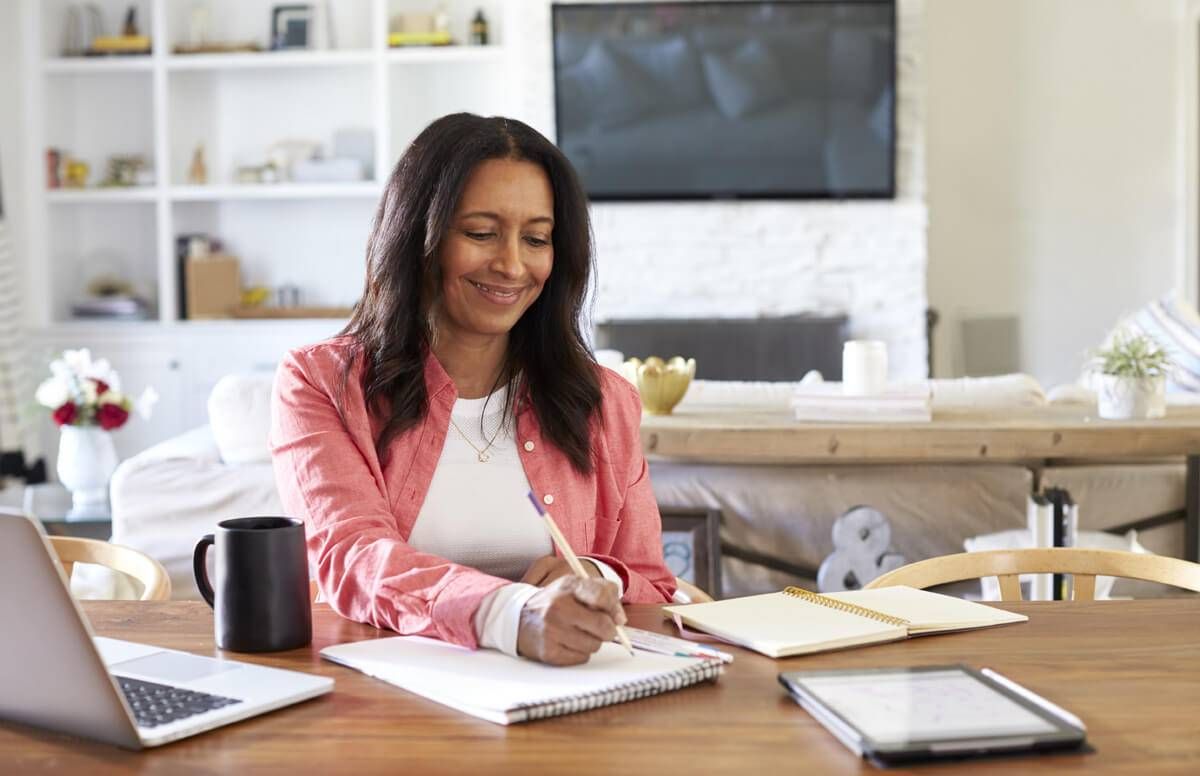 Landis says his previous employer wasn't very cutting edge, so his digital skills lagged. "I wish I had been a bit more focused on my own interests and kept an eye on staying technologically current with the broader industry," he says. Landis doesn't expect the courses to lead directly to a job offer, "but if a hiring manager is thinking about moving to a new technology in the future, being able to say I have course work — that will get me some points," he notes.
Brushing up on digital skills is a smart move if you want to work remotely in your 50s or 60s. That's true whether you hope to get hired as an employee who works remotely, or you want to get freelance jobs that let you work from home.
"It comes down to making a living. I also have a component of fear. I'm afraid of being left behind by technology."
To stand out at a time like today when the demand for remote-based jobs outstrips the supply, it helps to be competent with the digital tools necessary for success as a remote worker. These include the latest applications for communicating and collaborating with managers and teammates, regardless of where they're based.
Apps for Remote-Based Work
Older workers can possess all the qualities that make them a great fit for remote work and not get an offer if they aren't up to speed on popular apps for sharing files, participating in video chats or communicating with co-workers.
A younger candidate might be less qualified, but if that person can use the tools and speak the lingo, it can give an employer peace of mind, says Laurel Farrer, a remote work strategist and founder of the Remote Work Association,
Farrer, Kate Lister (a long-time remote-work analyst and president of Global Workplace Analytics) and other experts group must-have digital skills for remote work into four categories:
File-sharing platforms that let coworkers upload and share work-related documents, including apps such as Google Drive, Dropbox and Box.
Videoconferencing applications such as Zoom, BlueJeans, me, Skype and WebEx.
Enterprise communications platforms that have taken email's place as the main source of interoffice communication, including Slack or Microsoft Teams. Remote workers can use the platforms to exchange public or private messages with individual coworkers or groups and search old messages (like a Facebook newsfeed but for the workplace). Most communications platforms connect with other workplace apps so remote workers can share files and calendars or participate in video chats.
Collaboration apps that make it easier for people on a team or project to work together, including project management applications such as Basecamp, Asana and Trello. Collaboration apps typically include some type of shared project checklist so team members can see who's responsible for what and check off tasks as they're finished.
At Dell Technologies, for example, six out of 10 employees of all ages work remotely at least one day a week in a typical month. When they work remotely, employees stay in touch through Skype, Zoom, Slack and Chatter, an enterprise communications platform owned by Salesforce. "We strive to make the process of leveraging flexible and remote options easy and simple for all of our employees," says Mohammed Chahdi, Dell's HR service director.
Independent contractors who are savvy about digital tools find that expertise beneficial in landing assignments.
Working From Home With Digital Skills
Take Lee Ann Harris, 59, who works from an office she set up in a spare bedroom of her Sunnyvale, Calif. home. Since leaving a job as a senior director of clinical operations for a medical device manufacturer five years ago, Harris has crafted a livelihood out of doing a variety of contract work.
Harris consults for a few medical device companies on training and regulatory compliance issues, and got a notary public license to do home loan signings and similar work. She uses conference-calling services and file-sharing platforms such as Dropbox with all her clients. She also uses Google's office apps suite, including Google Docs for writing and Google Sheets for spreadsheets.
"It comes down to making a living," she says. "I also have a component of fear. I'm afraid of being left behind by technology."
Along with the basics, people interested in remote work need to keep up with digital skills unique to their profession.
Prior to leaving her full-time job, Harris dabbled in interior design as a hobby. After quitting, she completed an online interior design certification program to become an interior decorator. She followed that up by teaching herself a few computer-aided design (CAD) programs in order to show interior design clients what their spaces would look like after a remodel.
"I'd never done any kind of computer-aided drawing in my life. It was a lot of fun," Harris said.
Getting Your Boss to Let You Be a Remote Worker
If you'd like to work remotely with your existing office job, ask your manager during a routine performance review or a check-in about career goals, says Paul McDonald, senior executive director for Robert Half, a global staffing firm that places professionals into temporary and full-time positions, including hybrid or fully remote jobs.
And if your company already offers remote work, let a supervisor know that it's something you want to map yourself toward doing, McDonald adds. He also suggests taking advantage of employer-offered training to pick up needed digital skills.
To find remote-work digital training on your own, McDonald says, look into courses available on online-learning sites such as LinkedIn Learning (previously known as Lynda.com) and Udemy.
DIY types can teach themselves through free online resources offered by app developers, including training videos, step-by-step instructions and on-demand classes. Examples include Microsoft's on-demand end-user training videos for Teams, the Slack Foundry tutorial app, Zoom's instructor-led weekly online training classes, and  free video lessons for adult learners that Google offers for its office apps suite, including Docs, Sheets and Slides.
Learning Digital Skills at Community Colleges
Some community colleges offer training on in-demand digital skills, in some cases, partnering with tech companies to train educators. Classes and costs vary by institution.
In April, Google teamed up with the Coalition on Adult Basic Education to train community college teachers and other educators countrywide how to impart digital skills to adult learners, part of the tech giant's ongoing Applied Digital Skills initiative. In 2018, Facebook said it would work with community colleges and other local groups in 30 cities, including Houston, St. Louis, Des Moines and Greenville, S.C., to develop classes on coding, digital marketing and other skills.
Remote work's popularity has also led to startups offering specialized remote-work training programs for companies and individuals.
Workplaceless has a self-paced remote-work certification course costing $195. The full course, which can take up to a year to complete, covers seven topics, including productivity and time management, teamwork and critical thinking.
Some nonprofits also offer digital skills training for older workers who can't afford classes. One is Senior Service America, which runs programs to connect low-income and disadvantaged adults with prospective employers.
Michelle V. Rafter
is a Portland, Oregon, business reporter and long-time chronicler of the intersection of technology and work.
Read More