Surprising New Retirement Confidence Survey Finds Retirees Say: What Pandemic?
But for many workers, it's a very different story
After living with the COVID-19 pandemic for a year, are Americans feeling less confident about their ability to live comfortably throughout retirement? The new Employee Benefit Research Institute (EBRI) 2021 Retirement Confidence Survey has the answer: No (by and large).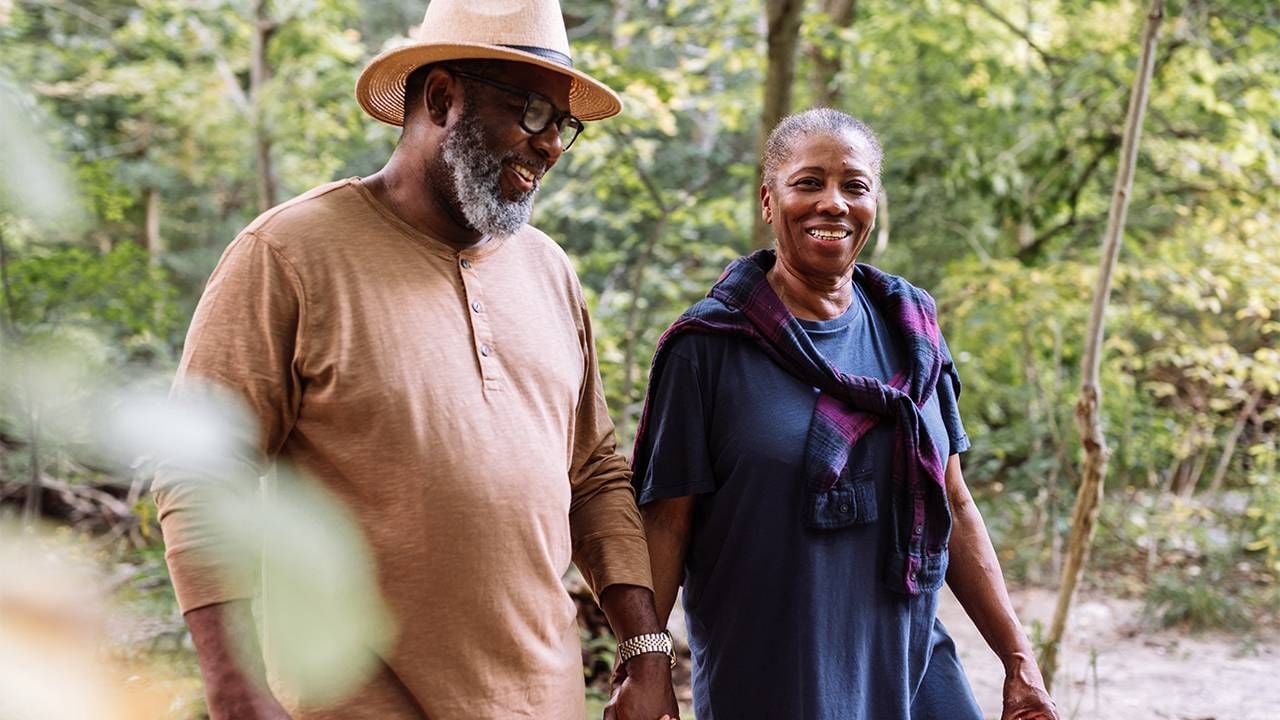 In fact, the nonpartisan group's survey found, retirees and workers overall are more confident about their retirement prospects than a year ago — not necessarily reflecting their reality — except for one group of workers.
Retirees have proven to be resilient and adaptable. "They think they're doing fine because they're getting by."
In the EBRI survey, conducted in January 2021 with 3,017 Americans 25 and older (1,507 workers/1,510 retirees), 80% of retirees said they were very or somewhat confident that they (and their spouse) will have enough money to live comfortably throughout their retirement years, up from 77% a year ago; 34% of them were very confident, compared with 30% in 2020.
Retirement Confidence of Retirees and Workers
"They weren't going to be the ones that lost jobs," Craig Copeland, EBRI senior research associate and co-author of the report, told me. "Social Security was still paying benefits. In many cases, they also were getting a stimulus check."
Also, he added, retirees have proven to be resilient and adaptable. "They think they're doing fine because they're getting by. And they're all right with it." In the survey, 85% of retirees said they had enough money for basic expenses.
A full 72% of workers felt very or somewhat confident about retirement, up from 69% in 2020 and 29% of workers felt very confident vs. 27% a year ago.
"I thought there would be a larger impact [of the pandemic] on retirement confidence," said Copeland.
So did I.
Lately, one of our most popular Next Avenue stories has been the 2019 piece, "Retiring on a Shoestring," suggesting that many people are especially focused on shoring up their finances in retirement.
And the EBRI survey found 27% of workers have less than $25,000 in savings and investments; 46% have less than $100,000, suggesting many haven't saved very much.
7 in 10 workers are confident in having enough money to live comfortably in retirement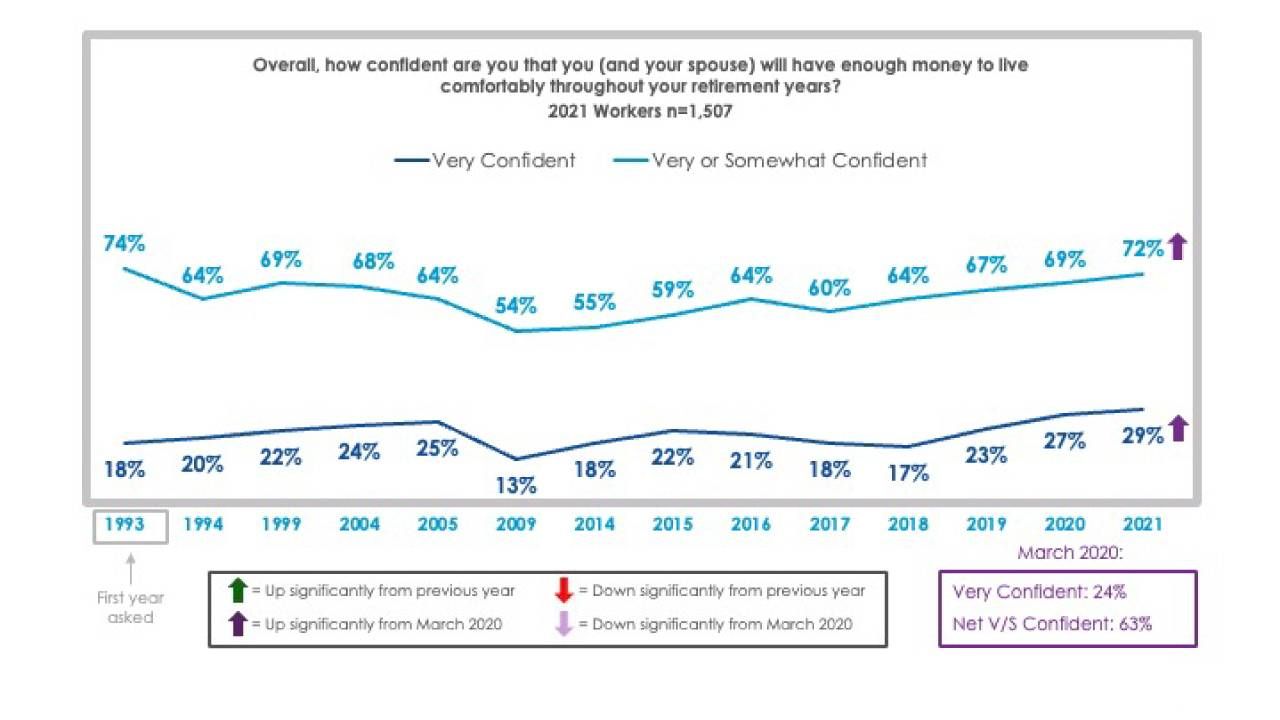 Who's Being Unrealistic
"There are people that are being unrealistic" about their retirement prospects, Copeland said. "They aren't saving enough. They aren't preparing for retirement. They don't even know what they should have for retirement. They have no ideas if they're on track, but they're thinking, 'OK, I'm doing all right now.'"
One counterintuitive pandemic reason for the high confidence levels EBRI found: restrictions on traveling and going to restaurants and stores have helped some people save money. In February 2021, the personal saving rate in the U.S. was a stunning 13.6%; from 2015 to 2019 it hovered around 7%.
But not everyone in the EBRI survey was so sanguine.
Just 68% of workers who lost a job or income in 2020 were very or somewhat confident about their retirement prospects. By contrast, 75% who didn't take a hit to their employment or income felt that way.
8 in 10 retirees are confident they will have enough to live comfortably in retirement, including 1 in 3 who are very confident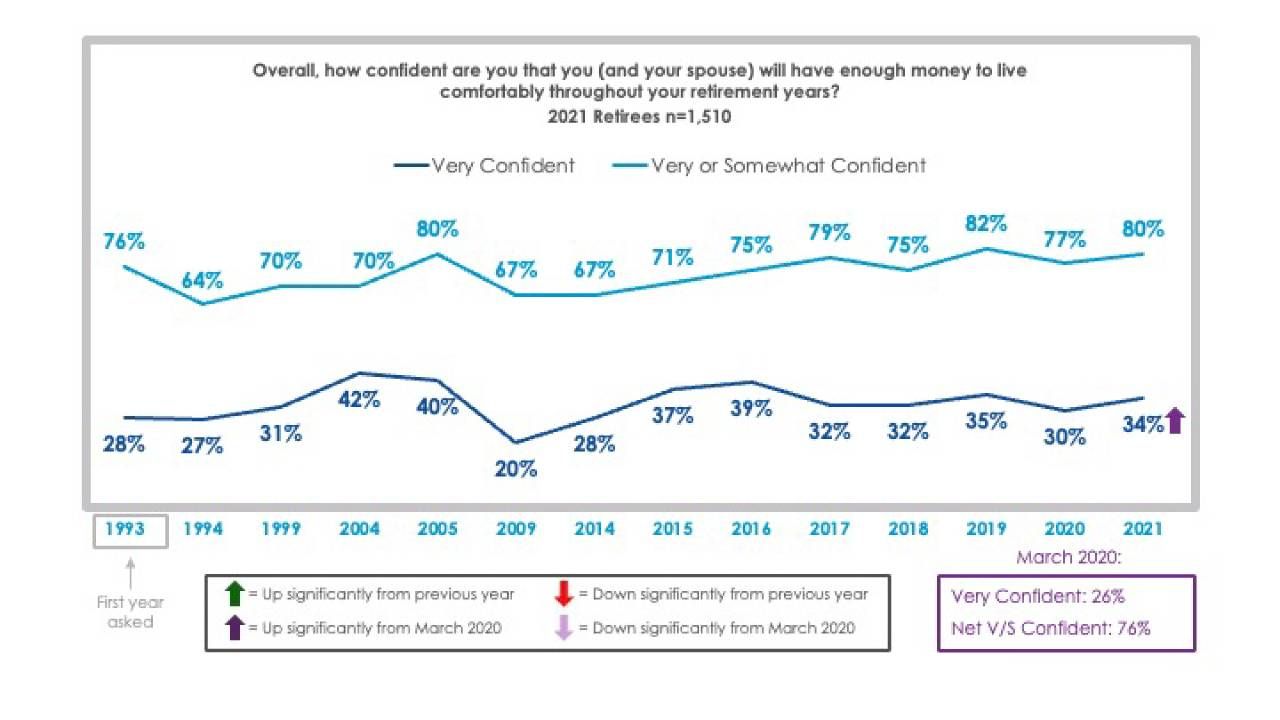 "When you looked into people that said they had lost retirement confidence, it was those people that had lost a job," Copeland said. "But those were also people that were less likely to be confident in the first place."
A Different Story for Some Americans
In the EBRI study, 39% of workers reported their household experienced a negative job or income change since Feb. 1, 2020: 18% said their hours and/or pay were reduced and one in ten workers were furloughed or temporarily laid off.
The split between those who've been hurt financially in the pandemic and those who haven't also showed up when EBRI asked workers when they planned to retire. Some 17% said they now planned to retire later than they'd expected, due to financial circumstances. But 6% expect to retire earlier than expected, because they're doing well.
Some 17% said they now planned to retire later than they'd expected, due to financial circumstances. But 6% expect to retire earlier than expected because they're doing well.
As Ken Stern, chair of The Longevity Project, said during the "After COVID-19 —  Rethinking Retirement: What Should Congress Do?" webinar his group and Next Avenue held April 21: "If there's a year that's more clear about the haves and the have nots of economic security, this is the year."
"I think we are seeing some disproportionate impacts on people of color, from an employment perspective," said Longevity Project webinar panelist Lillian Singh, the vice president for programs and racial wealth equity at the Prosperity Now think tank.
Another webinar panelist, Edelman Financial Engines founder Ric Edelman said: "Those who were doing well prior to the pandemic are doing even better. And those who were struggling are doing even worse. The pandemic has particularly hit hard women and minorities because they tend to be in occupations in the hardest hit industries."
And, he added, "Not everyone actually has the same ability to actually save, to even think about retirement, in a way that's equitable."
Americans in the EBRI survey who've lost confidence in their retirement prospects were often ones with incomes under $35,000, less than $10,000 in savings or investments and without a 401(k)-type workplace retirement plan — many of them persons of color.  
Debt and Retirement Prospects
They were also more likely to be people who said debt was a "major problem" for them; 47% of workers who feel less confident about their retirement prospects described their debt that way vs. 23% of those who said they didn't have a debt problem.
Overall, 54% of workers surveyed said their level of debt was a major or minor problem; 34% of retirees called their debt a problem.
"We tend to forget that we went into this pandemic with a hundred million Americans having credit card debt," Edelman said. "So, these folks were not only in a precarious position going into the pandemic, their situation has gotten even worse."
But Copeland said the EBRI research suggests that more and more retirees are okay with debt. Although a higher percentage of retirees have debt now than 20 years ago, "there is a comfort level for some of those people," Copeland noted.
"We have to be bold," Cardin said. "We have a wealth gap and an income gap in this country that we have to deal with."
Here's another finding from the new EBRI study that may surprise you: American workers' and retirees' confidence in Social Security and Medicare is at an all-time high over the survey's 31 years.
Upbeat About Social Security and Medicare
Some 72% of retirees and 53% of workers said they're confident Social Security will continue providing benefits of at least equal value to those received today. Three in four retirees and nearly six in ten workers are confident Medicare will, too.
And yet the pandemic has worsened solvency problems for Social Security and Medicare, hastening the year when both programs are expected to be unable to fully provide benefits.
The Bipartisan Policy Center estimates that, unless Congress and the president shore up Social Security, the program will only be able to pay 75% of benefits by perhaps as early as 2029.
"The lower-income, lower-wealth individuals rely more on Social Security" in retirement, said The Longevity Project webinar panelist Colleen Manchester, a University of Minnesota management professor. "And so, a twenty-five percent benefit cut is very consequential for their well-being and their ability to survive in retirement."
Copeland said the Democrats' control of the White House and Congress has boosted the public's upbeat views about Social Security and Medicare. People generally believe "benefits aren't going to be cut for senior citizens, as opposed to what people may have been hesitant to believe under a Republican administration," he said.
Ideas to Improve Retirement Security in America
This is actually a time for Congress and the Biden administration to find ways to improve retirement security for all Americans, according to The Longevity Project webinar speakers, including Sen. Benjamin Cardin (D-Md.).
"We have to be bold," Cardin said. "We have a wealth gap and an income gap in this country that we have to deal with."
Among the ideas they suggested: requiring employers to offer 401(k) retirement plans to full-time and part-time workers and to enroll employees in them automatically; offering small businesses tax incentives to offer retirement plans; creating a national "Baby Bonds" program where the U.S. government would give all Americans money at birth that would grow towards their eventual retirement and making the saver's tax credit (maximum: $1,000; $2,000 for couples filing jointly) refundable for those owing little taxes, allowing the money to be direct deposited into a retirement savings account.
Whether any of those come to fruition — a big unknown — retirement confidence of retirees and workers with jobs may continue to rise if the pandemic continues to fade.
"I think people are seeing us turning the corner," said Copeland. "We've got the vaccinations. We're seeing restrictions going away… And I do think there is optimism that government is going to support retirees more."
Looking ahead, Copeland said, "I think that when more people get back into work and their job prospects look better, they'll be more optimistic."
However, he added, "there are still going to be those people in a situation where they're not going to be improved. So, there's only so far we can go with our retirement confidence number because of the general inequities in the economy."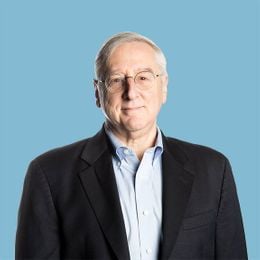 Richard Eisenberg
is the former Senior Web Editor of the Money & Security and Work & Purpose channels of Next Avenue and former Managing Editor for the site. He is the author of "How to Avoid a Mid-Life Financial Crisis" and has been a personal finance editor at Money, Yahoo, Good Housekeeping, and CBS MoneyWatch.
Read More