This Retirement Home for Older Cats Will Inspire You
A retired couple in Florida has converted their farm to house cats in crisis
Editor's note: Please be advised that this is a story about Cats Cradle Cat Sanctuary and Hospice, which is a specific organization. Next Avenue is unable to provide resources for those looking to re-home an older cat.
1 of 5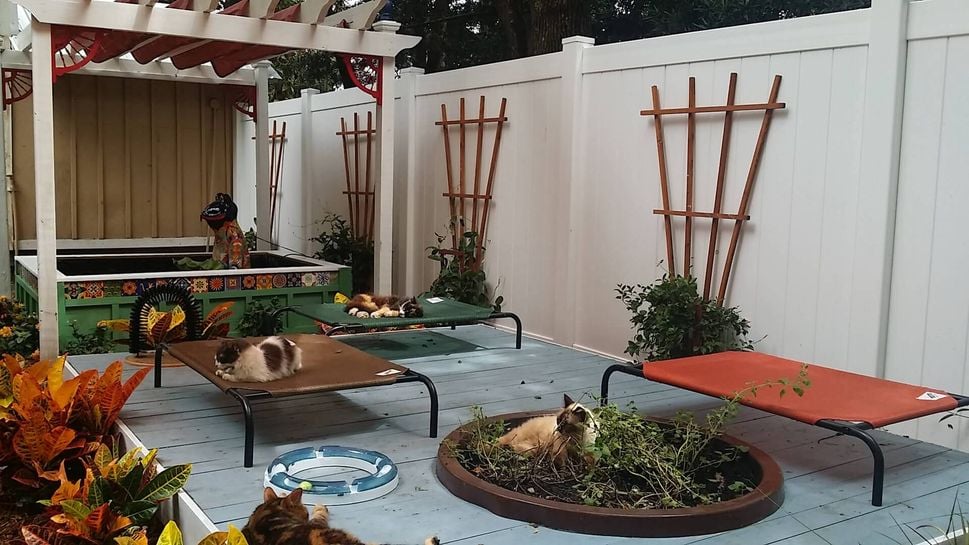 Cat Zen
Several cats lounge in the tranquility garden and one lucky kitty rests in the catnip garden at Cats Cradle. Terry Jenkins said the former owners who give up their cats are able to watch them on cameras that are installed throughout the sanctuary to make the transition easier.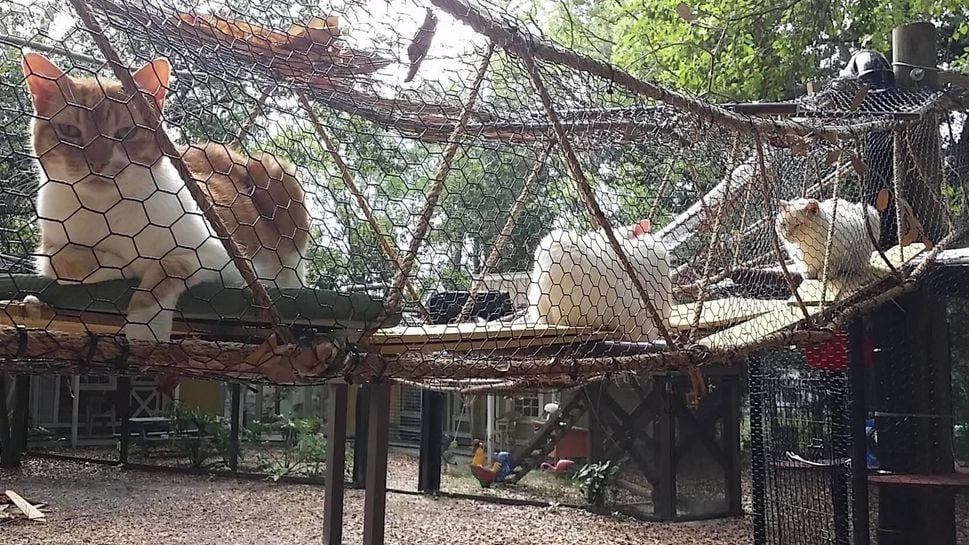 Harmonious Living
The Jenkinses said the cats at Cats Cradle get along well with one another and with the other animals on their acreage, including geese, dogs and a miniature pony. Although a gate encircles the sanctuary, this is to keep other animals from entering. "As it turns out with old cats, they don't even try to leave if you leave the gate open," said Terry Jenkins.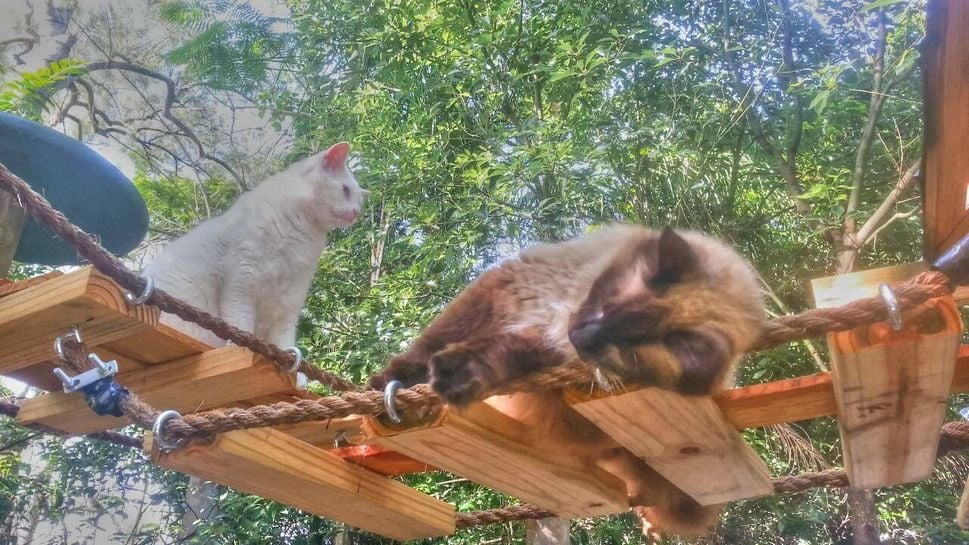 Estate Planning for Kitty
Bruce Jenkins said he and his wife recently began to offer "Lifetime Care" for people with cats who are worried about their cat's future if they should no longer be well enough to care for their pet. The owner would send a monthly fee of $150 to the Cats Cradle Foundation for 10 years, or pay a lump sum of $1,500 , based upon the expected life span of 15 years in order to assure their cat can reside at Cats Cradle. (There are no refunds for cats who die an earlier death.)
Additionally, the Jenkinses welcome donations and endowment gifts to fund their sanctuary.
"It's heartening how many people love cats and are very generous," Terry said.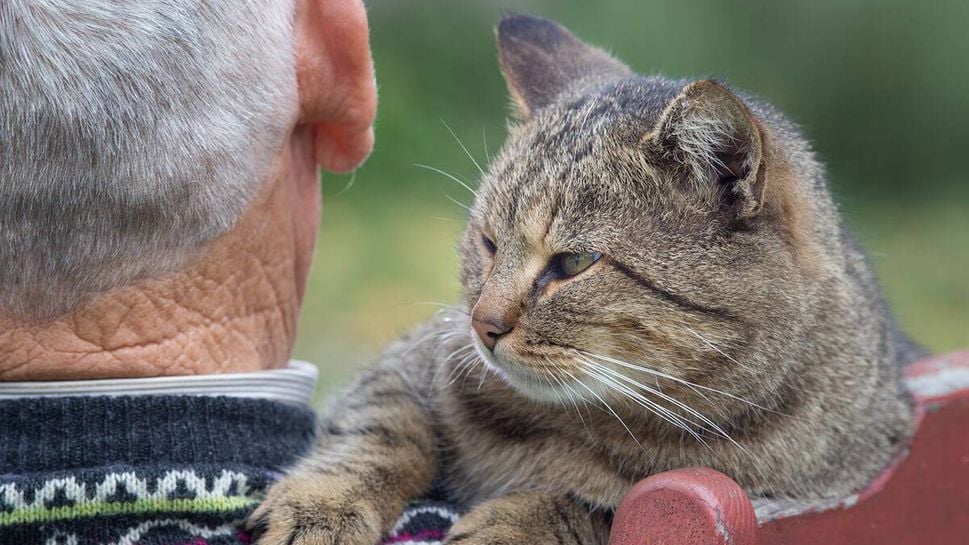 Getty Images
Seniors for Seniors
Although the Jenkinses view their current cats as family (and have adopted them), they welcome the opportunity to place new arrivals in good homes. They believe one of the best synergies may be pairing older cats with older adults in assisted living who would welcome the chance to care for a feline companion. Their "Seniors to Seniors" program was established with this in mind. The Jenkinses encourage people whose cats would qualify as "certified companion pets" to contact them at Cats Cradle to see if their cat qualifies, and they will match them with an assisted living facility.
"We'd like to get the word out that even though most assisted living facilities take pets, we would love to try to place elder cats with residents who would like to care for a pet. But we don't get a lot of response," said Bruce Jenkins. "It's such a great fit, though, and I think it could be a national movement to help the rescue and placement of older cats."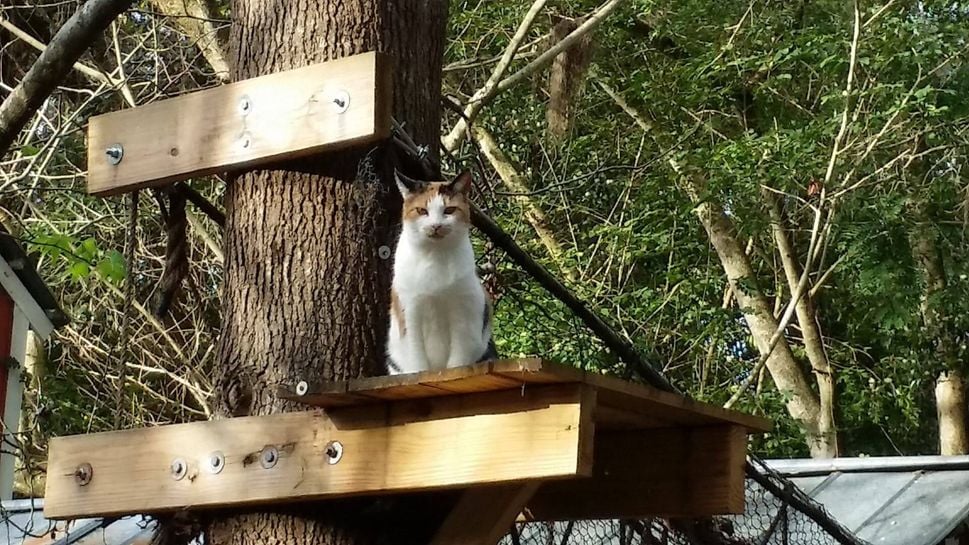 Labor of Love
Terry Jenkins notes that "people can be difficult, but animals are generally a lot less difficult."
She encourages other recent retirees to consider volunteer work in animal rescue.  (And if you aren't a cat person, Next Avenue has also profiled a similar sanctuary for older dogs.)
"For me, it's so gratifying to have the time to devote to a cause that really means something to me," she said. "These are cats who someone loved for a long time and their owners don't know what to do once they can't care for them anymore."
(The Atlantic released an extended video featuring Bruce and Terry Jenkins' Cats Cradle that is worth watching.)
In retirement, Bruce and Terry Jenkins of Lutz, Fla., knew they wanted to do something that made a difference in the lives of others, and they had an idea that the next chapter for them meant their life (and acreage) would literally go to the cats.
The Jenkinses opened Cats Cradle Cat Sanctuary and Hospice — a space that can only be described as the most amazing sanctuary (and retirement home) for older cats in crisis — cats who are over age 10 and beyond the typical shelter's adoption age.
"I would like to tell folks that when they retire, as we have, taking care of creatures is a wonderful purpose," said Bruce. He and Terry currently have 25 cats in their sanctuary, which is housed in the same acreage where they live.
Their backyard, which once was filled with a Western-themed playset built by Bruce in 1992 for their now-grown children, has become a feline senior center including waterfalls, ponds and cat-sized bridges, high perches for lounging and catnip gardens. Although the couple started taking in cats in crisis in 2008, the sanctuary was completed more recently. They continue to raise money for expenses through donations and a GoFundMe campaign.
Often, they said, the cats come from older pet owners who have been diagnosed with dementia and can no longer care for them or from the adult children of cat owners who died before their pets. The couple retired from careers in business and see their work as a labor of love that they intend to keep improving and growing.
As you can see from the following slideshow using photos contributed by Cats Cradle, the Jenkinses' sanctuary may be a paradise for an older cat — not to mention an important connecting force between human and pet that extends beyond its grounds: