Retiring Later Could Help You Fend Off Alzheimer's
A new study finds that working longer can lower the risk of dementia
You may already know that delaying your retirement can be a smart financial move because it'll give you more years to contribute to your 401(k) and perhaps plump up your pension, which means less of need to draw on your savings or Social Security. But a fascinating study released today at the Alzheimer's Association International Conference in Boston suggests that pushing your retirement back could also help lower your risk of developing Alzheimer's disease and other types of dementia.
 
Risk Cut 3.2 Percent a Year
Researchers at INSERM, the French government's health research agency, studied 429,000 retirees in France who were formerly self-employed and discovered that their risk of having a diagnosis of dementia was reduced by 3.2 percent for each extra year they worked before retirement.
 
(MORE: Alzheimer's and Stress: A New Study Confirms the Link)
"In other words, all other risk factors being equal, those who retired at 65 years old had a 14.6 percent lower risk of getting dementia than those who retired at 60," the scientist who led the study, Carole Dufouil, told me.
 
The link between later retirement and dementia was a bit stronger for men than women, she added.
"We were not surprised by the results, but we were surprised by the robustness of the findings," Dufouil said. "Still, we need to be cautious as these results might not be generalizable. But this should encourage further research on the topic."
 
More Reason to Stay Cognitively Active
Heather Snyder, Ph.D., director of scientific operations at the Alzheimer's Association, says this new finding is another example of the importance of staying "cognitively active" as long as possible.
 
(MORE: After 55, the Key is Staying 'Engaged')
"This study adds to the body of work that says doing things to continue keeping your brain active may be beneficial at reducing the risks of dementia," Snyder said.
 
In the past, the idea of staying mentally engaged tended to mean things like doing the Sunday crossword puzzle, taking classes and reading. But the notion of working longer to fend off Alzheimer's is fairly new.
 
Similar Study of Men, Work and Dementia
The French analysis echoes a 2009 study of 382 British male dementia patients by Cardiff University and the Institute of Psychiatry, King's College London. Those researchers found that every extra year that men worked beyond age 65 postponed the onset of their dementia symptoms by nearly six weeks.
 
Dufouil said looking at the two studies together provides "further evidence to the hypothesis that intellectual stimulation throughout life might protect against dementia by either preventing it or delaying it."
 
Alzheimer's researchers sometimes call this the "use it or lose it" hypothesis.
 
A New Reason to Try to Work Longer
Not everyone, of course, can work as long as they'd like. Many people in their 60s and 70s get pushed out of their jobs to make room for younger, less expensive staffers; others have health issues that prevent them from remaining employed. 
 
But if you're physically and mentally able, I think this new study makes a powerful case for your health and your wealth: try to keep working – full-time or part-time – as long as you can. (Although all the participants were self-employed, you don't have to run a business to reap the cognitive benefits of a job.)
 
Lowering your risk of developing Alzheimer's could, after all, also reduce the chance that you and your family will incur giant bills to pay for long-term care.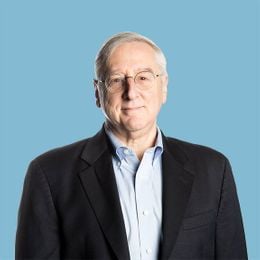 Richard Eisenberg
is the former Senior Web Editor of the Money & Security and Work & Purpose channels of Next Avenue and former Managing Editor for the site. He is the author of "How to Avoid a Mid-Life Financial Crisis" and has been a personal finance editor at Money, Yahoo, Good Housekeeping, and CBS MoneyWatch.
Read More