Should You Ride a Roller Coaster at Your Age?
The twists and the turns could all be working against you
Whether you're 18 or 58, the feeling of riding a roller coaster is a mixed bag. There's the nervousness while you wait in line, the excitement as you buckle yourself in and the thrill as come speeding down that first drop. But as you age, you may be wondering if it's even still safe to ride a roller coaster. The short answer is, probably yes.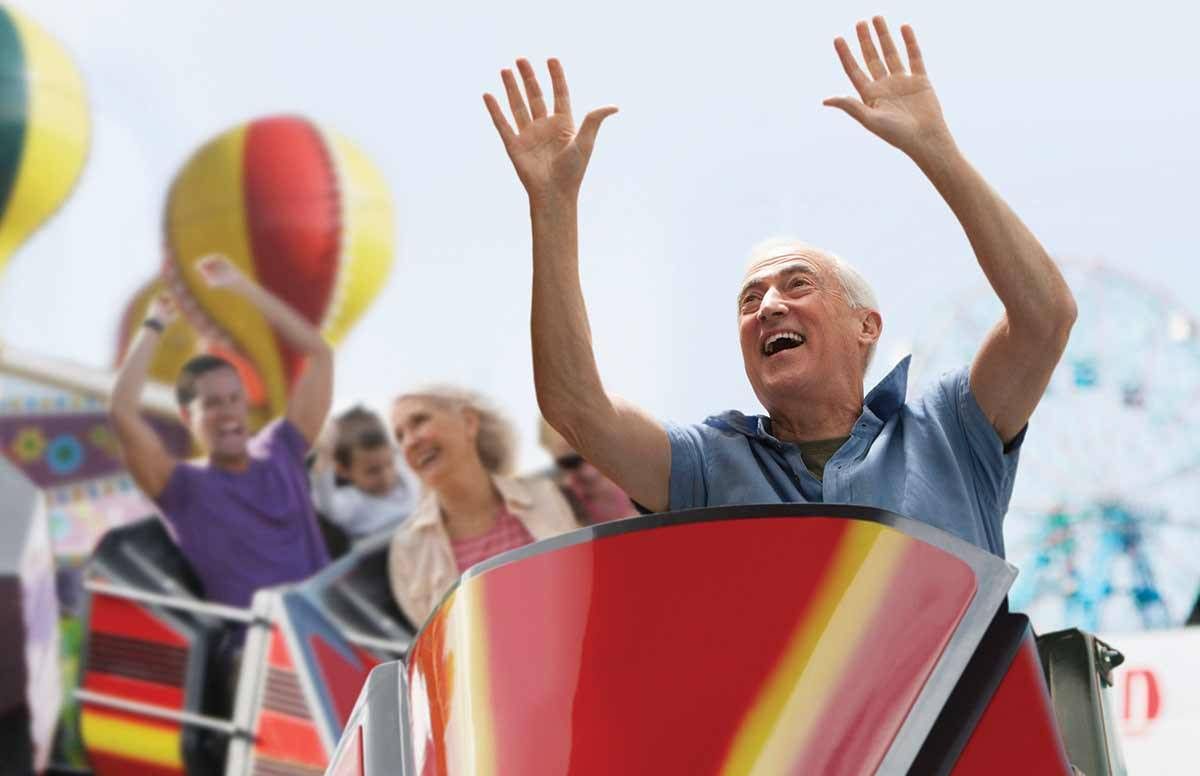 "Riding a roller coaster is far safer than riding in a car to the park, but only if you don't have any heart, neck or back conditions that might be exacerbated by the speed and stress of a coaster," said Robert Niles to CNN reporter Aria Hangyu Chen during an interview for a recent article.
To Ride a Roller Coaster or Not
Niles, founder and editor of themeparkinsider.com, told Chen that stress can also play a factor in the decision to continue riding roller coasters. Can you handle the increasingly high speeds of the ride, along with the twists and turns?
The primary market for roller coasters ranges from children who reach the minimum height requirement to 30-year-olds. But that doesn't mean boomers shouldn't take the plunge.
"No one is ever too old to ride roller coasters," amusement park expert Pete Trabucco told Chen. "You can ride roller coasters as long as you're physically able to."
Reasons Not to Ride
Before you decide to ride, though, make sure you meet the physical requirements. Dr. Malcom Cohen, former chief of the Human Information Processing Research Branch at NASA's Ames Research Center, told Chen that major concerns are changes in blood pressure and heart conduction (the electrical impulses that cause the heart to beat).
Chen also points out in her article that if you've recently had surgery, experience heart problems or high blood pressure or have had aneurysms, you might want to stick to rides that aren't as intense.
Not sure if the coaster is safe for you? Most parks post warning signs at ride entrances to remind people of the possible dangers related to certain roller coasters.
What About Motion Sickness?
Motion sickness is never fun, even if the ride was. It can leave you feeling dizzy and nauseated, or worse. According to the CNN article, which cites the Centers for Disease Control and Prevention, motion sickness is most common among children ages 2 to 12.
So why does it seem to happen to us more frequently as we get older?
Mark Shelhamer, chief scientist at NASA's Human Research Program, told Chen that it's most likely due to a less active lifestyle or that those individuals ride the rides less often. The less time you spend going to amusement parks and riding coasters and spinning rides, the less your body can handle it.
The Bottom Line
As long as you've checked with your doctor, go for it. Just stay hydrated, avoid that greasy fatty food at the park and if it's been a while since your last coaster ride, try hitting up a few of the less intense ones before taking the plunge. Perhaps this is the time to take your grandkids to the amusement park for a little roller coaster training!
To read the CNN article, click here.