The Right and Wrong Way to Earn More on Your Savings
3 lessons from the experience of this financial adviser's dad
For many years, I've been advising people about the safest places to park their money and have written extensively on the topic. This is not to say the message always gets through, as was revealed to me recently in a story involving my nearly 90-year-old dad. I think you or your parent could learn some important lessons from it.
Having just sold a home and moved into an independent living center, my dad had a couple hundred thousand dollars in cash. But he doesn't have long-term care insurance, so I know that his living expenses could increase dramatically. "Keep the money safe," I said.
What I Told My Dad to Do With His Savings
Still, his bank was paying him practically nothing, so I advised either putting the money in a higher-yielding, FDIC-insured bank account or a bank CD yielding a bit more.
A savings account at Synchrony Bank or Ally Bank currently pays about 1.05 percent and 1.00 percent, respectively. This may not seem like much, but for my dad's $200,000, that's at least $2,000 a year.
Even better, I told my father, a CapitalOne 5-year CD now pays 2.00 percent annually. I explained that he wouldn't actually have to lock up his money for five years because the early-withdrawal penalty was only six months, or about 1 percent.
I further explained that he could think of it as a one-year CD paying 1 percent with an option to earn 2 percent a year for up to four more years, and that it essentially would give him a 1 percent bonus if he didn't need the money within five years.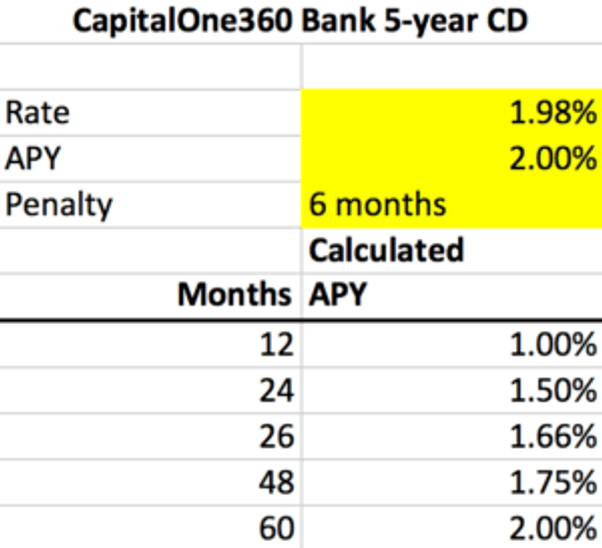 What My Dad Did
Both of my solutions were internet-based. My dad, however, is more Old School, preferring to sit across from his banker rather than in front of a computer screen and phone. So he went to his local branch of the huge Goliath National Bank and asked if the institution could match the rates I mentioned.
The Goliath banker then brought in someone my dad described as an "economic consultant." This so-called consultant said he could do even better! He offered my father a five-year alternative that he called "safe money."
I'm so glad my dad asked my thoughts before buying it.
Turns out, Goliath had tried to sell my father a fixed annuity which would have locked his money up for the full five years, unless he gave up all the promised interest and possibly more. And this particular insurer had very mediocre financial-strength ratings, meaning my father's savings would be at some risk.
These annuities are very complex and I've never actually met anyone with one who fully understood what he or she had bought. In my view, fixed annuities are mostly appropriate for the agents that sell them, because they pay great commissions — as high as 10 percent of the sales price. The regulatory agency, FINRA, has issued investor alerts on annuities.
What My Dad Didn't Do
I'm happy to say that my dad didn't bite.
But just the fact that he considered it shows how persuasive and misleading sales tactics can be. (As a financial adviser, I frequently get solicited to sell these types of annuities and encouraged to use such tactics as creating a sense of urgency and charging commissions and ongoing fees.)
3 Takeaways For You or Your Parent
So here are three takeaways for you from my story:
First, safe money must meet three criteria. It must be backed by the U.S. Government or a government agency; it must be guaranteed not to lose value and you must be able to get all, or virtually all, of your money back quickly.
Second, never buy an annuity unless you fully understand what you are purchasing. I think you must ask at least these six questions before buying.
Third, always be suspicious of sales incentives on financial products. Wells Fargo made news last year for its sketchy sales incentives resulting in two million fake accounts (my dad's bank was not Wells Fargo). Other sales incentives are just as bad.
For seniors looking for places to stash their cash, "it is the financial equivalent of the Wild West," says Harvard economics professor David Laibson. "Many so-called planners are free of almost all regulatory oversight or constraints."
My dad was almost ambushed by what should be outlawed practices. Before you or your parent makes a large financial move with savings, take some time to discuss the decision with people you or your mom or dad trust.