Why Robots Won't Be Coming for All Our Jobs
Automation doesn't necessarily mean job elimination
I've had robots on my mind recently, and not in a "Wow, robots will make my life so much easier!" kind of way. More like, "Aaagh! Robots are coming to take the jobs of people in their 50s and 60s!"
The alarm bells rang furiously at a Milken Institute Global Conference panel I recently saw in Los Angeles ("I, Worker: Employment in the Age of Robots). And I just received a new book with the foreboding title, The Robots Are Coming, by John Pugliano, founder and money manager of Investable Wealth.
You may have heard some of the dire forecasts about robots and employment, such as these:
Robotics and artificial intelligence will destroy 5 million jobs by 2020 — World Economic Forum Executive Chairman Klaus Schwab
80 to 90 percent of U.S. jobs will be eliminated in the next 10 to 15 years — Carnegie Mellon University Distinguished Fellow Vivek Wadhwa, a former tech entrepreneur
47 percent of U.S. jobs are "at risk" of being automated in the next 20 years — Oxford's Michael A. Osborne and Carl Benedikt Frey
About half the activities people are paid almost $15 trillion in wages to do have the potential to be automated, and about 60 percent of all occupations have at least 30 percent of constituent activities that could be automated — McKinsey & Co.
A World Without Work As We Know It?
Speaking at the "I, Worker" panel, Anne-Marie Slaughter said: "We need to get ready for a world without work as we know it now. Change is happening much faster than we thought." Slaughter is president and CEO of New America, a "think and action tank dedicated to renewing America in the Digital Age."
Of course, no one can say with certainty whether any of these forecasts will come true. As Roy Bahat, head of Bloomberg Beta and co-chair of the Shift Commission on Work, Workers, and Technology, said at the panel: "They could be right, or they could be off by a factor of 10. We just don't know."
Robot Job Replacement: a False Alarm
Well, I'm pleased (and relieved) to report that according to new research from Robert D. Atkinson and John Wu of the Information Technology & Innovation Foundation (ITIF), the menacing forecast that robots are coming for all our jobs is a false alarm.
Atkinson (ITIF's founder and president) and Wu (an ITIF economic research assistant) aren't saying that every job in America is safe from automation. Far from it. But they believe that the frantic Paul Reveres of Silicon Valley and elsewhere are greatly exaggerating prospects for job elimination.
"Such grim assessments are the products of faulty logic and erroneous empirical analysis," write Atkinson and Wu in "False Alarmism: Technological Disruption and the U.S. Labor Market, 1850-2015."
Why Artificial Intelligence Fears May Be Artificial
Here's why Atkinson and Wu pooh-pooh the robot rhetoric: For one thing, they say, "pessimists often assume that robots can do most jobs, when in fact they can't, or that once a job is lost there are no second-order job-creating effects from increased productivity and spending." They also say the popular view that technology is destroying more jobs than ever is, well, flat wrong.
Their advice: "Take a deep breath, and calm down." The duo add: "Predictions that human labor is just one tech 'unicorn' away from redundancy are likely vastly overstated, as they always have been."
Technology doesn't just eliminate jobs, they note — it also creates them, "although normally not as many as it eliminates." A few examples they cite of occupations that largely didn't exist 30 years ago: distance-learning coordinators, green marketers, informatics nurse specialists, nanosystems engineers and cytotechnologists. To those, I'd add: info tech researchers and journalists like me specializing in writing about, and for, the 50+ population.
Also, these researchers say, some of the frightening forecasts turn out to be less scary when you take a hard look at the numbers. Schwab's estimate of 5 million lost jobs by 2020, for instance, "adds up to the elimination of just 0.25 percent of jobs annually for the next five years," say Atkinson and Wu. In percentage terms, they note, that's "a rounding error."
No Runway for Fashion Models?
The Oxford figure of 47 percent of jobs at risk, they say, "is just plain wrong," because its authors didn't accurately examine all 702 U.S. occupational categories. By Atkinson and Wu's math, only about 10 percent of the jobs in the 702 occupations are at risk of automation, at most.
Atkinson and Wu say the Oxford researchers "predict that technologies such as robots will eliminate the jobs of fashion models, manicurists, carpet installers and barbers," adding: "Is Versace really going to dress up cute robots in its latest dresses and parade them down the runway? Are we going to be in a Jetsons' world where you sit down in the magic robot chair and get your hair cut automatically?"
Advice for Today's Workers
But it's a mistake to be complacent about robots, artificial intelligence and automation. To help hold onto their jobs, today's workers in their 50s and 60s need to skill up and stay relevant.
As OgilvyOne Worldwide CEO Brian Fetherstonhaugh advised in The Long View, "Make sure you have human skills that are differentiated and complementary to what machines can do. If all you are doing is routine calculating, reporting or execution, you should worry. If you are pursuing a job with high repeatability and low social inputs, you should really worry. And you should act. Build a skill set that is abundant in the ability to invent, judge, build human trust, interact socially, teach the machines and create test hypotheses."
Despite the title of his book, Pugliano also thinks all is not lost for American workers. After all, his subtitle is "A Human's Survival Guide to Profiting in the Age of Automation." Pugliano says, however, that a few occupations are most at risk of going robo: middle management, legal and medical professionals.
His advice: Develop "traits for the future economy" such as: digital thinking, electrical knowledge, kindness, communication skills, being artistic and courage.
4 Principles for the Future Economy
Pugliano concludes the book with four guiding principles for "the future economy:"
1. Think like a human, not a machine. Your economic worth, he says, is derived from the ability to create, not to perform repetitive tasks.
2. Think like an entrepreneur, not an employee. "Opportunity will abound for those that have learned to monetize their human touch," he says.
3. Think like a saver, not a consumer. Pugliano forsees deflationary forces ahead because automation will emphasize more efficient production, leading to falling prices.
4. Think like an investor, not a speculator. Pugliano expects "amazing investment opportunities" due to the creative destruction of technology. He's a fan of the HACK ETF that invests in the cybersecurity sector. The high-risk ROBO ETF, Pugliano notes, invests in robotics and automation companies. So whether robots will come for your job or not, you could hedge your bets by trying to profit from their proliferation.
Next Avenue Editors Also Recommend: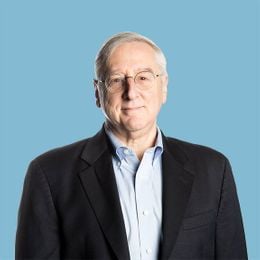 Richard Eisenberg
is the former Senior Web Editor of the Money & Security and Work & Purpose channels of Next Avenue and former Managing Editor for the site. He is the author of "How to Avoid a Mid-Life Financial Crisis" and has been a personal finance editor at Money, Yahoo, Good Housekeeping, and CBS MoneyWatch.
Read More