Romance at Midlife Isn't Dead - It's Just Different
We're at a point where our quirks require no explanation, and that alone is pretty appealing
My husband, Rich, and I walked into our kitchen following a night out with friends. We'd gone to a restaurant and then to the couple's home to meet their new puppy.
As I tossed the cardigan I'd knotted around my shoulders onto a chair, Rich said, "Hey, I was proud of you tonight."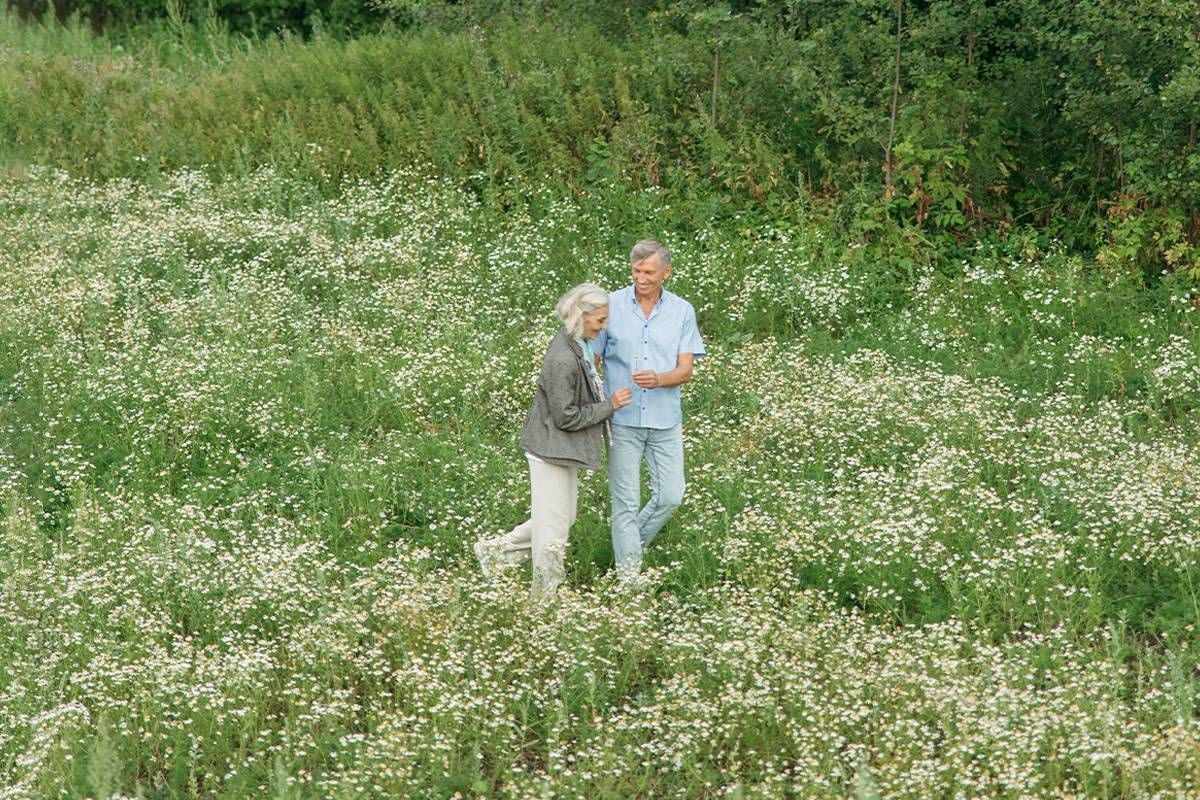 "Really?" I spun around, curious to hear what I'd done to impress him. Was it the fact that I'd changed out of sweatpants and put together a semi-stylish ensemble? Was it my attempts at witty banter over dinner? Was it that I'd remembered to bring the treats and squeaky toys I'd purchased for the puppy days before? "For what?" I asked.
As we approach our twenty-third wedding anniversary, it's fair to say that our forms of sweet talk and flattery have undergone a radical transformation.
"For not farting when that dog knocked you over."
Welcome to romance at midlife!
"Um, thank you?" I laughed as the image of me, a 50-year-old woman, lying flat on my back in our friends' living room flashed through my mind.
Before releasing their sweet spaniel from his crate, our friends had advised me to squat down so their pup would be less tempted to jump. I complied, knees popping and crunching as I got into baseball catcher position. But once the dog bounded my way, my balance was no match for his enthusiasm. The next thing I knew, I was sprawled across the hardwood floor as their new pooch licked any salty remnants from dinner off my startled face.
Notions of Romance Have Changed
"I mean, c'mon, after a big meal, that's not easy!" Rich continued.
I'd never imagined that not breaking wind in front of another couple would be a source of pride, something that put a little twinkle in my husband's eye, but here we are.
As we approach our twenty-third wedding anniversary, it's fair to say that our forms of sweet talk and flattery have undergone a radical transformation. And I'm fine with that.
For example, the old "You're so beautiful" and "You look hot!" have been replaced by mutual assurances that we're not nearly as frightening as we appear on FaceTime, Zoom or Google Meet.
"No, of course, you don't look like that!" we insist. "It's just bad lighting. Seriously, that's a terrible angle!"
Sometimes I wonder if we're stuck in a reciprocal kindness bubble. Or perhaps we still see each other as we were back in 1996 when we first met. More likely, we both need new glasses.
When we began dating, we loved trying new restaurants, catching live music and comedy shows. We spent weekend afternoons strolling hand-in-hand through museums and botanic gardens. Now, for special occasions, we print out an ad for an upcoming performance and promise each other that if the pandemic doesn't postpone it and if it isn't raining and if we're not too tired and if the kids don't need a ride, we'll definitely (maybe!) buy tickets and go.
A Different Love Language
With three children and two cats, neither of us is about to whisk the other out of town for a romantic getaway at a moment's notice. But we do try to help each other when one of us ends up in the basement without a clue as to what brought us down there.
You said something about getting a box of pasta?
Oh, yes, right. Thank you!
Our love language is different, evidenced by the unique ways we show each other we care:
Him: "I bought you some beets." Me: "I cleaned the litter box."
Our brand of sexy talk now consists of "Hey, come here," said in an urgent, hushed whisper as we lure each other into the bedroom. "Can you check out this mole? Does it look suspicious?"
These days, in lieu of flowers, I'm happier with a five-minute foot rub.
If we really want to dazzle each other, one of us will offer to skip that Saturday evening glass or two of wine and venture out into a chilly winter night to pick up one of our teens from a pal's house hours past our usual bedtime.
These days, in lieu of flowers, I'm happier with a five-minute foot rub.
I have friends who are divorced and dating again. I won't lie, there are elements of it that sound exciting — meeting someone new, hearing their life story, the anticipation of a first kiss. At the same time, it also sounds a bit exhausting, which many of those friends would readily admit.
For instance, how long would it take for my new love interest to know I can't stand certain bands from the 1970s? Would my husband be comfortable revealing that he has an aversion to touching cotton?
We're at a point where our quirks require no explanation, and that alone is pretty appealing.
Our midlife relationship reminds me of the near-last few lines of William Matthews's poem "Misgivings," which read:
Listen,
my wary one, it's far too late
to unlove each other.
Amen. We'll be the first ones to admit that the Hallmark Channel probably won't be calling for the rights to our present-day love story any time soon, but we cherish the comfort level we've established after decades together.
We've grown to appreciate things about one another that others would surely overlook. And isn't that what made us fall in love in the first place?
Liz Alterman
is the author of a domestic suspense novel, The Perfect Neighborhood, a young adult thriller, He'll Be Waiting, and a memoir, Sad Sacked. Her work has appeared in The New York Times, The Washington Post, McSweeney's, and other outlets.
Read More