She Says: It's Time to Disrupt Substitute Teaching
Jill Vialet's trying to turn subbing into a meaningful encore career
Substitute teaching. Admit it, when you see those words, your mind goes to spitballs, pranks and all sorts of disruption.
Well, social entrepreneur Jill Vialet has a very different type of disruption in mind for substitutes: She wants to disrupt the whole idea of substitute teaching. She calls it "a big problem hiding in plain sight." And she wants your help.
"If you described the way we do substitute teaching to an alien, they wouldn't believe it," says Vialet, whom Forbes named in 2011 as one of the top 30 leading social entrepreneurs.
A Field With an Image Problem
I heard Vialet speak a few months ago at the Encore.org annual conference in San Francisco, where she conceded that she's up against a field with a serious image problem.
"Most people have negative memories about substitutes and bad jokes flooding their brain about them," she said at the time, pitching attendees what has since evolved into Substantial, her new nonprofit initiative "redesigning how we recruit, train and support substitute teachers in order to maximize their time for teaching and learning."
And, she insists, "we can't afford to let substitute teaching continue as a bad joke."

Here's the enormity of the problem: Ten percent of teachers are substitutes at any given time, schools spend $4 billion a year on subs (1 percent of the K-12 budget) and school systems across the country face severe shortages of substitute teachers. Roughly 15 percent of sub openings aren't being filled.
Who Can Be a Sub
One reason: The job of a substitute as it is today often isn't highly valued. The pay is typically about $100 a day and to become a substitute, generally speaking, "you just need to have a B.A., pass a standardized test and not have TB or any felonies," Vialet says. "Then, they send you right into a classroom."
So what? "If we send people into classrooms unprepared and unsupported or can't find people to do the jobs, we're sending a message to kids that we don't value them," says Vialet.
But, she wondered, what if subs were brought in to convey their particular expertise and interest to the kids, rather than just assign busywork and wait for the bell to (thankfully) ring? In other words: turn substitute teaching into an encore career.
Reframing Substitute Teaching as an Encore Career
Let's reimagine the job, Vialet says, by reframing it as a "guest instructor" role that's a "meaningful, flexible paid opportunity."
Valet told the Encore.org crowd: "Encore talent is the secret weapon in solving the substitute teaching problem." And it's the idea behind Substantial, which grew out of the past year Vialet spent as an education Fellow at Stanford's Hasso Plattner Institute of Design, also known as d.school.
"If you had a career in finance or computer science, you would come into a classroom and lead it with your authentic, exuberant passion, sharing your knowledge," says Vialet. "If you're super excited and you make an effort to be relevant to the kids' lives, the subject is almost secondary to your enthusiasm."
A high school math substitute "could talk about the economics of car ownership," says Vialet. "That's interesting if you're sixteen."
A Career Helping Kids
The author of Recess Rules, a novel for kids, Vialet's personal passion throughout her career has been helping kids. Twenty years ago, she launched the nonprofit Playworks in Berkeley, Calif., providing safe, inclusive play to low-income kids in urban schools — a new type of recess. It's now serving over 750,000 students in 1,300 schools and youth organizations across the country, with offices in 23 cities. Vialet also founded the Oakland Museum of Children's Art.
But "I've never gotten such a warm reception as I'm getting right now," she says.
Vialet has so far piloted a couple of Substantial training programs — at Stanford and in the Oakland, Calf. school district.
And she's launching a pilot with the museum she founded, creating a registry of artists who'd become certified as substitute teachers. "Then, if you're a principal and you know a teacher won't be in, you can go to the registry and get an artist for a day," says Vialet.
Not 'the Uber of Substitute Teaching'
Substantial doesn't aim to become the "Uber of substitute teaching," Vialet says. Instead, it's more like a general contractor trying to share best practices about substitute teaching with schools to help them bring in subs who aspire to share their mastery.
You can learn more about Substantial at its website and Vialet encourages people to email her: [email protected]. She's also encouraging you to contact your local principal or assistant principal to work together reinventing substitute teaching in your area. "If you have any connections with teachers or schools, reach out to them and ask how substitute teaching works there and if they need any help," says Vialet.
You could also buddy up, she suggests. "Find someone else who's interested, and when you two start, do it as a pair and alternate," says Vialet. One day, you're the teacher and your friend comes in to assist as a volunteer; another day, you switch. "This way, you both get your sea legs. It's almost like you create your own training support structure,"  Vialet notes.
Just like a substitute.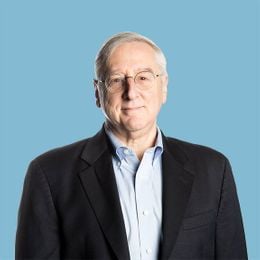 Richard Eisenberg
is the former Senior Web Editor of the Money & Security and Work & Purpose channels of Next Avenue and former Managing Editor for the site. He is the author of "How to Avoid a Mid-Life Financial Crisis" and has been a personal finance editor at Money, Yahoo, Good Housekeeping, and CBS MoneyWatch.
Read More