A Second Chance for Singers Over 55
How the performers in 'Alive! 55+' give new meaning to familiar songs
On a chilly spring Saturday afternoon, a group of singers gathered at the Mama Foundation for the Arts,  located in a tony brownstone in Harlem. Keyboardist Edward Cleghorn, Jr. warmed up on the stage at the far end of the living-room-cum-rehearsal-hall. Gold theatrical curtains lined one wall. The group sat in a semicircle, bantering with each other until Ken Wydro, director of Alive! 55+ and Kickin' , announced that it was time to tell their stories and sing their songs.
As the title suggests, performers are 55 or older (see this Next Avenue story about the 60 Minutes piece on the troupe), and this musical revue features gospel, R&B and pop music. But it also includes the singers' personal stories.
One after another, the mic was passed to members of the troupe. One by one, their histories unfolded.
Heart Attacks and Heartache
Gladys Mitchell had auditioned for another production co-written by Wydro and Vy Higginsen, Mama, I Want to Sing years ago, but when she was called back for a second audition, she doubted her talent and chickened out. Instead, she got a job as an emergency dispatcher for New York City. Mitchell was on the job September 11, 2001, when the planes crashed into the World Trade Center. The stress of that day led to a heart attack.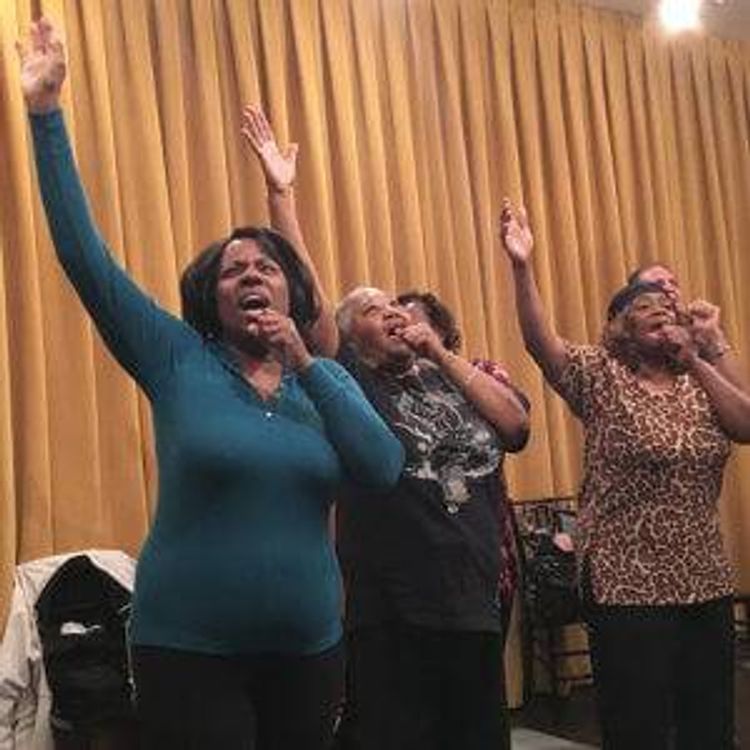 When Mitchell auditioned for Alive! 55+ and Kickin'  — which offers second chances to older singers  — and once again got a call back, this time she went. Now, as part of the group, she fulfills her lifelong dream of singing for the public.
Another singer, Matthew Burke, was abandoned by his mother in a tenement hallway when he was 2 1/2 weeks old. He suffered horrific abuse in various foster homes.
"If they didn't like what I did or said, they beat me. Every time I got beaten, it was in the 'little room,' where I slept," he recalled. "I thought if I burned down the room, I wouldn't get beaten. In my 4-year-old mind, I didn't realize the whole house would go with it."
Burke spent 23 years in and out of jail for various offenses. Through it all, he always loved to sing — in fact he was the choir director in prison. Now his powerful renditions of Georgia — the name he gave to the mother he never knew — and I Can't Stop Loving You ("Those happy hours I never knew, tho' long ago, they still make me blue") mine new meaning in the lyrics. . Burke says he still suffers from abandonment issues, and those are real tears he cries on the stage.
He now focuses on assisting other people, including helping fellow cast member Theo Harris raise money for medical treatment.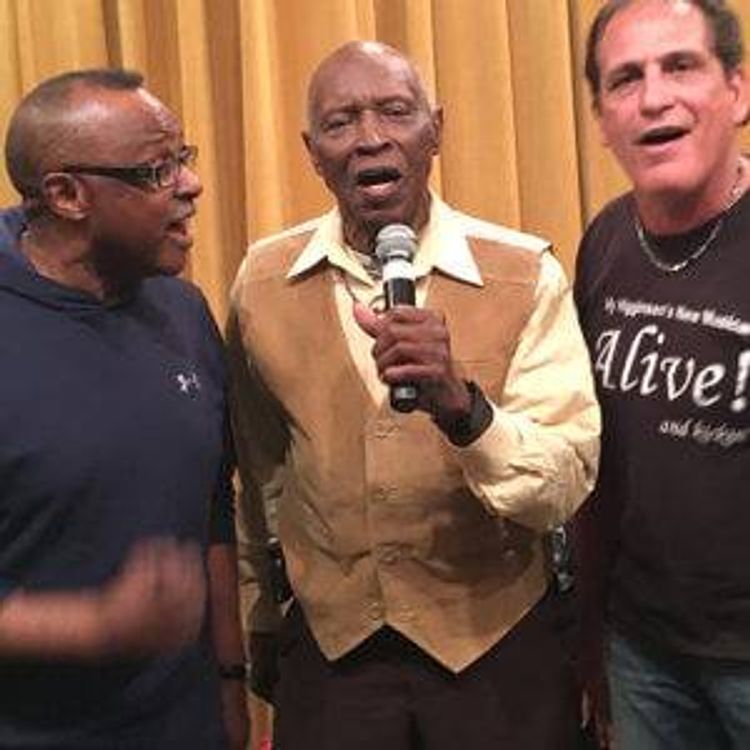 There was plenty of inspiration to go around. Matthew Brown, 77, whose bass-baritone is reminiscent of Paul Robeson, hadn't learned to read by the age of 7. By 16, he had discovered alcohol. But at age 50, he decided to go to school to learn to read and write. He has since won prizes for his poetry and essays and has been sober for 32 years.
"I have no give up in me," he says.
Each song, curated by Wydro, fits each singer's voice and story like a glove. Renee Connell delivers an oh-so-moving If I Could, an anthem to mothers everywhere who want to protect their children from life's hurts. Sharon Patrick wows with Mahalia Jackson-like delivery of gospel hymns.
There was even a happy story: Rick Vega met the love of his life on a blind date and urges the audience to take hold of a good thing when it comes to them.
God of Second Chances
The show includes "Sunday morning" songs, though it also has its fair share of Saturday-night fare. There are belters and crooners, trios and quartets. But it was Theo Harris who had this observer in tears by the second stanza of his song.
Since August, Harris has been suffering from liver cancer, and the handsome man is gaunt and thin. (He looked a lot better in the segment on 60 Minutes  a couple of years ago.) Wydro told him he could sit for his song, but Harris stood: frail, pale, a gloved hand on the mic, and told his story.
Theo had come to New York at age 5, and his role models were drug addicts, pimps and players. He learned to do drugs (his ultra-realistic imitation of a junkie nodding off nearly brought some people to the stage to help him stand) — and was in and out of prison for 40 years. During that time, he soothed his fellow inmates by singing, and wrote a play to entertain them. When they needed someone to play the role of his wife, Phyllis Harris — who volunteered at the prison with a church group — stepped up to the plate. The two had instant chemistry, and married while he was still in prison.
At night, he would take her picture from under his pillow and wonder "Will she wait for me? Will she be there when I get out?"
During the performance, Theo Harris gives thanks to the "God of Second Chances" and then, standing alone and still stage center, in a soft, hoarse voice, launches into the first line of Unchained Melody:
a long, lonely timeTime goes by so slowlyOh, my love, my darlingAnd time can do so muchAre you still mine?I've hungered for your touch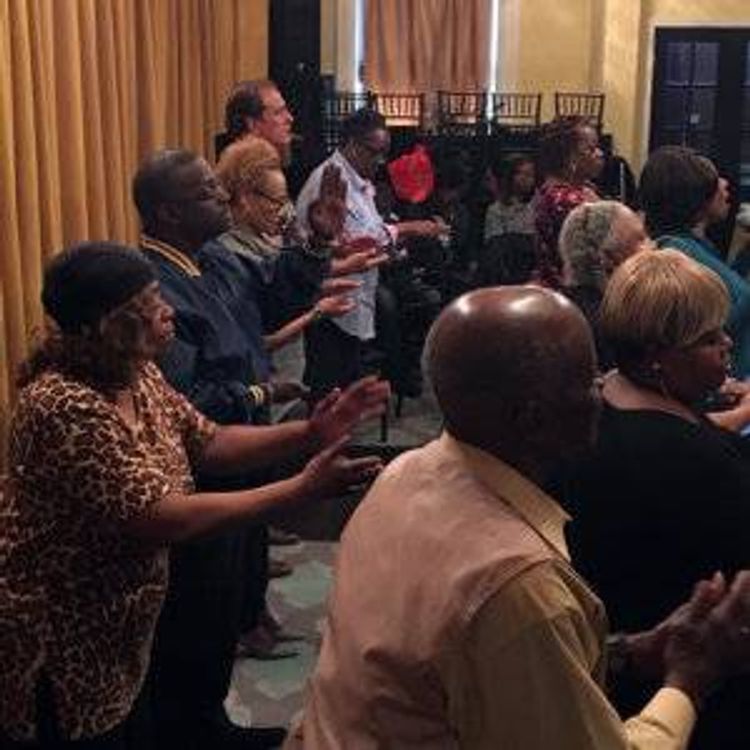 Keeping the Music Alive
The show came about almost by accident. Several years ago, Vy Higginsen was auditioning older adults to be the parents in Mama, I Want to Sing. Higginsen was struck by the talent of the older people who were auditioning. "They had amazing voices, and I said 'I'm going to write a show just for you,'" she recalls.
Originally, Wydro and Higginsen planned to write a story for each singer, but found that fiction couldn't compare with the performers' actual life stories. "We give them a chance and a place to express their story," Wydro says. "Whatever our hurts and wounds and doubts and worries, by coming together, we heal."
This holds for the audience, as well. The show brings a sense of triumph, redemption and joy to listeners, who are usually on their feet singing along during the final number. These older adults may have taken a lickin', as the lyrics go — but they are alive and kickin' and singing. And uplifting themselves and others in the process.
The spring 2017 performances of Alive! 55+ and Kickin'  are 7 p.m. April 27  and 1 p.m May 6, 13 and 20 at the Dempsey Theater in Harlem, New York City.
Next Avenue Editors Also Recommend:
Deborah Quilter
is an ergonomics expert, a certified Feldenkrais practitioner, a yoga therapist and the founder of the Balance Project at the Martha Stewart Center for Living at Mount Sinai Hospital in New York. She is also the author of Repetitive Strain Injury: A Computer User's Guide and The Repetitive Strain Injury Recovery Book.
Read More