The 2 Winners of AARP's Caregiving Tech Competition
The 'Shark Tank'-like event was held to inspire innovation and funding
Mom's still living at home, but she's getting older and you can't be there to check in on her every day. Peace of mind would come from having a professional check in on her. There's an app for that.
Dad's got dementia, and his mind is slipping. You could slow that and give him a better quality of life by bringing specially programmed music and singing into his life. There's an app for that, too.
Companies offering those two technologies were chosen from 10 health tech startups competing in Sunnyvale, Calif., in a Shark Tank-style event sponsored by AARP. The AARP [email protected]+ Live Pitch featured four venture capitalists and an audience of several hundred who considered each entry's technologies, ranking them on whether they are unique, how much of a need there is for the product and would they refer the company to a family or friend. All of the inventions focused on caregiving.
The Winners
Penrose Senior Care Auditors of Dallas, Texas, took the venture capitalist judges award for Penrose Check-Ins, its system of app and proprietary technologies that combine with home visits by auditors. The auditors check a proscribed list related to the family member's well-being.
The audience favorite was Los Angeles-based SingFit, which Next Avenue has written about. The company's app and music software stimulates the minds of dementia patients and helps caregivers provide a better body-mind workout.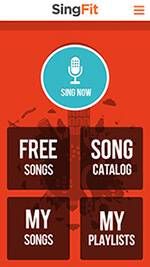 The winners received plaques from AARP, but the real prize comes with exposure gained through the contest. The companies get media coverage (such as this article), a chance to meet with AARP management and five hours of AARP Innovation team mentorship.
"We were very impressed with our finalists this year, and how their businesses will improve the lives of caregivers and those they care for," said Jody Holtzman, senior vice president, Enterprise Strategy and Innovation, AARP.
Turning Ideas into Action
All the presentations aimed at making life easier for either the aging patients or their caregivers, or both. The explosive growth of Silicon Valley and the race for new and better technologies for health care issues is driven by an ever-aging population and an understanding that caring for the elderly is no easy task.
Each presenter indicated that he or she got into the business after caring for a loved one or watching a family member go through a difficult time.
"When my father was in care, I found things didn't get done," said Penrose CEO Rhonda Harper. So she helped create a company that would ease the worried mind of the caregiver, whoever that may be.
The other winner, SingFit, is all about improving the lives of dementia patients, who are among the most challenging for caregivers. Rachel Francine, SingFit CEO, said music and song can elevate the mood of a patient and improve speech.
The youngest presenter, 17-year-old Kenneth Shinozuka, created a wearable sensor designed to help older people avoid falling, or to summon help if they do fall. "I knew I wanted to use technology to solve problems," he said.
Facing the Money Questions
The presenters were questioned by a panel of four venture capital judges from Comcast Ventures, GE Ventures, Johnson & Johnson and JP Morgan Asset Management. Much of the discussion, not surprisingly, concerned business models and revenue possibilities.
Some used "freemium" type apps, others followed subscription models and others sought to make money licensing their products through healthcare agencies or institutions.
The other competitors were:
John Koopman
, a former editor with the San Francisco Chronicle, now works as a freelance writer in San Francisco.
Read More