Should Women Invest in the New "Women's" Fund?
This writer has other ways to support female business leaders
I'm always looking for the best ways to invest my retirement savings, especially if there are new ideas worth considering. So the recent announcement of the Pax Ellevate Global Women's Index Fund, which invests solely in stocks of companies viewed as "advancing women's leadership," caught my eye.
The fund holds shares of more than 400 global firms around the world that, according to its description, "demonstrate a commitment to advancing women through gender diversity on their board, in executive management and through other policies and programs, as rated by Pax World Gender Analytics."
(MORE: 3 Ways to Invest With Your Conscience)
Some of the companies — such as Alcoa, Avon, Estée Lauder, General Electric, Microsoft, Pepsico, Procter & Gamble and Yahoo! — are led by a female CEO or have two or more women on their boards.
(The similar-sounding new Barclays Women in Leadership Total Return Index buys unsubordinated debt — so it's a little exotic.)
But is a mutual fund of stocks that are selected because of their women-friendly nature a smart way to invest for retirement? I'm not so sure.
Sallie Krawchek, the Fund's Buzzy Creator
The Pax Ellevate fund is getting a lot of buzz because the brains and marketing spark behind it is Wall Street sweetheart and media star Sallie Krawcheck. She's the former president of global wealth and investment management at Bank of America and ex-CEO of Citigroup's wealth management business. (Maybe you remember the Fortune cover story on her: "Can Sallie Save Citi?")
"I can think of no better way to invest in women than to invest in those companies around the world that have distinguished themselves by both their business performance and their leadership in advancing women," Krawcheck said in a June press release announcing her plans to join forces with Pax World Management (a socially responsible investment company) to roll out the fund.
(MORE: Women and Money Management: A Sad Story)
With assets of $52.6 million, Pax Ellevate Global Women's Index Fund is pretty tiny by mutual fund standards; Fidelity's Magellan Fund has $16.1 billion in assets, by comparison. Krawcheck's fund is the successor to the Pax World Global Women's Equality Fund, which was actively managed (its captains decided which stocks to buy and sell) and lagged its peers in performance. The new fund runs on autopilot, with a set basket of stocks.
Ellevate Network for Women
Its name change reflects the moniker of Krawcheck's Ellevate Asset Management and her women's professional group, Ellevate Network (formerly known as 85 Broads; Krawcheck told PBS NewsHour's Paul Solman that Ellevate is a play on the French "she"). A membership in the Ellevate Network starts at $100 a year for women just beginning their careers and goes up to $1,000 a year for female execs.
Investing in women-centric businesses is the latest wrinkle in the increasingly popular idea of socially responsible investing — putting your money in companies you believe are doing the right thing when it comes to matters such as the environment, health and workplace conditions.
Tradeoffs of Socially Responsible Investing
Generally speaking, socially responsible mutual funds have shown lower returns and somewhat higher fees than funds with similar investment objectives (say, ownership of large company stocks) but without the filter.
The large-growth Calvert Equity fund, for example, one of the biggest and oldest socially responsible funds, gained 15.2 percent annually, on average, over the past three years with annual fees of 1.2 percent. By contrast, large-growth Magellan, gained 18.1 percent annualized over the past three years with annual expenses of .50 percent.
Interestingly, several of my female friends told me they're okay potentially giving up a little return and paying a little more in fees in exchange for making a financial commitment to the cause of women leadership.
It's all relative in a world with no guarantees, one of them told me.
"If I make a few hundred dollars less than I might investing elsewhere, that's cool with me," she explained. "Investing in a woman-run business would make me feel good. It's like I'm doing my part to fight for women's rights."
Some financial advisers agree. "I believe in providing investments that help women achieve their life goals and support their values," Zaneilia Harris, a certified financial planner and president of Harris and Harris Wealth Management Group in Upper Marlboro, Md., told me. "This partnership with Sallie Krawcheck and Pax Investments will allow socially conscious women to invest in causes that align with their values."
The $1,000 minimum initial investment to get into the Pax Ellevate Global Women's Index Fund makes the fund pretty affordable, too.
Data Behind Women-Run Firms
Perhaps there is an investment argument to be made for buying shares in this kind of fund.
A 2012 Credit Suisse Research Institute report found that companies with one or more women on their boards performed better on a variety of measures than ones without them. And last month, Fortune determined that stocks of the 27 "Fortune 1000" companies with female CEOs outperformed the S&P 500 over the course of their leaders' respective tenures (103.4 percent vs. 69.5 percent). The Fortune numbers are fairly compelling, although though a sample of 27 is pretty small.
(MORE: Women: Are You Prepared for a Money Emergency?)
2 Concerns: Fees and Track Record
If you're intrigued by the idea of buying a fund investing in companies that are pro-female, however, know this: Some experts I interviewed were put off by Pax Ellevate Global Women's Index Fund's fees and the fund's lack of a strong track record.
The fund's expense ratio of nearly one percent is high for an index fund; the average international index fund has an expense ratio of .47 percent, according to Charles Schwab. (Krawcheck lowers its expense ratio to .74 percent for Ellevate Network members, which is still on the high side.)
"If you're investing for philosophical reasons, and it makes you feel good, and you're willing to pay for that [higher fee] and forego some returns, then that's okay," said financial adviser Eileen O'Connor, co-founder of Hemington Wealth Management in Tysons, Va.
Personally, I'm motivated more by getting the biggest bang for my bucks than my gender values. I only buy shares of mutual funds with great prospects and low costs. I look for other ways to support causes I believe in, such as volunteering my time and making charitable donations.
Deena Katz, a financial adviser and associate professor of personal financial planning at Texas Tech University, agrees with me.
"When clients ask me to invest in socially responsible or exclusively women's funds, the first thing I say is, 'It's hard to spread ideals on a cracker.' said Katz. "If you are prepared to live with lagging the industry, then I say fine. But if you need your portfolio to perform to secure your next-phase goals, then I say, 'Let's rethink how you can support these efforts in a different way.'"
3 Other Ways to Support Female Leaders
If you agree with Katz and me, here are three alternative ways you might consider supporting women business leaders:
1. Cherry pick a few stocks Krawcheck's fund owns and invest in them directly if you think they seem promising. That way, you reap the benefits of holding a few great companies without diluting your portfolio with shares of some dogs. Side note: you might look specifically for stocks in the Pax Ellevate fund that pay dividends, to help you ride out shaky markets.
2. Invest directly in a women-owned business via a microloan. Plum Alley for example, is an e-commerce and crowdfunding site that helps women-run businesses raise money. Minimum donation: $5.
If a project reaches its funding goal, Plum Alley keeps 5 percent of the total amount raised. There's also a separate credit card processing fee of 2.9 percent; if the funding goal is not met, no amount will be charged.
3. Buy the products and services of some of the companies the Pax Ellevate fund invests in. Comb through the firms on Krawcheck's roster (you can find them here), for example, and see which ones appeal to you as a consumer. That kind of buy hits the bottom line straightaway.
As for me, I'm eyeing the $35 Estée Lauder "Tumultuous Pink" sculpting lipstick.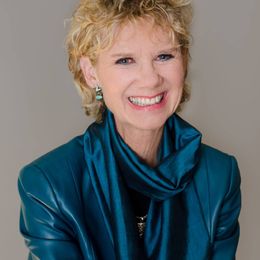 Kerry Hannon
is the author of Great Pajama Jobs: Your Complete Guide to Working From Home. She has covered personal finance, retirement and careers for The New York Times, Forbes, Money, U.S. News & World Report and USA Today, among others. She is the author of more than a dozen books including Never Too Old to Get Rich: The Entrepreneur's Guide to Starting a Business Mid-Life, Money Confidence: Really Smart Financial Moves for Newly Single Women and What's Next? Finding Your Passion and Your Dream Job in Your Forties, Fifties and Beyond. Her website is kerryhannon.com. Follow her on Twitter @kerryhannon.
Read More