10 Smart Tips to Find a Roommate as an Older Adult
Home-sharing can be beneficial for both of you, if you take these steps
(This article appeared previously on SeniorHomes.com.)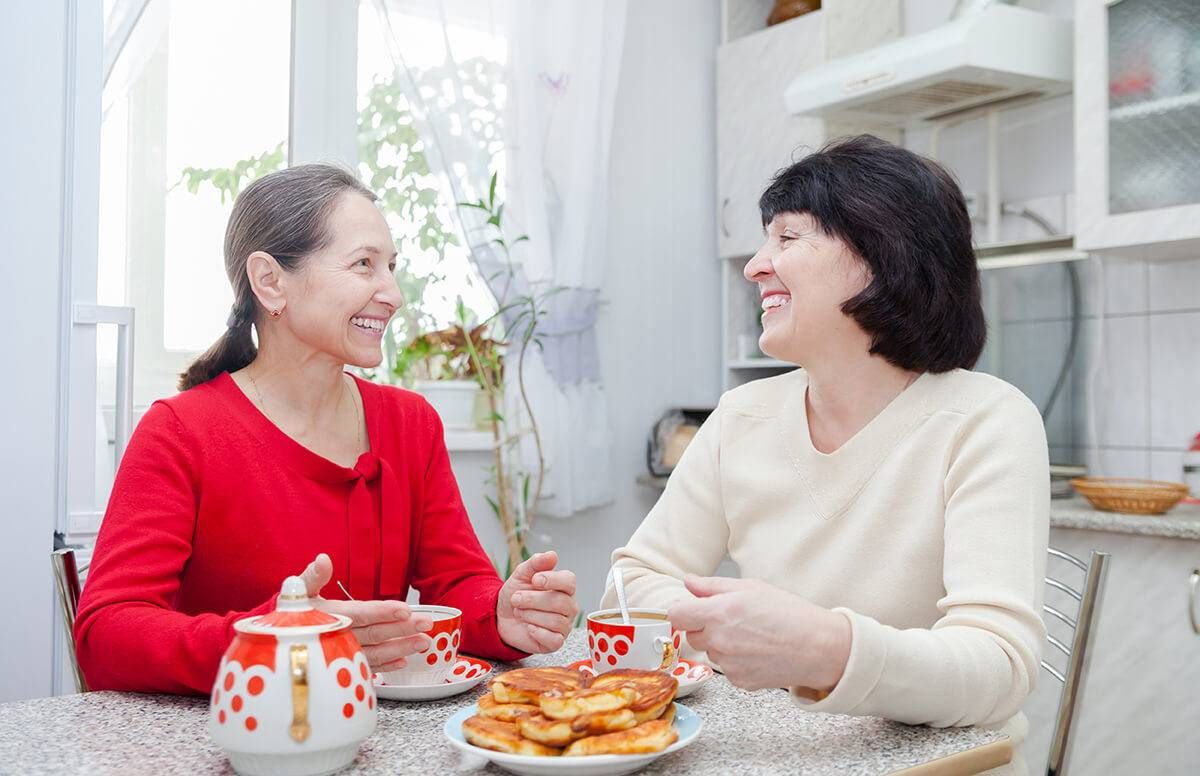 Whether it's to ease an over-burdened budget, avoid loneliness or have someone around to help feed your pet and water the plants if you're away, many older adults today are pooling resources and sharing their home with a roommate.
Home sharing — more common among women than men — is popular among best friends and strangers alike. However, experts urge doing your homework before opening your doors to a roommate or agreeing to move into someone else's home.
These 10 practical tips can help you make the most of having a roommate later in life:
1. Be picky.
You want to share your space — as well as life experiences, friendship and companionship — with your housemate, so it's important to find someone who is compatible. Start by determining your criteria for a long-term housemate and weigh all candidates against it, says Wendi Burkhardt, CEO of Silvernest, an online roommate-matching service that pairs boomers, empty nesters and other older adults with long-term housemates.
"Be specific about what you're looking for in your post. If you're retired, you may want someone who works during the day and isn't around all of the time," she says. "Or, it may be important that they're tidy, share similar hobbies or keep the same hours as you."
2. Do a background check.
Whether someone responds to an ad you posted, or if you find someone who is looking for a roommate, it's a great idea to do some online research to explore the person's background.
"Review their social media profiles to see what hobbies they take part in and what organizations they belong to," says Justin Lavelle, chief communications director of  BeenVerified.com, an online background-check platform. This can help determine if the person's hobbies, habits and other details are compatible with yours.
Background checking services like BeenVerified [which charges a fee] allow you to review any potential criminal history, bankruptcy filings, whether someone is a gun owner and more. "Housemate-matching services may also vet the person for you, including doing the background screens and identity verification," adds Burkhardt.
3. Go slowly.
Before agreeing to be roommates or meeting face-to-face, connect via text message, email, or phone call to let potential candidates know more about you and what kind of roommate you're looking for. "Conversing now will take some awkwardness out of that first in-person meeting," says Lavelle.
4. Meet in person.
If your background search doesn't raise any red flags, Burkhardt suggests setting up a date for coffee or to go for a walk in a public and neutral space. "Surprisingly, walking can stimulate a more spontaneous and intimate conversation than just sitting," she says.
During your meeting, ask personal questions that generate thoughtful answers such as, "What was the best moment and worst moment in your life?" Burkhardt says this type of dialogue will help you develop "a feel of who the potential roommate really is beyond their day-to-day habits."
5. Ask for references.
Ask for the contact information of people the potential roommate has lived with recently or  a landlord. Ask for professional references in the event the person is downsizing and selling their own home to become a roomie, says Win Warfield, co-founder of the Homies App, a compatibility-based roommate matching app.
6. Make it legal.
You should always enter into a rental lease with your housemate, says Burkhardt. Lease templates can be found online and you can customize them with your own specifications. Every state has its own general template, so be certain to select one for your state to ensure it meets all the criteria to make it acceptable under legal conditions. Consult with a lawyer to review your lease, if you have any special clauses or requirements.
"Rather than entering into a one-year lease off the bat, consider starting with a three-month trial period to get to know your housemate and determine if you're compatible," says Burkhardt. "If things go well, you can easily renew for a longer period."
7. Protect your assets.
Burkhardt recommends asking your new roommate for a security deposit that's equal to one month's rent. "This way, you're covered if your housemate causes any damages to your property," she says.
Burkhardt also advises setting up an automatic payment system where your housemate's rent is transferred to your account on the same day each month, if possible. "It removes the hassle of collecting rent and ensures you collect in a timely manner," she says.
8. Consider a "Cordial Contract."
In addition to formalizing the financial aspects of house sharing like rent and utilities, Lavelle recommends crafting formal guidelines that establish boundaries and expectations for common household tasks like cleaning and defining quiet time for relaxation and sleep, as well as any rules pertaining to outside guests. "Having some clarity upfront that you both agree to can prevent any misunderstandings and resentments," he says.
Make sure to include interactions with and care of any pets, use of personal items, etc., in this contract to eliminate as many potential problems as possible before they arise.
9. Set realistic expectations.
Warfield cautions against expecting a new best friend to move in. Great roommates don't necessarily make good friends and vice versa. "It's great when that happens, but the important thing is to find someone who'll respect your space, be responsible, and has a lifestyle complementary to your own," says Warfield.
10. Know that disagreements happen.
Ruffled feathers and hurt feelings are part of life. And if you encounter a dispute with your housemate, your first step is to refer to your lease agreement and/or cordial contract regarding how to reconcile, says Burkhardt. Proceed according to the laws established by your agreement and your city or state, she says.
And don't be afraid to re-evaluate your situation.
If you determine that you and your roommate just aren't compatible, take steps to terminate your agreement sooner rather than later. "[Terminating] shouldn't be a problem. But it's advisable to document the early termination in writing, have it reviewed by a legal professional, and both keep copies of the amended agreement on file," says Burkhardt.
Gina Roberts-Grey
is a prolific personal finance writer whose work has appeared on Next Avenue, Investopedia.com, LearnVest.com and elsewhere.
Read More