Snapshots of Holiday Memories
With each passing generation, new members have been added to family gatherings — and will be together again someday
"Hon, should we add leaves to the dining room table so everyone can sit together?  Or set up a kids' table?"
"Let's have everyone sit together. When the kids are older, they can have their own table."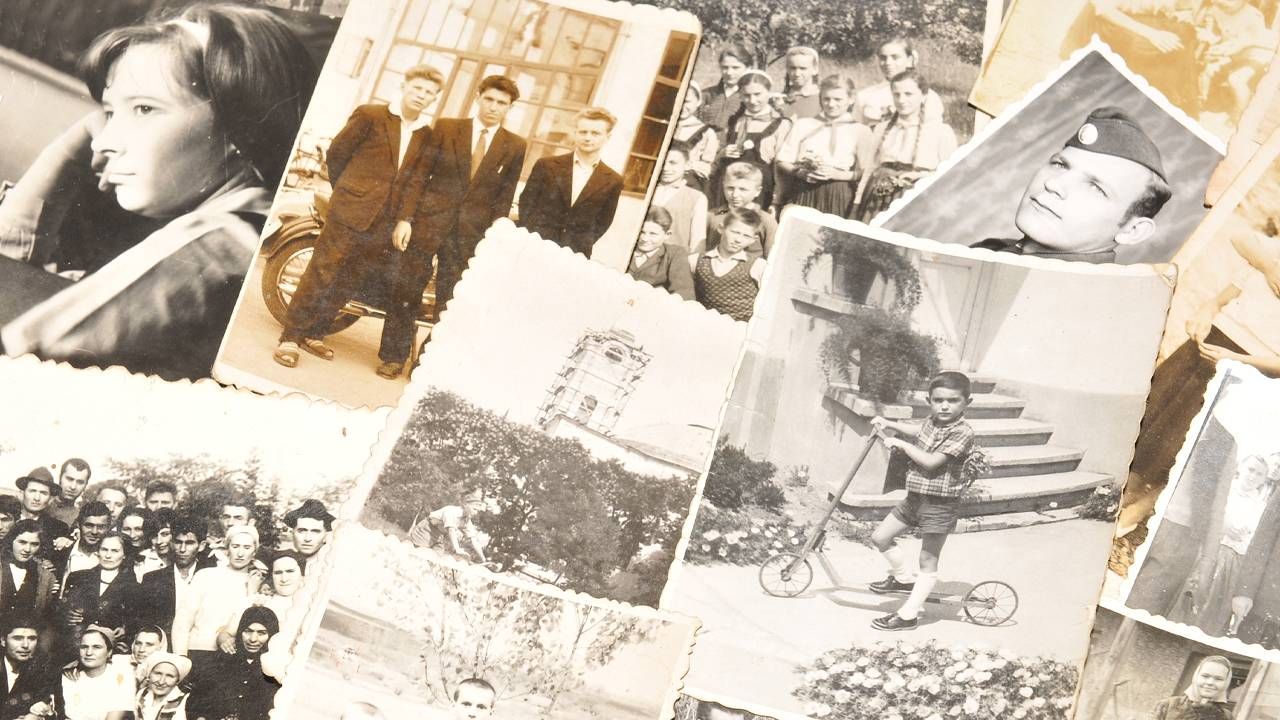 I picture those childhood holiday gatherings in Chicago as if the flash bulbs had just popped, lighting up those familiar faces: my grandparents, parents, aunts, uncles and us kids — my sister, me and our cousins.
In those black and white images, I can tell which holiday we're celebrating by the dishes that Grandma and Mom, Aunt Ellie and Aunt Jo fixed. For instance, Thanksgiving was turkey, stuffing, sweet potatoes and cranberry sauce, then pies with ice cream on top. I just ate the ice cream.
Changes Around the Table
Over time, the grown-ups in those photos grew older and the kids bigger — becoming teens, then grown-ups themselves, then parents with tots in tow — in what seems now like no time at all.
Did my gray-haired, bespectacled grandparents see then that there would be fewer chairs around the table before long? Did that thought cross my parents' minds? As a child, it never pierced my today-is-the-only-day awareness.
Other pictures followed – in Kodachrome color – of gatherings in suburban homes, with Dad at the head of the table, Mom preparing the meal or my uncles and aunts doing the same at their houses.
But when the glint of braces marked teenage smiles, Grandma, then Grandpa, no longer graced our table.
For a while, grandparents with faded eyes blinked in the camera's flash along with new faces: first newlywed spouses, then babies in high chairs, toddlers in booster seats. For years, we regrouped to celebrate holidays, special birthdays and anniversaries. But when the glint of braces marked teenage smiles, Grandma, then Grandpa, no longer graced our table.  
Then Daddy died. Suddenly, in his prime. Soon, Mom sold our family home and moved to the city. Before long, our Thanksgiving photos captured her second wedding, and streaks of tears above my brave smiles.
Mom's new home on Chicago's lakefront, a short bus ride away from my husband, me and our infant and toddler girls, meant she could be the same hands-on grandma she'd been for my niece and nephews. But not for long.
Time to Create Our Own Traditions
One unforgettable day, Mom kissed me and those babies goodbye and moved to Florida with her newly retired husband. My generation — my sister Julie, my cousin and best friend Lynn, and I — married and moved away, each to different destinations.
After that, our children rarely saw their cousins. On holidays we'd get together; not with family, but with friends and neighbors.
Did we make new memories for our children? Create our own traditions? Yes.
Some years, we welcomed and shared a grandparent who'd traveled to join us. Good friends, high spirits, great food. But no matter how much I stuffed myself, I couldn't snuff out embers of past holidays, and remembered faces.
In a flash, it was the children who met our planes and welcomed us to their holiday tables, with our grandchildren first in high chairs, then boosters, then cushions on their chairs, then no cushions needed.
But were all of us together? No. Too many miles between us; some of us celebrated together one year, others the next.
The whole family around the table at holiday gatherings? That was for other people, in other houses, as seen on TV or at the movies. 
"Get used to it," I'd told myself. "This is how it's going to be."
It was not what any of us wanted. But for years, that's how it's been. Grown-up kids trying to make the holiday festive for their own small families, just as we had.
Widowed with young grandchildren, most years I'd fly to one of their tables; some years I'd dine alone. "Get used to it," I'd told myself. "This is how it's going to be."
A Welcoming New Family
Then in 2019 (a wonderful year that kicked off in March with my son's wedding), an autumn email from the newlyweds announced: "Mom, we're going to Anna's parents' for Thanksgiving. You're invited! Want to meet us in Minneapolis?"
Travel from D.C. to snowy Minnesota in late November? Crazy! Did I care? I'd met Anna's sister and her fiancé often enough to be fond of them; celebrated the wedding weekend with them and with her Minneapolis-based clan – parents, aunts, uncles and cousins – all vibrant, engaging and warm.
"Yes! I'd love to."
What I didn't know, couldn't imagine, was how much their family and the wintry Midwestern setting would recreate for me something wonderful, something I'd mourned as long gone, like an heirloom locket I'd lost three moves ago that suddenly turned up.
There I was, celebrating with too many people to fit at one table, loving people in high spirits, a welcoming new family for my son and me.
After dinner, we gravitated toward the grand piano. With Anna's dad playing, his baritone voice leading, we sang old favorites from a songbook, fireplace flames enhancing the warmth.
Two generations, another on the way, caught not by a boxy Kodak camera on black and white film to develop and then paste onto black paper album pages, but by the flash of a cellphone adding new, instantly available, vivid images to my virtual family album.
With the promise – when the pandemic has passed – of more.