Starting a Side Gig After 50: A How-To Guide
The author of 'The Economy of You' says it's easy, cheap and satisfying
It used to be that in your 50s or 60s, you were at the peak of your earning years and — in many cases — could look forward to a sizable, reliable pension from your employer when you retired. Today, not so much.
 
That's why Kimberly Palmer, author of the excellent new book, The Economy of You: Discover Your Inner Entrepreneur and Recession-Proof Your Life says today's midlifers ought to have side gigs or what fellow author Pamela Slim calls "side hustles."
 
Running one of these ventures, Palmer writes, is a way to avoid feeling like you're "balancing on a tightrope, one misstep away from disaster." (Many successful side-giggers she interviewed are boomers.)
 
To learn the best ways to launch a profitable side gig after 50, I spoke with Palmer, whose "real" job is senior money editor and Alpha Consumer blogger at U.S. News & World Report. Her side gig is Palmer's Planners — digital organizers Palmer makes and sells on Etsy.com, an e-commerce site for handmade or vintage items, art and supplies.
(MORE: Why You Should Have a Side Hustle)
Palmer, 34, told me she launched her side gig in 2009 when "layoffs were happening all around me" and she just had her first child. At the time, "I was worried I was going to get laid off and felt a complete lack of financial security. I felt I needed to find a way so I always had some money coming in."
 
Today, Palmer sells more than 20 types of planners and makes about $200 a month from her side gig. "It's not paying my mortgage by any means, but it provides extra income and is something I know I could fall back on and grow," she told me.
 
Highlights from our conversation:
 
Next Avenue: You're finding that the idea of a side gig is really resonating with people over 50. Why?
 
Palmer: I think its because side gigs are so good when you're at transitions in your life and, of course, approaching retirement is a big transition.
 
Not just on the money side — although it's important to have an extra stream of income when you retire. But people find it even more valuable to continue their professional identity in retirement by using the experience and skills they've built up over so many years to help others.
 
(MORE: Make Money From What You Love to Do)
Do you recommend that people get their boss's approval before starting a side gig?
 
You never want to have any secrets from your boss because you don't want to do anything to jeopardize your full-time job. But employers, including my own, increasingly see side businesses as a positive thing for them, too. That's because, on our own time, we're learning all these new skills. I learned more about marketing, social media and how to make an ebook and I use a lot of those skills now in my day job. So it's a win-win situation.
 
There are some jobs where you have to be really careful about avoiding a conflict of interest with your side gig. You don't want to ever seem to be stealing clients from your employer.
 
I'd think a big issue for employers would be: Will the side gig keep my employee from getting his or her job done?
 
You really have to be careful not to take away any time or focus from your main job. A side gig is for evenings and weekends or when you're commuting to work. A lot of the side gigs I write about are easy to fit in during these kinds of slivers of time because you can do them anywhere, anytime.
 
(MORE: Self-Employment: How to Know If You're Cut Out for It)
 
So technology has made it easier to launch a side gig?
 
That's a huge part of it. E-commerce sites have exploded. I couldn't have done my side gig without Etsy, but there are a lot of other good sites, too, like Fivver, eLance and Freelancer that have made it so easy to get started. From the time I had my idea to actually launching took about two weeks.
 
You have a list in your book of what you call "The Top 50 Side Gigs," ranging from illustrator to personal shopper. Are any of them especially suitable for people over 50 or ones they should avoid?
 
I'd say the ones that work best for people approaching retirement or who are in retirement leverage your passions, experiences and skills. Let me give you a couple of examples from my book.
 
Morgan Hoth, from Richmond, Virginia, is a retired art teacher in her mid-60s. Her real passion was creating beautiful silk scarves that are almost like paintings. After she retired, she decided to make them full time. The scarves have been so successful, they're allowing her to travel to Europe and supplement her retirement income.
 
Jeffrey Nash worked for Mens' Warehouse as a salesman. In retirement, he felt things weren't going to go well for him financially; he didn't have a lot of savings. So he had this brainstorm to create something called The Juppy — a new kind of baby walker — and now he's in business. That's an example of taking your lifetime of experience in sales and applying it in a different direction.
 
How easy is it to get money to start a side gig these days?
 
I really encourage people to focus on side gigs that keep their costs down to almost nothing at first, because you don't always know what's going to work. That's what I did. The kinds of businesses that are ideal for side gigs often require little to no money to get off the ground. You don't even have to build a website; you can use a site like Etsy or Fivver to sell what you make.
 
So you don't need to go to a bank to get a loan for a side gig?
 
Noooo! In the book, I specifically avoid talking about franchises or network marketing businesses where you have to purchase $500 worth of vitamins and then sell them.
 
Because they cost so much to launch or it's hard to sell the products?
 
Both. Anytime you have to make an upfront investment for a side gig, I think that's a red flag.
 
You say that a big mistake people often make with side gigs is waiting to launch them until they're ready. What do you mean?
 
The most successful side-giggers are the ones who just get started almost overnight and grow from there. You don't want to wait until things are perfect. If something doesn't work, you can tweak it.
 
I found this out myself. I originally thought I'd make gorgeous, printed, paper planners and I spent a few hundred dollars printing them to make spiral bound copies. Those are literally still in my closet. No one wanted the printed version of the planners; they just wanted digital.
 
If I had just waited to see what sold before building up that inventory, I would've been better off.
 
But a lot of boomers are used to not presenting anything at work until it's ready. So they might find your advice scary.
 
I know. It really does push people out of their comfort zone. But I really think in our current environment, you're wasting valuable time by delaying. Take little risks to see where you'll find traction.
 
So when do you start a side gig? What's the happy medium between "I've got an idea" and "I'll spend six months on a business plan?"
 
I push people on the first extreme. You have an idea? Great! This weekend, go to one of those websites I mentioned, describe yourself, upload your picture, tell people what you have to offer, tweet about it and start looking for customers. There's no reason to wait.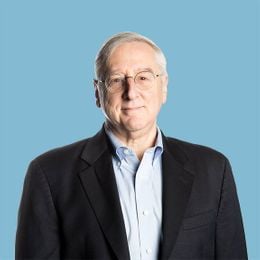 Richard Eisenberg
is the former Senior Web Editor of the Money & Security and Work & Purpose channels of Next Avenue and former Managing Editor for the site. He is the author of "How to Avoid a Mid-Life Financial Crisis" and has been a personal finance editor at Money, Yahoo, Good Housekeeping, and CBS MoneyWatch.
Read More