Steve Harvey's 4 Tips to Reinvent Your Career
The popular TV host on using your personal gift to achieve success
Steve Harvey was a successful stand-up comedian and actor known for his Kings of Comedy Tour plus TV and movie roles, but he wasn't satisfied with his career. To gain an even bigger platform, Harvey determined he had to "retire" his beloved stand-up. Harvey told me he calls this "the hardest decision I've ever made."
And he says you may need to do something similar to reinvent your career.
After quitting stand-up at 55, Harvey launched his hit daytime TV talk show (The Steve Harvey Show), while solidifying his roles as a syndicated radio personality and host of the long-running Family Feud TV game show. These experiences helped inspire his latest bestseller, Act Like a Success, Think Like a Success: Discovering Your Gift and the Way to Life's Riches — case studies based on his life and the experiences of famous friends like Oprah Winfrey and Magic Johnson.
"I knew to get to the next level, to get a daytime talk show and make it work and to take Family Feud to new heights and to go to new areas, I had to be willing to give up something," Harvey, 58, told me during a recent interview.
Giving Up Something to Get Something
His advice: "I don't care what you do. You've got to give up something to get to the next level."
Before doing that, Harvey says, you need to identify your gift and then make that your focus. "It's the only way to find your purpose in life," the two-time Emmy winner says. "You're going to be miserable if you never work, operate or live in your gift."
Harvey had long ago identified his gift for getting a laugh, but says he had to figure out how to use it for a deeper purpose. "My gift when I was younger was I had the ability to take information and transpose it instantly into comedy," he says. "As I've gotten more mature and educated about life, I take the same information and transpose it instantly into motivation, inspiration and uplift."
Steve Harvey's 4 Career Tips
Here are four tips from Harvey to maximize your gift and reinvent your career, from my interview and from his book:
1. Don't be afraid to take a chance on reinvention. No matter your age, you have to be willing to take risks to push forward in your career, he believes. "The opportunity is there for you if you can lose the fear of reinvention," Harvey says. "You can react to change or choose to participate. I'm constantly looking at ways to reinvent myself so I don't become outdated or stuck on one subject."
2. Make your gift keep giving. Identifying your particular gift doesn't necessarily mean you need to limit yourself to one field. A hair stylist, Harvey says in his book, could become an instructor at a beauty school, develop his or her own products or even find success on TV.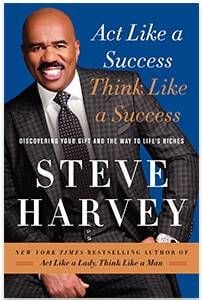 "Diversifying your gift presents you with the opportunity to reach people whom you wouldn't have been able to connect with previously," Harvey writes. "Successful people are innovators."
3. Always be networking. It's human nature to focus on networking only when you're job hunting, looking for a referral or in need of a business loan or financial assistance. But Harvey says you're more likely to benefit from your network if you view these connections as opportunities for a continuing series of give-and-take experiences.
"When you interact with people only when you need or want something, they can see your intentions coming a mile away," Harvey writes. "Asking for what you want becomes a totally different process when you deal with people based on nurtured relationships."
4. Prepare for life's tests. Like many performers, Harvey faced multiple obstacles on his way to becoming a household name, including living in his car during one especially low point. But he never questioned his gift, viewing these experiences as tests that validated he was following the right path.
"Everybody has a bunch of tests — you have to pass them, you have to graduate," he says. "Never give up. My persistence during the darkest times allowed me to see what the outcome can be. People need to understand no matter how bad it gets, it can turn around."
Robert DiGiacomo
is a veteran Philadelphia, Pa.-based journalist who covers food and travel, arts and entertainment and personal finance. He has written for The Washington Post, USA TODAY,  The Penn Gazette and Fodor's.
Read More