Students Devise Products for Adults With Dementia
Finalists in the Stanford Center on Longevity's Design Challenge aim to help people with cognitive impairment remain independent longer
Anyone who has, or had, a loved one with dementia will want to say "thank you" to the seven student finalists of the inaugural Stanford Center on Longevity Design Challenge announced today. With any luck, caregivers and families will be able to buy their brilliant creations sometime soon.
 
Momentarily, I'll tell you about each of the ideas — some inspired by the students' grandparents with dementia. They ranged from unique utensils to "memory maps."
(MORE: Suddenly, the Tech World Loves People Over 50)
 
Stanford, in collaboration with Aging 2.0 (an organization aiming to accelerate innovation to improve the lives of older adults), challenged graduate school and undergraduate students around the world to design products and services that would keep individuals with cognitive impairment independent for as long as possible.
 
Why Independence is a Worthy Goal
That's a worthy goal considering that more than 80 percent of adults want to age in place and that the cost of 24-hour supervised memory care can run $10,000 a month, according to Stanford.
 
Each of the finalists will receive $1,000 and mentorship from the Challenge's corporate sponsors, to help them refine their ideas. The Design Challenge winner, to be named at a ceremony on April 10, will receive $10,000; two runners-up will get $5,000 and $2,000. That's also when Stanford will unveil the theme of its next Design Challenge.
 
Impressive Submissions From Around the World
Not only did students rise to this challenge, the number and quality of entries exceeded expectations: Stanford received submissions from 52 teams in 15 countries. Five finalists were from colleges in America, one was studying in Denmark and one in Singapore.
(MORE: What's Next in Caregiving Technology)
 
"Cognitive impairment affects people in such a personal way, the challenge brought out a lot of creativity," says Ken Smith, Director of Mobility at the Stanford Center on Longevity.
 
The students who entered weren't just studying design and engineering. They also came from fields such as nursing, psychology, fine arts and computer science. Dementia affects patients, families caregivers and health providers in a multitude of ways, so the inventions addressed the disease from a variety of angles.
(MORE: How One Alzheimer's Caregiver Copes)
 
The 7 Challenge Finalists
And the finalists, whose designs were scored on effectiveness, originality, impact and cost, are:
 
Memory Maps from Ritika Mathur at Copenhagen Institute of Design. Combining a small device with an RFID reader, a map of the patient's neighborhood and GPS technology, Memory Maps lets someone with early-stage cognitive issues and his or her family record memories and then coordinate them to a map with the real-world locations where they took place. "Our goal was not just to bring back what's gone, but to find out what is still there and nourish and cherish that," Mathur wrote in the entry.
 
Eatwell from Sha Yao at the Academy of Art in San Francisco. Inspired by her grandmother who had Alzheimer's, she designed a seven-piece tableware set specifically designed for people with the disease. Its goal: to help users eat better and maintain their dignity while helping alleviate burdens of their caregivers.
 
Anti-slip bowls are designed to get food into spoons more easily, cups have rubber mats and extended handles that act as stabilizers, trays let caregivers clip aprons onto the edge to help catch food that may drop. Estimated retail price: $150 initially.
 
Taste+ from Huabin Kok at Singapore National University. Another product for meals, this is a spoon with a built-in electrical stimulation to make food more delicious if they have diminished taste sensation, as many with cognitive impairment do. The user taps a button on the spoon to deliver a salty or sour flavor, rather than actually adding salt, which could lead to heart problems. Estimated price: Under $40.
 
Caresolver from Arick Morton at Harvard University. This is a cloud-based, web/mobile/phone-based platform for "lay" caregivers to give them  support and help facilitate coordination with a larger caregiver team. Its CareLogic engine tracks and monitors caregiver and care-recipient wellness and delivers alerts, notifications and clinically-validated interventions when appropriate. Caresolver also connects users with online support groups, forums and mentors.
 
Confage from Ani Abgaryan at San Francisco State University. Abgaryan devised this engaging gaming experience after growing frustrated that she was unable to teach her grandmother how to read or write text messages on her mobile phone. Confage shows people with memory and hand-motorics issues the main gestures needed to use touchscreen devices.
 
ThermoRing from Kayvan Mojtahedzadeh at San Francisco State University. It's a plastic ring placed around an electric stove burner that warns people the burner is on by changing from black to red.
 
Kitchen fires and burns are, of course, a significant safety concern for people with dementia and their families. Fear of fire accidents is actually a common reason why the elderly are moved into assisted living centers. 
 
Automated Home Activity Monitoring from Guido Pusiol at Stanford University. This computer-based system, operated through cameras, would learn its user's daily living behavior and then send an alert to the caregiver when "abnormal" activity occurs — such as a fall. A 24-hour test in an apartment found the system was 90 percent accurate in detecting eight daily activities including cooking and eating.
 
Will any of the Design Challenge ideas make it to market? No one knows, of course, but Smith says: "I was more encouraged about the possibility after we figured out who the finalists would be."
Fingers crossed.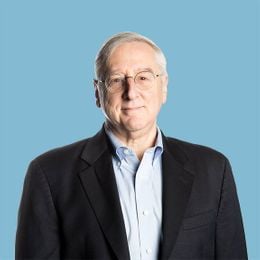 Richard Eisenberg
is the former Senior Web Editor of the Money & Security and Work & Purpose channels of Next Avenue and former Managing Editor for the site. He is the author of "How to Avoid a Mid-Life Financial Crisis" and has been a personal finance editor at Money, Yahoo, Good Housekeeping, and CBS MoneyWatch.
Read More