The Joy of Summer Family Vacations
Multi-generational participation adds to continuing the tradition
If your extended family went away each summer to a cabin by the lake, a beach house or another special destination while you were growing up, you probably have a stable of vivid childhood memories: Gleefully swimming, hiking and playing board games with cousins, siblings, aunts, uncles, parents and grandparents.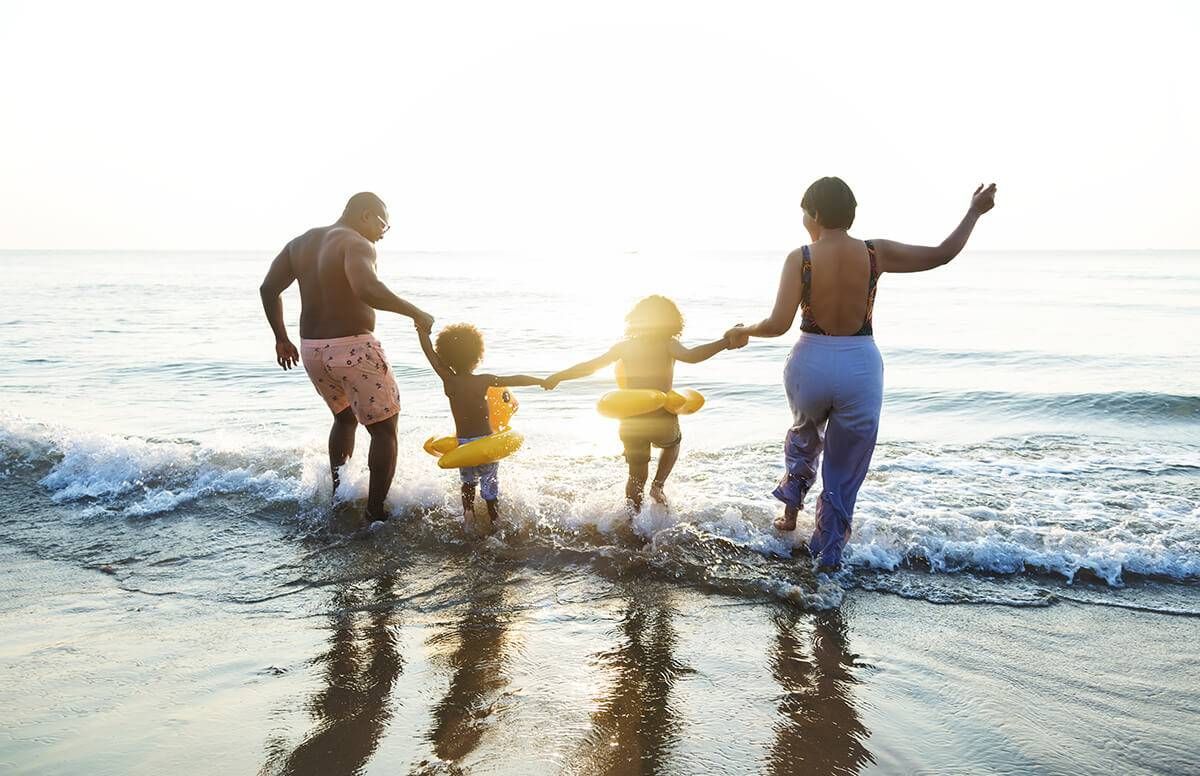 Some families enjoy multi-generational family vacations so much, they continue them for decades, introducing new family members — spouses, newborns — to the tradition over time. Eventually, a child who skipped rocks on the lake may return with his own children, then his grandchildren, so younger generations can experience everything he did as a kid.
Bob Warnock, 72, of Cincinnati, has trekked to Carter Caves in Kentucky every Memorial Day weekend of his life to participate in a family tradition that pre-dates him: Paying respects to relatives buried in the area. Warnock's ancestors settled in Kentucky in the late 1700s, and although the family has since relocated to Ohio, Michigan and California, they return to Kentucky annually for this purpose.
"There was a tradition, particularly in the South, to visit the graves and place flowers, which is a tradition we continue," Warnock says. "I know I have been going there since before my first birthday, because they have a picture of me. We all went down there to visit the graves, and we ended with a big picnic."
"If the younger generation continues it, it's a tribute to the fact that it was a good idea."
When rental cabins became available in the 1960s, Warnock's extended family began staying in the area for Memorial Day weekend, instead of leaving after the picnic. As an adult, Warnock introduced his children to the tradition, and then his grandchildren.
"This year, we actually had 41 people, and they covered four generations," Warnock says. "The kids all get together. There are trails and a creek to have a creek walk in; they get unplugged. And we visit the graves and explain to the kids, 'This is your great-grandmother and your great-great grandmother.'"
Remote Locations Can Challenge Teens
Multi-generational vacations aren't for everyone. Some people have limited vacation leave and want to explore new places. Others aren't enthusiastic about socializing with relatives.
"I wouldn't recommend it for everybody," says Ruth Jaffe, a psychoanalyst in Washington, Conn., who focuses on aging. "There are some people who need more privacy and less time with a whole bunch of other people."
It may be difficult to establish a multi-generational tradition with unenthusiastic teens,too, especially if your chosen location is remote, with limited Wi-Fi access. But when families go away regularly and children become teens, they're likely to revert to their usual vacation habits.
"The grandchildren do bring along their video games and their iPads, and some of that goes on at night," Warnock says. "During the day, they run around. They don't think about it."
A Familiar Setting Is a Boost
Everyone's intimate familiarity with the destination helps to put the group in the right frame of mind for family vacations.
"There's something about the venue," Jaffe says. "It's sometimes the glue that keeps it together, that makes people willing and able to maintain the tradition."
In the familiar setting, family members may revel in being able to catch up and reminisce.
"A multi-generational vacation is an extraordinary opportunity to bond and to continue to strengthen the relationships that obviously exist throughout the whole year," says Mark Frazier,  a psychologist specializing in older adults in Arlington Heights, Ill. "The main benefit is just the simple and pure joy that is experienced."
Multi-generational family getaways are particularly advantageous for older adults.
"There is great value for them each year, anticipating the vacation," Frazier says. "That provides them with a lot of positive thoughts and stimulates a lot of positive memories. Also of value is the time spent after the vacation, where the older members reflect back on the vacation that they just took."
Helping the Older Adults Participate
As people age, it may be harder for them to attend a multi-generational family vacation if they have health problems or mobility issues. But determined older adults can continue participating if relatives make accommodations.
As a teenager, Warnock helped his grandmother interact with her grandchildren more meaningfully during their vacations together.
"I had to walk my grandmother one hundred-some steps from the parking lot to the lake every year. That was a ritual," he says. "She'd watch the grandkids swim. I was the oldest cousin, so that was my responsibility."
With creativity and effort, you may be able to help older relatives participate.
"Maybe they have to stay on the porch and they can't go down to the pier anymore," Frazier says. "Maybe they have to find space on the first floor, so they don't have to negotiate the stairs. [Maybe] they have to rent a wheelchair ahead of time or they've identified a doctor in the area, so that if any medical issue come up, they have someone to contact."
Even if these attendees are limited, they'll enjoy the tradition, surrounded by loved ones in a familiar setting.
"It doesn't matter if the older couple is playing cards and the younger couple is going canoeing," Jaffe says. "As long as they have enough to look forward to and enough enjoyment in the fact that they are all together, that is the most important aspect of it."
If health problems prevent family members from attending, they can "visit" via video chat.
"At the dinners, try Skyping in the person," Frazier says. "Have them call and let them listen in while the family is having dinner."
'Tears from the Little Ones When They Have to Leave'
Sometimes, multi-generational family traditions fade away if the relative who has planned the annual event passes away. Other times, relatives work together to maintain the tradition that they love.
"There is no right or wrong," Jaffe says. "If it does continue, wow. I think that's something to admire. If the younger generation continues it, it's a tribute to the fact that it was a good idea."
Warnock has no doubt that his family will continue their Memorial Day tradition for years to come. Not just to pay respects to relatives buried nearby, but because everyone, from youngest to oldest, enjoys gathering together.
"We actually have tears from the little ones when they have to leave," Warnock says. "Two years ago, my young grandsons had just come back from Disney World and they were asked which do they think is better. 'Carter Caves, of course,' is what they said."