Is COVID-19 Increasing Your Sun Exposure?
As Americans spend more time in the sun, the competition for shade is growing
Visiting Florida in May with her mother and toddler children, New York City dermatologist Dr. Suzanne Friedler was in constant pursuit of a shade oasis. While both Friedler and her mother are vaccinated against COVID-19, the doctor's children are too young to get shots that would prevent them from getting the virus. Social distance was the only way to protect them, even outdoors.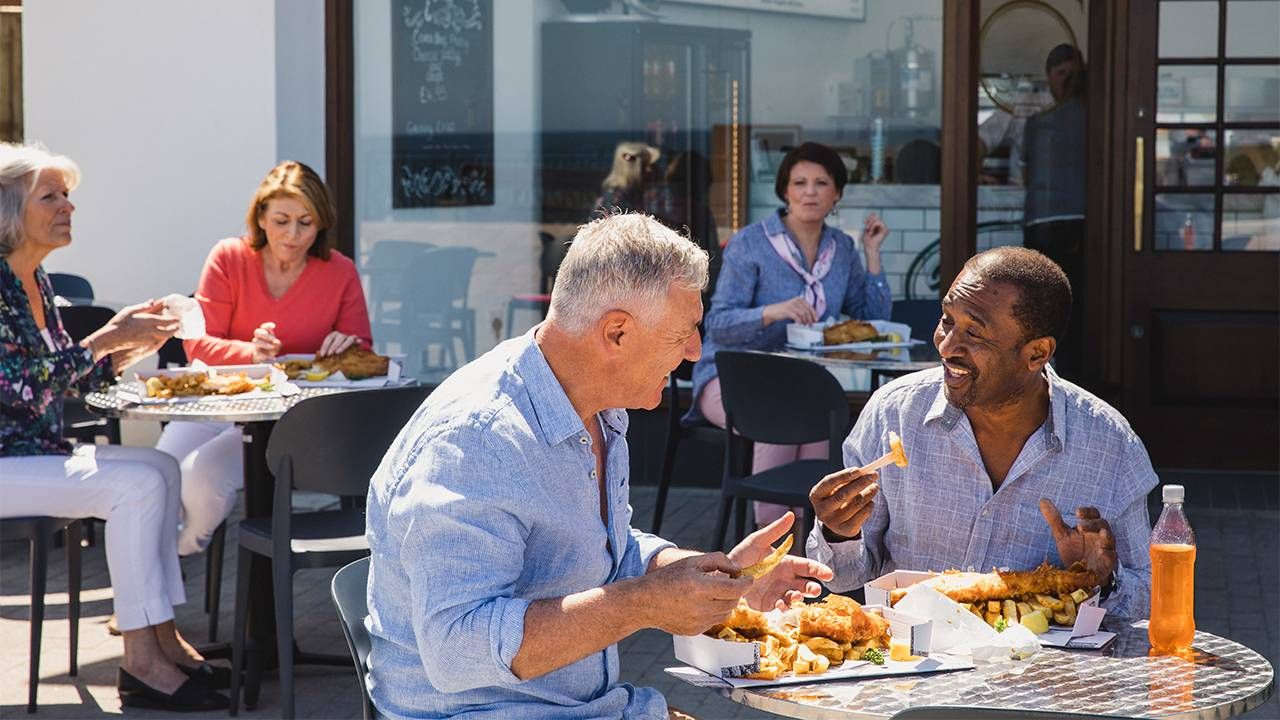 During their trip, the extended family of redheads needed to largely avoid the sun. Going to the beach was an exercise in finding a sweet spot that delivered on both wellness priorities – minimizing sun and COVID-19 exposure.
"One of the myths is that if you're in the shade, you're protected from the sun."
Welcome to summer 2021, in which Americans hoping to cavort maskless outdoors are likely to find themselves hunting for shady spots away from the potentially virus-carrying public.
The competition for shade is especially pressing for older Americans who must manage both current sun exposure and the effects of cumulative skin damage, especially melanoma and other types of skin cancer..
Last summer, Americans rediscovered their backyards, gardening and relaxing without the stress of defending their space from others. 
This year, newly freed Americans face an obstacle course of opaque public-health guidance; venues forced to make up their own rules; the ongoing drive to avoid sun and the temptation to throw caution away along with their masks.
"We have to choose our spots," said Friedler of her strategy to research in advance outdoor venues for dining and play with her three-generation group. Simple shade isn't enough: the sun's rays reflecting from water, concrete and glass are damaging, too.
"One of the myths is that if you're in the shade, you're protected from the sun," she said.
Designing More Shade-Abundant Spaces
Facility managers realize that they need to engineer more sun protection, said Scott LaMont, CEO of Ft. Lauderdale-based EDSA, a landscape design firm with numerous hotels and amusement parks among its clients.
The revived meeting trade brings with it expectations for "hybrid space that moves the indoors outside and the outside in," he said, referencing furniture and layouts that erase the demarcation between a room and the adjacent terrace.
Still, said LaMont, such projects take time to design and install, and guests need shade now. It's likely, he said, that venues will use canopies and sculptural, suspended canvas sails to cast filtered shade over spaces that now must accommodate large numbers of separated people. 
A popped-open parasol offers a tiny island of shade in the widest-open spaces, such as beaches, open-field events, picnics and destinations where competition for shade is likely to be intense.
Try as they might, destinations might not be able to anticipate every traveler's need for shade.
Even if you don't see umbrellas set up, ask for one, said Friedler, and "if the spot is shady and then the sun shifts, speak to the staff and see if they can move you." 
Dr. Amy Forman Taub, a physician member of The Skin Cancer Foundation who practices in the Chicago area, said the best strategy is to manage sun exposure day by day, regardless of whether you head for the mountains (high altitudes are closer to the sun), the beach (with all those reflected rays!) or somewhere in between. 
Favorite vacation activities like golfing often involve more sun exposure than people realize, Forman Taub said, and just walking from one part of a complex to another usually involves stretches of sun. The best strategy, she noted, is to plan your outside time in the morning to end by 9 a.m. and then to resume around 4 p.m. 
Invest in Personal Sun Protection
As shade is likely to be in short supply, one solution is to bring your own.
Bringing your shade with you involves wide-brimmed hats, clothes made of sun-impervious fabrics and even parasols.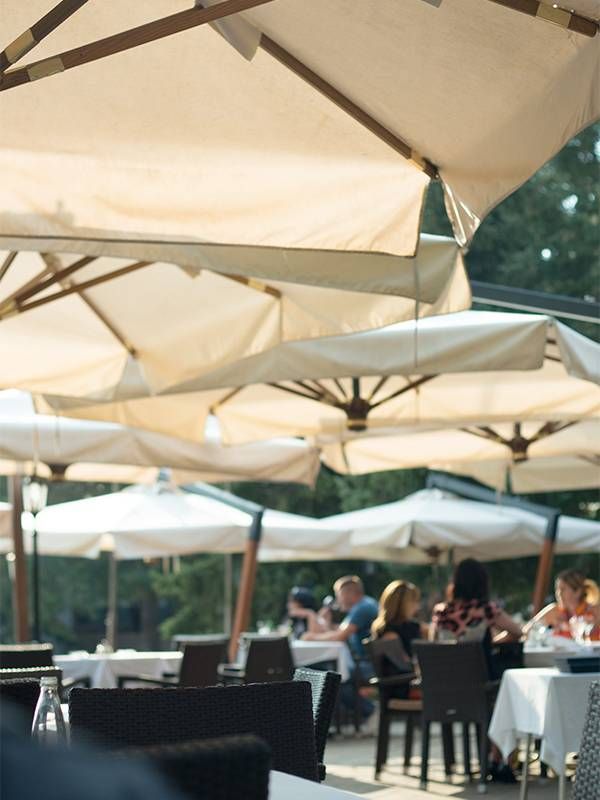 Coolibar, a Minneapolis-based company that has been designing, making and selling clothes of sun-resistant fabric for over 20 years, saw a big boost last year in gloves and hats for backyard wear and is now experiencing a burst of interest in swimwear, said Anne White, chief brand officer.
As they head back to beaches and resorts, older Americans in particular are choosing fast-drying, light, sun-protective rash guards, swim leggings and, for women, long-sleeved swimsuits, said White. A rival company, UVSkinz, based in Sonora, Calif., is experiencing a similar trend, said marketing coordinator Seth Farwell.
Hats with brims at least three inches deep offer reliable shade, said White. But there's an even more capacious option: the sun parasol made of sun-resistant fabric. A popped-open parasol offers a tiny island of shade in the widest-open spaces, such as beaches, open-field events, picnics and destinations where competition for shade is likely to be intense.
"You can't count on getting a cabana," said White, "and a parasol is cooler, too."
Here are 5 tips for getting the most out of sun protection products:
1. Choose sunscreens made with the two minerals that form a physical barrier between your skin and the sun. Friedler recommends products based on either zinc oxide or titanium dioxide.  One brand she uses is Elta MD, available online.    
2. Wear sunscreen on your face and neck, even when you are wearing a hat. This additional layer of protection helps thwart reflected rays.
3. Refresh your sunscreen often. The hands, neck, nose and knees all lead the body's movement and end up in the sun more consistently, requiring more applications of sunscreen.
4. Calculate how much sunscreen you need based on the time of day and the length of your direct exposure. Sunscreen breaks down according to the intensity of sun exposure, not only the duration, according to the Food and Drug Administration (FDA). The sun is most intense between 10 a.m. and 2 p.m. Download the FDA's sunscreen fact sheet for the latest guidance on SPF and sun protection.
5. Brush up on the scientific lingo so you can shop smart. The "sun protection factor" (SPF) indicates how well a sunscreen lotion prevents the sun's rays from reaching your skin. Dermatologists recommend sunscreens with an SPF of at least 50 and the FDA, which sets standards for sunscreen, recommends an SPF of at least 15. 
Dermatologists warn that the lab settings that establish SPF don't allow for real-world activities that rapidly erode sunscreen from your skin. Rubbing hand sanitizer on can rub sunscreen off, for instance, which is why doctors emphasize the importance of reapplying sunscreen often.
Fabrics that purport to block damaging sunlight must prove that claim via tests conducted by qualified independent labs. Woven fabrics of specially developed fibers can block most or all sunlight, indicated by a high ultraviolet protection factor (UPF).
Because the light-blocking capability is literally built in, a high UPF does not wash off or degrade with time as does sunscreen's SPF. But the fabric itself thins with wear and washing, and that erodes its UPF strength, said manufacturers.