Survey: How We Feel About Engaging in the Arts
Next Avenue readers weigh in on the importance of participating in the arts as we age
For more than a year now, we've been telling Next Avenue readers about the benefits of artful aging in our Vitality Arts special report. We've told inspiring stories about people taking up everything from ballet and painting to fiction writing and improv comedy late in life. We've profiled organizations that offer arts programs for older adults. And we've shared lots of tips to help our readers get involved.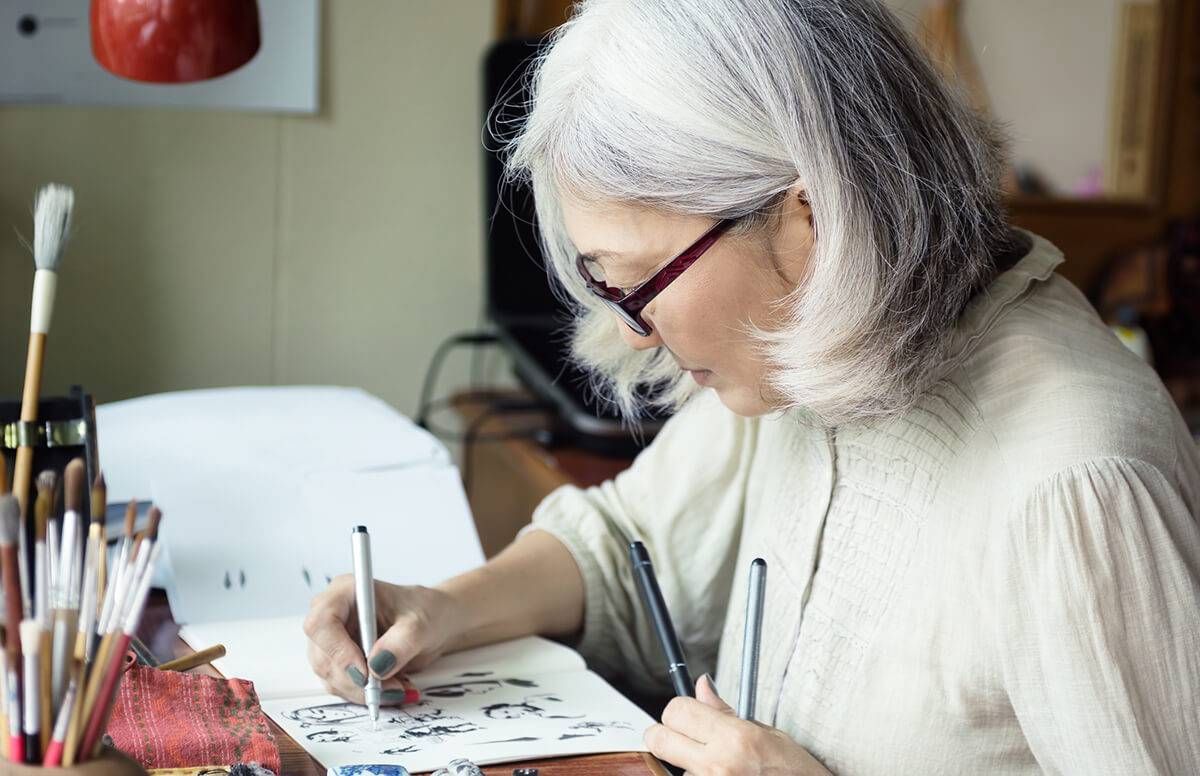 More recently, we decided to turn the tables and ask readers about their experience with arts participation. More than 1,000 of you responded to our survey questions — and not only that, gave comments, 154 pages' worth! Here's what you had to say:
You Are Decidedly in Favor of Arts Participation
Ninety-nine percent of you responded 'Yes' to the question: "Do you think programs that create opportunities for adults over 50 to participate in arts are good for society?" We do, too. And your reasons for believing this line up exactly with what experts who work with older adults say. These are just a few of your comments:
"Older adults need to stay involved with those who are younger. They have much to share: stories, talents, insights, knowledge and love!"

"We have talent, time and money to pursue arts."

"Seeing older adults create may change perceptions of aging by callow youth."

"Makes us happier."

"Creativity encourages health and social interaction."

"We need to stay engaged and the arts are a really good way."
Many of You Are Already Aging Well Through Arts

Fifty-five percent of you currently participate, or recently participated, in the arts. And, I might add, a mind-boggling array of them. If you're looking for inspiration, look no further. What follows is a list of just some of the artistic endeavors being pursued by Next Avenue readers, arranged in alphabetical order:
Acrylics

Ballet

Batik

Beading

Belly dancing

Bluegrass harmony singing

Calligraphy class

Chinese brush painting

Collage

Digital collage

Drawing

Dying silks

Glass blowers

Handmade books

Improv

Jewelry making

Knitting  

Oil painting

Origami

Painting

Pastels

Playing trumpet in a salsa band

Photography

Poetry

Pottery

Printmaking

Puppetry

Taiko drumming

Tap dancing

Theater

Quilting

Singing

Sculpture

Stained glass

Weaving

Woodworking

Wreath making

Writing
Your participation in arts is connecting you to others in community, you say. You are members of church and community choirs, bands and orchestras. You make posters for groups you participate in. You volunteer in arts programs at senior centers and schools. You teach. You do professional and community theater. You take line dancing class at the YMCA, you knit at the library, you belong to play-reading groups. And many of you have recently taken an arts class — whether it's a group ukulele lesson or a watercolor workshop.
Many of You Aren't Involved in the Arts Anymore

Forty-two percent of you had participated in the arts when you were younger, but stopped.
The reasons you stopped were good ones. Many of you have simply been too busy raising children and earning a living. "Life got in the way," "Working long hours," "Career got in the way" and "Work took over my energy, time and creativity" were common refrains.
For some of you, there are financial barriers. You cited "lack of time and money" and "the cost of the classes" as reasons for no longer pursuing your interest in the arts.
Some of you were flat-out discouraged. One reader "was not encouraged and did not think I had any talent." One cited a "lack of confidence." Another felt "pressure to 'make a living' and do something more 'practical.'" Yet another put it simply: "Not talented enough."
Some of you underwent life transitions that ended your arty endeavors. "I sang in a church choir often and when I left the church, I stopped singing," wrote one reader.
Others cited relocations: "I have moved to an area deprived of intellectual, or creative challenges. I live in a senior 'retirement' place where there's no opportunity for growth" and "I moved to a different state."
And others have experienced the toll of caregiving, which is taking up time: "Caretaking of parents with major health issues/hospice, caretaking of grandchildren" and "time spent caring for dying husband."
Others reported physical challenges. "Became hoarse from singing," wrote one reader. "Arthritis has caused me to stop a LOT of activities," said another. "The musical instrument I played has become too heavy for me to lift and play." "Tremors." "Rehearsals at night and not driving any longer." "I lost most of my singing voice to due to age and chronic allergies."
To the preceding group, I'd like to encourage you to find inspiration from your fellow readers who have found many different ways to participate in the arts. Maybe you can no longer sing, but you can pound a drum. Maybe you're not mobile, but you could take an online class. If you don't have a knack for drawing, maybe you'll find watercolors more forgiving. Most anyone can create a collage. And we've got the stories to prove it. Click the links in this paragraph to find out.
And to the blessed caregivers: Have you thought about using the arts to connect with your loved one? One of my favorite stories that we've published is about a choir for people with dementia and their caregivers. Using the arts as part of your caregiving could be a game-changer, or at least a day-brightener — a little spark of joy to lighten the heart.   
Heidi Raschke
is a longtime journalist and editor who previously was the Executive Editor of Mpls-St. Paul Magazine and Living and Learning Editor at Next Avenue. Currently, she runs her own content strategy and development consultancy.
Read More