Take the Virtual Dementia Tour
A journey toward understanding and empathy for caregivers and family members
During a dark moment in my early days of coping with a dementia-afflicted parent, I found myself at my wit's end. Our once-grounded parent-child relationship felt surreal and reversed. I thought my head might explode from responding to parroted questions and trying to care for someone seemingly enveloped by cognitive quicksand. "You'll need to discover reservoirs of patience you never knew you had," a wise friend advised me.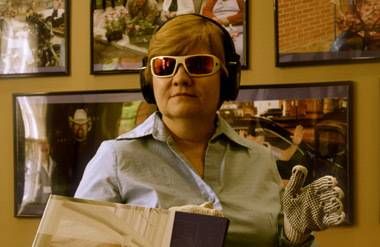 She was right. Whenever I struggled, I had to reach deep into that reservoir. But I've learned that patience alone isn't the answer. What you really need is empathy, which doesn't just change your behavior; it changes your heart. A saving grace, empathy connects you on a deeper level with the humanity that remains within a person who may otherwise seem like a shell of what he or she once was.
Fortunately, for those of us who need help gaining empathy and an understanding of what dementia can do to a person, geriatric specialist P.K. Beville has devised a patented Virtual Dementia Tour, a way for us to walk, for a time, in an afflicted person's shoes. The tour employs four components to alter the subject's senses and perception and simulate the day-to-day experiences of people with dementia and Alzheimer's:
Goggles that make the wearer see his or her surroundings through the yellowish-orange haze that many people experience as they age, and which include a device that simulates macular degeneration, diminished depth perception and loss of peripheral vision.
Shoe inserts that simulate uncomfortable pins-and-needles sensations in the bottom of the feet and help the wearer approximate a dementia patient's shuffling gate. Wearers also experience peripheral neuropathy, a common aspect of dementia, which discourages a person from moving around a room to engage with others.
Gloves that hinder the wearer's sense of touch and impair the ability to feel through his or her fingers, turning simple tasks like buttoning a shirt or setting the table into major challenges. In dementia sufferers, Beville explains, "The part of the brain that tells the sensory ending in the hand to feel is impaired," leaving the person to fumble with everyday tasks.
Headphones that cover the entire ear so the wearer feels as if in a bubble, with sounds from a "confusion tape" playing – a mix of voices, laughter, background noise like a television playing, roaring sounds and startled responses.
"I saw how these disorders take away your coherent mind, and it disturbed me greatly," Beville, the founder of Second Wind Dreams, a nonprofit organization committed to changing the perception of aging, recently told Caring.com. In her work with caregivers, she says, she often asked them, "What would you do if it were you?" But imagining what it's like to live with dementia can only take one so far. Beville set out to replicate the reality, as much as possible, for those who only see it from the outside.
All of the elements of the Virtual Dementia Tour were developed using feedback from people with dementia and continue to evolve. For example, Beville's team is redesigning the gloves to better simulate the impairment and pain that stem from arthritis. Among other modifications, weights are being added to each knuckle, to evoke the soft pain that comes from using arthritic fingers.
How You Can Take a Tour
You can take the Virtual Dementia Tour in a formal setting or on your own. Editions are available for individuals and families, groups and communities. The family edition costs $100, with proceeds devoted to Second Wind Dreams' parallel mission of fulfilling the wishes of residents of nursing homes and assisted living facilities.
The tour takes about 20 minutes to complete. In formal settings, it is followed by a 20-minute, post-tour evaluation with a facilitator. Those taking the virtual tour on their own at home are asked to complete a questionnaire about the experience. Results so far have been positive, Beville says. Her group's study of subjects' self-reported behaviors before and after the tour found that most people reported feeling an increased understanding of dementia. Outside studies are also being conducted to gauge the short-term and long-term impact of the tour within families, institutions and communities.
One Woman's Experience
Perhaps the most compelling measure of the tour's effect is the stories that subjects tell. "I'd get so frustrated with my grandmother, who's had dementia for years," says Candice Beaty, 41, of Marietta, Ga., who helps to care for her grandmother, 82. "She'd ask the same questions, tell the same stories, and get confused.
"After taking the tour, I felt overwhelmed with emotion. I felt bad that I had not been treating her well. Now I can't imagine what it would be like to experience not only the physical deterioration associated with dementia, such as pain in my feet and hands, but also the confusion associated. It's awful not being able to see and hear in the ways that a healthy person can."
Beaty says the tour improved her relationship with her grandmother. "The goggles made me understand how impaired her vision is, so now I look her in the eye," she says. "The headphones helped me learn that I need to speak to her clearly, as opposed to saying something casually to her across the room, expecting that she'll hear and understand me. Just in general, I take more time to formulate my thoughts, so I'm clear before engaging her. I meet her where she is, instead of trying to get her to meet me where I am. There's great peace associated with that for both of us."
A Virtual Dementia Tour can help you experience what it feels like to have dementia only briefly but you can gain empathy that stays with you a lifetime.
This article was written by Caring.com contributor Dave Singleton.