How to Talk With Your Millennial Kids About Work
And maybe even more importantly: how not to
Here's a suggestion for boomer and Gen X parents struggling to get their Millennial kids to engage in conversation with them: Ask them about their work. The trick is, however, knowing how to do it — and how not to.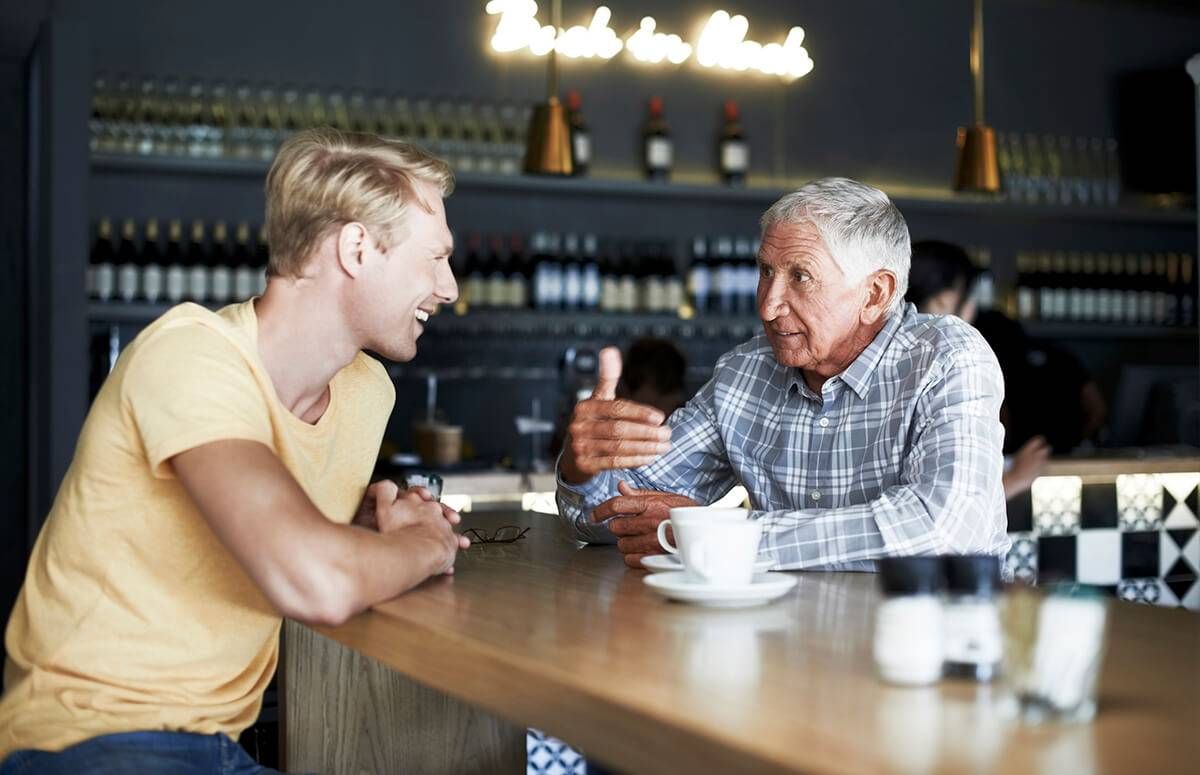 As the mother of two grown sons, I can attest that asking, "How's work going?" is the surest way to ignite an intimate talk when they call or when you call them. The topic of work is safer than, say, romantic relationships. And there's a good chance your kids would like to hear your advice about work challenges they're facing.
Parents Are Work Role Models
Research shows that many recent grads see their parents as work role models. In a Bentley University survey of 1,000 college-degreed Millennials in 2012, only 2 percent said they'd found a mentor at work, but 25 percent viewed their mother as a career inspiration and 16 looked to their father.
Bentley management professor Susan Adams says: "When I ask students who they view as an inspiring business person, they often cite their parents or a parent as examples. Years ago, they tended to mention someone famous."
At work, explains Adams, young people may seek out a mentor, "but your full essence is kind of shielded in a business setting. They turn to a parent because that person knows them well and they trust in their support."
Talking to Dad About Work Issues
Phillip Gazca, 29, is now regional director at Xperience Real Estate - Keller Williams in Bryan/College Station, Texas. As he moved up in his real estate career, he recalls, "I started having a much greater appreciation for what my dad did. My father was a nurse, and eventually built a home-health nursing agency that now employs approximately 400 individuals." Now, they talk at least weekly, about all kinds of work issues.
Both he and his father initiated these conversations, says Gazca. "My dad would just say, 'How's work?' and I would start to ask how he handled similar situations."
Providing an Opening to Your Grown Child
Parents, especially boomers, can also help their kids avoid repeating the mistakes they've made during their careers. Adams' research shows boomer parents tend to lament that their work/life balance was out-of-whack and tell their adult kids to better balance the life side of the equation.
The best way to get your adult child talking, is to "provide the opening, like 'How's work?' or 'If there's anything that's giving you consternation, I'll listen,'" says Susan Smith Kuczmarski, author of Becoming A Happy Family.
Then, it's essential for the parent to "listen selflessly," says Kuczmarski, and not jump in with advice. That comes next.
What Not to Do
But you don't want to go too far dispensing parental work wisdom, either.
I told Lauren Stiller Rikleen, visiting scholar at the Boston College Center for Work & Family and author of You Raised Us — Now Work With Us, the story of a friend of mine. That mom lamented advising her son against taking a job that would've involved a pay cut even though he thought the position would've been a good career opportunity. The son now regrets passing it up.
Parents, Rikleen said, "must see a [work] problem through their kids' eyes."
My friend, Rikleen added, could have instead probed how her son would manage with a pay cut and whether he'd be willing to make those sacrifices.
Drawing Boundaries
Brinleigh Reuter, 28, of San Francisco, doesn't think frank career advice from a parent should be off limits, as long as it's received as, "Just that: advice."
Reuter, who works in human resources for Google, took that job even though her mother, Michele Largé, expressed reservations. Says Largé: "She was looking at going to graduate school, and I didn't discourage her from going to Google, but didn't encourage her either."
Drawing a boundary is a nuanced call. Everything from the inflection of a parent's voice and phrasing comes into play.
Largé, who established her own talent management agency when she moved to Los Angeles several years ago, says she and her daughter talk daily. They've developed a mutual trust and respect, and both share their work "joys and frustrations," without expectations.
My Sons, Work and Me
One reason I love the career connection I have with my two grown sons is because I'm forever nostalgic about their childhood years. If they phone to report an accomplishment at work, I feel the same joy that my love and approval matters as much now as it did when one of them made a basket in a sixth-grade game or pulled an "A" paper from his backpack.
To be honest, I also relish any notice they take of my work. And I'm not alone.
Adams knows the feeling. Because some of the scholarly articles she authored were relevant to her daughter who was pursuing her own Ph.D, "I shared them with her. She wouldn't have known about them otherwise."
One more thing: Parents can find inspiration from learning about their kids' accomplishments, too. Jeanette Wood of Carson City, Nev., for instance, says she was planning her retirement the same time her daughter Amanda was readying her leap into working for herself. Observing her daughter's careful financial planning, says Wood, "I saw how to go forward without making stupid chances."