A Guide to Self-Employment Retirement Plans
How to decide whether a Solo 401(k), SEP or SIMPLE is right for you
Self-employed people, I know you're crazy busy. But please take the time and initiative to set up and fund a tax-advantaged retirement plan for yourself. By doing so, you'll not only make your financial future more secure, you can save a boatload of taxes now — and maybe even lower your 2013 taxes.
 
Based on a recent survey, there's a good chance you could use the advice. According to the TD Ameritrade brokerage, nearly 70 percent of America's 10 million self-employed workers aren't saving regularly for retirement— 28 percent aren't saving at all.
"When you have your own business, it's pretty tough just to cover your business expenses. Retirement is about the last thing you think about," says Larry Pon, a Redwood City, Calif. CPA and financial planner. In addition, says Barbara Weltman, author of J.K. Lasser's Small Business Taxes 2014: "There are so many options and factors to take into account, it may be difficult to pick the best retirement plan."
(MORE: The Sorry State of Small Business Retirement Plans)
 
Below are your main choices offered by brokerages and mutual funds, starting with one plan if you have no employees — the Solo 401(k) — and then two for entrepreneurs who may or may not have employees: the SEP IRA and the SIMPLE IRA. There's still time to open and fund a SEP IRA to save on your 2013 taxes, the other plans would be for 2014.
(MORE: 7 Secrets of Highly Effective Retirement Savers)
 
(You might instead consider a traditional pension plan, especially if you're a professional able to stash serious sums each year. But the rules are complicated, so it's best to do this in consultation with a tax pro, says Kay Bell, the Austin, Texas tax expert for Bankrate.com.)
 
Solo 401(k)
 
Who it's for: Self-employed people with no employees. It's particularly worth considering if you have substantial self-employment income — say, $100,000 or more — because the maximum allowable contribution is so large.
 
Maximum amount you can put in: 20 percent of net self-employment income plus $17,500, up to $52,000 in 2014; if you're 50 or older, you can put in up to $5,500 more
 
Deadline to open: December 31. You can make contributions until your business's tax-filing deadline.
 
Rules for loans and withdrawals: Solo 401(k)s participants, by law, are allowed to borrow from them — up to half the amount in the plan or $50,000, whichever is less. But not all firms offering Solo 401(k)s permit loans, so if you want this ability, be sure to check, says Weltman.
 
You generally can't make a withdrawal from a Solo 401(k) before age 59 ½ unless you have a financial hardship or disability.
 
Drawback: If your plan has more than $250,000 in assets, you must file a special annual report, Form 5500.
 
(MORE: When You Haven't Saved Enough for Retirement)
SEP IRA (Simplified Employee Pension)
 
Who it's for: Entrepreneurs with no employees — especially business owners with substantial self-employment income — and who crave flexibility. You can also have a SEP if your business has employees, but you'll then be required to contribute money for them, too.
 
"For the simplest retirement plan, a SEP IRA is often a great option," says Weltman.
 
Maximum amount you can put in: 25 percent of self-employment compensation, up to $51,000 for 2013 and up to $52,000 for 2014
 
Deadline to open: Here's a big plus for SEPs: You can open and fund them until your tax-filing deadline, which means you have until April 15, 2014 for a 2013 SEP — or even through October 15, if you'll file for an extension. "I have a SEP and file an extension almost every year so I can come up with the money to put into the plan," says Bell.
 
Rules for loans and withdrawals: Loans are not allowed. You can withdraw money from the plan anytime, but may owe a 10 percent penalty if you do so before age 59 ½.
 
Drawback: There's no "catch-up" provision allowing people age 50 or older to invest more than younger people.
SIMPLE IRA (Savings Incentive Match Plan for Employees of Small Employers)
 
Who it's for: Self-employed people with under 100 employees, although you can also have a SIMPLE IRA if you don't have employees. If you do have employees, you generally must match up to 3 percent of their compensation.
 
"I find a SIMPLE to be best if you have no employees and your self-employment income is under $45,000," says Pon. "If your income is higher, you can generally put away more money in a SEP or Solo 401(k)."
 
Maximum amount you can put in: $12,000; up to $14,500 if you're 50 or older
 
Deadline to open: October 1
 
Rules for loans and withdrawals: Loans are not allowed. You can withdraw money any time, but may owe a 10 percent tax penalty if you're under age 59 ½. The penalty is 25 percent for withdrawals made within the first two years of participating in the plan.
 
Drawback: You may owe an annual fee of roughly $25 per plan participant or $350.
 
4 Final Tips
 
Now that you know how the plans compare, here are four tips on getting the most out of them:
 
1. Don't let the maximum-contribution figures keep you from putting any money in a self-employment retirement plan because you can't save that much. Just save whatever you can, but do save.
 
2. Consider setting up an arrangement with a financial firm to have a set amount automatically transferred from your business's bank account into a retirement plan each month.  "Just be careful that you don't wind up contributing more than the law allows because your year wasn't as good as you had hoped," says Bell. "If you do, you'll owe tax penalties."
 
3. You may be eligible to claim a special tax credit of up to $500 for small business owners who start retirement plans. You need to cover at least one employee who is not "highly compensated," according to the IRS definition, and you can't have had a retirement plan in any of the past three years. The credit applies to expenses for setting up and running the plan.
 
4. Don't skip saving because you expect the eventual sale of your business to provide you with the money you'll need in retirement. "You can't count on that," says Weltman.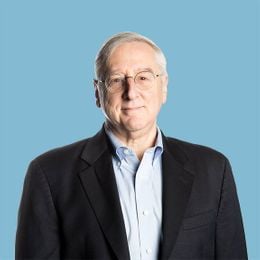 Richard Eisenberg
is the former Senior Web Editor of the Money & Security and Work & Purpose channels of Next Avenue and former Managing Editor for the site. He is the author of "How to Avoid a Mid-Life Financial Crisis" and has been a personal finance editor at Money, Yahoo, Good Housekeeping, and CBS MoneyWatch.
Read More