The Benefits of Going Back to Your Childhood Home
Not every home of our youth is idyllic, but does it have to be?
After we buried Nana, my family drove to her old house — the one my mother and her brother grew up in. When we arrived, we found it dilapidated, and her old Queens, New York, neighborhood without a pulse.
Three generations had gathered together, anxious to rekindle happy memories of family gatherings there. My fantasy was that we could knock on the door of the once immaculate row house, explain our history and all the work my grandfather had done to it and the owner would invite us in for a tour.
That fantasy never came true. In the end, we agreed some memories were best left untouched.
Home Again, Home Again
Recently, while in Washington, D.C., for a visit, I saw a For Sale sign in front of my childhood home — the one my siblings and I grew up in. This time, I was bound and determined to get inside, but for different reasons: My last memory of our D.C. townhouse — a memory formed 22 years before, when my parents moved across the country and left it in less than House Beautiful condition — was in need of a remodel. 
Within hours, my husband, youngest son and I were inside, taking a tour.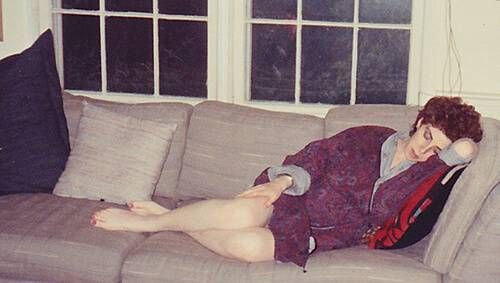 The house was new when we moved there in 1971, though it always appeared more like an office than a home. This had partly to do with the fact that my father had a small brass plaque with his name and degrees on the front door, and mostly to do with its absolute blandness on the exterior. Even when my mother had the shutters painted purple, it still looked like an office. It wasn't uncommon for people to ring the doorbell and ask to use the bathroom. Truthfully, anyone could have let themselves in — if you stuck your hand inside the ample-sized mail slot on the door, the doorknob was right there; you needed only to turn it to enter.  
Soon after we moved in, a family we knew moved into the house next door. When the kids wanted to drop by to play, they literally did just that, jumping from their dining room window into our little brick patio — a patio that wasn't big enough for much else if you didn't count the collection of plastic handbaskets from the nearby drug store, which, as a frequent customer, my dad said they let him bring home, and return, at his leisure.
As we walked through, I imagined our furniture just as it once was — the red velvet couch in the step-down living room, the grandfather clock by the patio door, the hanging liquor cabinet in the dining room. The original intercom/radio system was still in place — my mother used it to wake us each school day, blasting opera at the crack of dawn.
A Home Office?
There'd been some changes — mostly to the bathrooms, which were now spiffed up and contemporary. The kitchen had been updated, too, though it was still the size of a small closet. The size of it didn't stop my mother and I from making a lot of big meals in there — meals that fed not only family and friends, but my father's clients. Turns out having a house that looks like an office is a good thing if you want it to actually double as an office, which, apparently, my parents did, at all hours of the day and all days of the week.
I longed for a "regular" home — someplace where I could wake up and not find a stranger in my bathroom or basement or living room, or sitting at our dining room table eating my mother's noodle pudding. There was also a price to pay for an arrangement like this — theft, for one. I still have my suspicions about who took the ring my grandmother gave me. Odd people showed up daily.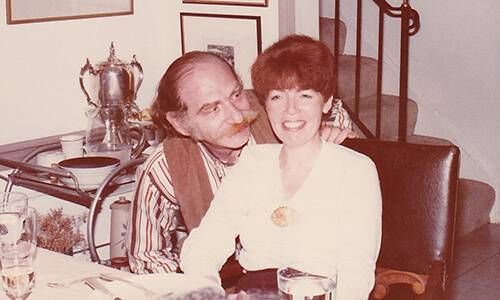 There was the student of my father's, who was engaged to someone else, and proclaimed his love for me while I was minding my own business, studying in the living room; the clairvoyant, who announced immediately after meeting me that we had known each other in another life and that I had special powers and the fireplace repairman who drove an old hearse and did his work while kneeling on a Turkish rug, to name a few.
Most everyone who came to visit ended up staying for a meal. Eventually, I learned to avoid them by sneaking down the stairs, crawling over the hall bannister halfway down and slipping through the side door to the kitchen. If I kept my food foraging sounds to a minimum, I could eat, undetected, and in peace.
Bland as it was on the outside, there were lots of colorful parties held inside. Admittedly, not all were hosted by my parents. This was one advantage of growing up in the 70s — helicopter parents were not invented yet.
A Dream Come True
As we climbed the stairs to the top floor, I imagined my father's footsteps.  A polio survivor, he was never fond of the height of that house. He only came to the third floor if we were in trouble, or horribly sick, which, luckily, wasn't that often. From my bedroom there, I did my share of blasting music — sulking, and dreaming about my future. The single window gave me a bird's-eye vantage point where I often spied my friends sneaking out at night, and my father sneaking a smoke. Once, on a snowy night, I saw a bus filled with passengers slide onto our tiny front lawn. Of course, they all wanted to use our bathroom.
Before we finished the tour, I asked my son to snap a photo of me in my old room. The experience of seeing him there was about as close to time-traveling as I'll ever come. If I had known that he and his brother would make their way into my life, I'd have probably saved myself a lot of angst all those years ago.
The current owner told me he'd been renting the property to law-school students for the last decade and decided it was the right time to sell. The list price, at just under a million dollars, was nearly 13 times what my folks paid.
Thomas Wolfe said you can't go home again.
I did — and retouched memories in the process. It was, finally, a fantasy come true.