The Famous Museum That's Redefining Aging
New York's Museum of Modern Art is reaching out to spark joy
It's "Prime Time" for older adults who visit the Museum of Modern Art (MoMA) in New York City.
Famous for its prestigious collection, which includes the painting of melting watches by Salvador Dali, a self-portrait by Frida Kahlo and sculptures by Pierre Huyghe, the museum has launched an extensive program that encourages people age 65 and older to experience art making, gallery conversations and film viewings. All this takes place in the stunning building recently redesigned by Japanese architect, Yoshi Taniguchi — a structure of white concrete and glass that opens onto a "secret" garden hidden among city skyscrapers.
First piloted in July 2014, the Prime Time program embodies the current mission of the museum, says Francesca Rosenberg, director of community access and programming at MoMA.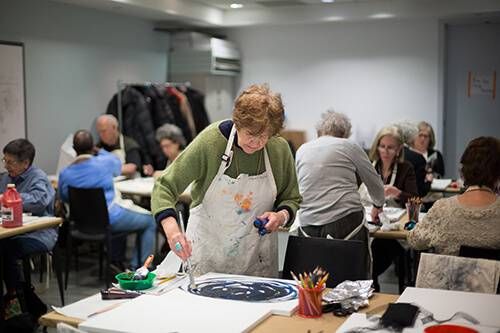 "We want to be a welcoming place — to all people," Rosenberg says. "And the research we have seen on aging proves that art viewed or created in a social atmosphere stimulates the mind, and that participation in programs that involve art learning create joy."
A Special Experience
Before the education staff and curators decided what MoMA would offer to the 65-plus crowd, they created an advisory group (a "collective," Rosenberg calls it) of older adults with whom they had previously been in contact. The questions on the table centered on what these museumgoers could gain from the museum.
"Discounted admission — although we do offer that — wasn't enough," Rosenberg remembers.  All museum visitors want a special experience every time they walk through the door, and the demographic MoMA is now committed to serve deserves something unusual that can't be duplicated anywhere else.
Rosenberg says that MoMA staffers were keenly aware that caregivers would accompany a portion of their targeted group. So, whatever programming they chose would need to take that into account.
"We also wanted to ensure that the offerings included the opportunity for socializing. We want to counteract social isolation that people in this age group sometimes feel," Rosenberg explains. In fact, MoMA has been working with doctors who might prescribe "art" instead of medication for loneliness-induced depression; the patients can come to the museum to interact with art and with other people.
Sell-out Crowds
Because Prime Time wasn't sure exactly what kinds of classes might be the most popular, the museum staff began by offering a varied menu of experiences. Some involve a lecture and discussion on a well-known artist, such as Degas. Other classes are designed so participants will get their hands "dirty" by creating their own art. Printmaking and photography have been popular, as was one of the initial classes: drawing live models.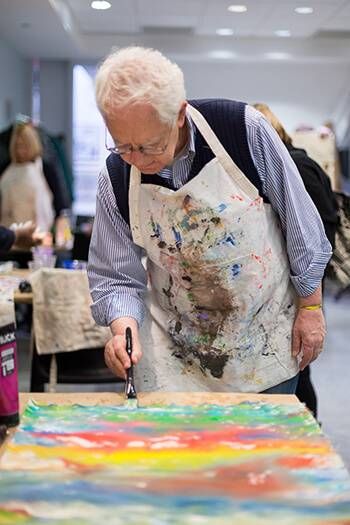 Not yet two years into the program, nearly every class now sells out well beforehand, whether it's a two-hour art-making studio class or a gallery lecture, which can fit 15 to 20 people. "We keep these small so people can have the chance to mingle and talk," Rosenberg says. Although offerings vary with the time of year, the museum generally schedules two Prime Time programs a month.
Highly popular are the films, shown in the museum auditorium, which has a capacity of 125. At the end of the movie, a curator and educator lead discussions that Rosenberg describes as "lively and exciting." She adds: "Those people who come to the film programs are real film buffs. They're knowledgeable, and they have opinions."

Many participants, in fact, say that the Prime Time programs have "opened" them up and provided new experiences.
"I felt that people appreciated my comments and agreed with me in many instances. That gave me confidence to continue to participate. In other words, I came out of my shell. I felt connected to the art more than before. I have been visiting the museum for forty years and felt more at ease with the art and the artists," says Esther Hernandez, a Prime Time participant.
Forming New Relationships
Prime Time is grateful that so many of those who have taken classes are museum members. But to fulfill their mission, the program's team members are reaching to go beyond those people and find others who might not otherwise know about the offerings. They have worked with a few senior centers, and now are trying to make contacts through physicians who treat older patients and with the New York City Department for the Aging.
"We want to get people who haven't been involved with museums before. We know that there are people who would be interested in art classes, but up until this point in their lives they haven't had time. We're doing marketing and research to find them, because once we have them here, they'll be hooked," says Rosenberg.
Evidently, she's right. Already, in less than two years, Prime Time has brought in 5,000 people, a number the program leaders hope to grow after their summit in May 2016 on ways cultural institutions can serve older adults. The museum has also gone beyond the physical classroom and into the digital world with an online studio class. "It's kind of like a Google Hangout, and it's a way to get to people who can't come to the museum," says Rosenberg. Also in the works is a "summer camp," where people will come to the museum for several days in a row for their class.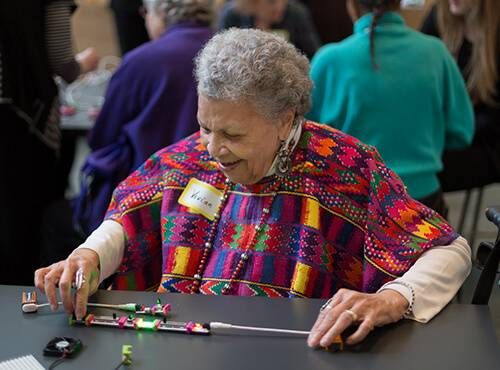 Rosenberg notes that when a group of museum staffers was asked to look back at the last year and think of what MoMA had accomplished, many mentioned Prime Time.  "We have embedded the notion that accessibility for older adults is a priority. It's not just the purview of one department, but everybody's job," she says.