The New Online Financial Planning Firms Just for Women
They're for women who feel Wall Street doesn't want, or get, them
For years, many women have complained that Wall Street and financial advisers ignore them, don't understand them or patronize them. Now, a stampede of new online financial planning firms run by women and for women are hoping to change things. They include the mass-market WorthFM, SUM180, SheCapital and Beauty & The Bull plus soon, Ellevest, which is expected to be for upper-income women.
They're (mostly) robo-advisers — low-cost investment management firms that choose which Exchange Traded Funds (ETFs), stocks and mutual funds to put clients' money in. I recently spoke with women steering two of them (WorthFM's Amanda Steinberg and SUM180's Carla Dearing), and learned that they're taking very different approaches; more on that shortly.
I think there's strong interest by many women, particularly pre-retirees in their 50s and 60s, in becoming more financially literate. According to a February 2016 study by the Global Financial Literacy Excellence Center of George Washington University, women give themselves lower scores on financial literacy self-assessments than men and American women over 50 know "substantially less than men about complex aspects of investment and advice."
What Women Think of Wall Street
I also believe many women hunger to work with financial firms who understand their financial goals — which are more than just beating the market and buying financial products. WorthFM found that 91 percent of the 1,501 women it surveyed believe materials from financial companies are more about selling than education; 77 percent gave the financial services industry a grade of C or below and just 10 percent believe that Wall Street pays equal attention to men and women.
As Carla Dearing, SUM180's founding CEO told me: "For women, the number one financial concern is financial security: Will I have enough money? Will I be a burden to my family? Will I have enough to meet life's goals? That's different from what the financial industry says — pay the investment game to get high returns. There couldn't be a bigger disconnect."
And the timing for these burgeoning firms is fortuitous: The Obama administration's new "conflict of interest" rule will require that financial advisers put clients' interests first when making retirement investing recommendations, which means not charging excessive fees. And that tends to mean ETFs, low-cost mutual funds and stocks with low brokerage charges.
Do Women Need Advice Just for Them?
But will women want to, and actually, use these firms? And will the firms be able to stay in business?
That I'm not so sure about.
For one thing, some people (women and men) take offense at the whole idea of financial firms, products and services for women only.
"I have an issue with money advice just for women. I think it turns into the pink ghetto," said Jane Barratt, CEO of the new robo-adviser Goldbean, whose goal is to get investing neophytes of both genders to start buying stocks. "Yes, women have been ignored. But the idea that your money is somehow different, I find offensive." That said, Barratt, added, "There will always be some women who are more comfortable dealing with other women. And anything that gets women in the market is fantastic."
Marketing materials from some of the new firms targeting women don't help matters, either.
At the site of the women-only robo-adviser SheCapital, for instance, a blog post by the firm's founder Tina Powell was called 10 Retirement Tips for Ladies With an Attitude and featured a sexy photo of woman whose head was cropped out of the picture. (In SheCapital's favor: 10 percent of every dollar of profit gets donated to She's the First, a charity for girls' education.) And then there's the site "for everyday women" with the name Beauty & The Bull where women can "watch TV shows to boost financial etiquette." Really?!
In addition, a few statistics I've seen give me pause:
Less than one in five women invest online, according to the WorthFM survey.
Only 3 percent of DailyWorth's 1.3 million female subscribers to its daily email newsletter about money said they knew what a robo-adviser is.
44 percent of women WorthFM surveyed said they have not been actively involved in investing aside from their 401(k).
The number one goal of women age 55 to 64 is simply to save money, a BlackRock survey showed.
But for women intrigued by these new firms, here's a brief rundown on SUM180, which launched last fall, and WorthFM, which goes live in May.
SUM180
SUM180's name: The SUM part, says Dearing, is that "it all adds up." The 180 part, she said, is to "turn it around."
What SUM180 is: A hybrid robo-adviser offering financial planning for women, particularly ones 45 and older. "You start with an online system and then get help from an adviser you can trust," says Dearing.
Who's behind SUM180: Dearing, who is CEO of Vibrant Nation, an online community of women 45+, and also CEO and managing director of IMC, a marketing services agency. She was formerly co-founder, president and CEO of Investors Capital Services and AMT Capital Advisers and a vice president at Morgan Stanley.

How SUM180 works: You fill out a short questionnaire, with information about your income, expenses, debt, investments and life insurance. Then you get an 11-page financial plan — "not a "68-page plan" as you would at some other financial firms, says Dearing — with three "next steps," plus an income statement and a balance sheet. A client can then also hire one of SUM180's four female financial advisers for phone or video conference consultations.
What you don't get: Personalized investment advice or management. "We can only go as far as pointing to low-cost providers like Vanguard and offering overall investment allocation," says Dearing. "We're about providing financial planning advice."
What SUM180 costs: $129 a year, plus $99 per half-hour of one-on-one financial advice, if you want it.
What's planned: A growing community of women who can talk with each other. "In this respect, it's more like Weight Watchers than Morgan Stanley," says Dearing. "Maybe they will join their own local clubs to support each other with goals. We're open to all the ways to use the pieces to support women.
WorthFM
WorthFM's name: WorthFM is an offshoot of Daily Worth; the FM stands for Financial Management
What WorthFM will be: A robo-adviser focused on "mass affluent women." This registered investment adviser will offer financial planning advice and specialize in ETF investing, with an emphasis on the psychological side of money.  Think of it "like a GPS for money to tell me what to do next, not how to beat the market," says Steinberg.
Who's behind WorthFM: Steinberg, who is also founder and CEO of DailyWorth, and Michelle Smith, CEO of Source Financial Advisors

How WorthFM will work: First, you take WorthFM's Money-Type assessment, a 40-question "financial behavior survey" developed by a psychologist. The quiz might tell you that you're, for instance, a Producer or a Nurturer or an Independent. After that, you get an investing platform customized to your "unique knowledge level, goals and lifestyle" with analysis and actionable recommendations.
"Every time you update your My Finances algorithm, "we optimize what we put in front of you for your next best step," says Steinberg.
WorthFM clients will be given three accounts: one for savings, one for investments and one for retirement. Each account will come with personalized "educational tiles" offering a woman guidance "so she doesn't feel like she's swimming in data she doesn't understand," says Steinberg. The investment money will go into one of five diversified portfolios, each containing a mix of low-cost ETFs chosen to best serve the client.
WorthFM's goal: To help women increase their net worth by 30 percent over five years
What you won't get: A human financial adviser. At least not yet. But Steinberg expects to add that feature by 2017.
What it'll cost: A low flat fee of 0.50 percent for the investments WorthFM puts you in. "That flat fee is critical, so there is no confusion," says Steinberg.
I plan to check back on both of these firms as well as their competitors in a few months to see how they're faring and I'll report on that then.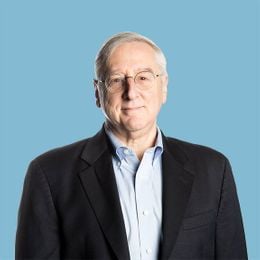 Richard Eisenberg
is the former Senior Web Editor of the Money & Security and Work & Purpose channels of Next Avenue and former Managing Editor for the site. He is the author of "How to Avoid a Mid-Life Financial Crisis" and has been a personal finance editor at Money, Yahoo, Good Housekeeping, and CBS MoneyWatch.
Read More