The Obamacare Surprise About Retirement
It's reminiscent of the Sherlock Holmes dog that didn't bark
A funny thing happened after Obamacare took effect: It didn't do what many retirement, work and health care analysts had expected — lead more older workers to take early retirement or switch from full-time to part-time jobs.
The conventional wisdom was that since anyone would now be able to buy health insurance, regardless of pre-existing conditions, on health exchanges or through Medicaid, there would be less job lock: the tendency of workers in their late 50s and early 60s to hang onto their jobs for fear of losing health insurance until Medicare kicks in at 65.
It didn't happen.
For retirement analysts, this was the equivalent of the dog that didn't bark in the  night in the Sherlock Holmes mystery story, Silver Blaze.
The Dog That Didn't Bark
At the Retirement Research Consortium I recently attended in Washington, D.C., University of Michigan retirement analyst Helen Levy presented a paper trying to explain why.
"Presumably, people 55 to 64, seeing they could sign up for coverage with an Exchange or Medicaid, would say: 'You know what? Now I can retire earlier or cut back my hours, which I wanted to do,'" said Levy, a Research Associate Professor at the University of Michigan's Institute for Social Research, Ford School and School of Public Health. "But we don't really see any increase in retirement in the first year and a half window since new options have been available."
Levy and her University of Michigan colleagues Thomas Buchmueller and Sayeh Nikpay reviewed data from the Current Population Survey, looking specifically at the roughly 36 percent of workers age 55 to 64 who would lose health coverage from employers if they retired. The researchers wrote in their paper that they "found no evidence of an increase in retirement among individuals ages 55 to 64 in 2014 compared to 2013." They also didn't see a trend toward early retirement in the 30 states and Washington, D.C., that expanded Medicaid under Obamacare.
Explaining the Early Retirement Surprise
So what happened? Or more precisely: why didn't it happen?
Levy told me there are a few possible reasons why Obamacare didn't produce an uptick in early retirement or persuade more older workers to convert from full-time to part-time.
"One possible reason is that the law was just too new for people to have taken it into account in their decision-making," she said.
"When you think of someone staying in the labor force primarily for health insurance, that's a cautious person or someone with a health problem," Levy noted. "They are not going to go lightly during those 18 months into a system where there remains some questions about its stability."
Another explanation Levy posits: the disastrous Healthcare.gov website launch, which could've kept some employees from quitting their jobs for fear that they wouldn't get their promised coverage.
When and Why Things May Change
Levy thinks that a hike in early retirement and part-time work might happen by 2017 and continue over the next decade, once the Affordable Care Act has been in place and tested (assuming a Republican Administration and Congress doesn't replace it).
"That will be two open enrollment periods without a significant legal challenge" to the Affordable Care Act, said Levy.
By 2017, Levy added, Obamacare may lead to an increase in people launching encore careers where they work part-time as business owners or employees for the betterment of the public good.
"The Affordable Care Act makes that much more possible, particularly for those whose dream is to open a business and know they can now get health insurance," said Levy. "That's my hope. Those people will be protected against the risk of their nest egg being wiped out by a catastrophic health event."
But Kevin Whitman, a senior officer in the Retirement Savings Project at the Pew Charitable Trusts, offered a caveat at the Consortium: "Self-employment can be a bridge job, allowing people to work later in life than otherwise, but there are also risks of income volatility or drawing down assets to fund expenses."
Whitman added: "Some may see retirement more economically feasible as a result of the Affordable Care Act, but they could have problems down the road. Their decision to retire could have negative long-term consequences."
In fact, Whitman said, "we may need to explore ways to increase work incentives for older workers."
That could be another unexpected effect of the Affordable Care Act.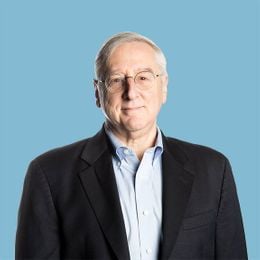 Richard Eisenberg
is the former Senior Web Editor of the Money & Security and Work & Purpose channels of Next Avenue and former Managing Editor for the site. He is the author of "How to Avoid a Mid-Life Financial Crisis" and has been a personal finance editor at Money, Yahoo, Good Housekeeping, and CBS MoneyWatch.
Read More